BofA, Verizon CEOs Should Push for Postal Reform, Regulator Says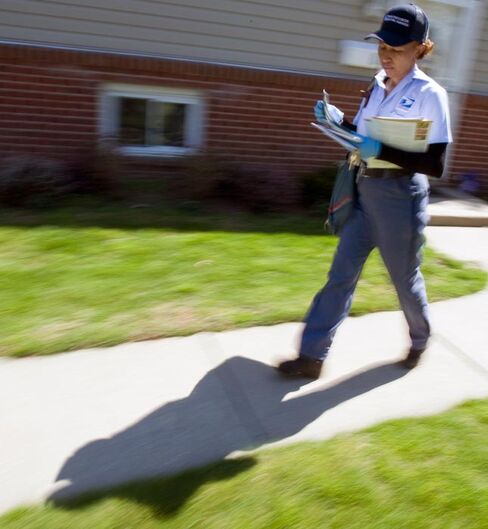 The U.S. Postal Service, which says it may run out of cash, needs chief executive officers of companies like Bank of America Corp. and Verizon Communications Inc. to convince Congress to provide long-term relief, the agency's regulator said.
President Barack Obama, in his budget proposal, proposed deferring $4 billion of a benefits payment this year and refunding some surplus pension payments. If executives from banks, utilities, publishers and other large users of mail services push lawmakers, there will be a better chance of adjusting the amount than if just their trade groups do, Postal Regulatory Commission Chairman Ruth Goldway said.
"That's what we need," Goldway, 65, said yesterday in an interview at Bloomberg's Washington office. "The associations are very valuable, but that's not what's going to make the difference now."
The Postal Service, which had a loss of $329 million in the quarter ended Dec. 31, is seeking legislative changes to ease $5.5 billion of annual payments it must make into a fund for future retirees' health benefits. Without the changes, it says it will dry up cash by September and reach borrowing limits.
Representatives of Bank of America, the biggest U.S. lender, and Verizon, the second-largest U.S. phone company after AT&T Inc., declined to comment.
CEOs helped get the Postal Accountability and Enhancement Act passed into law in 2006, making it easier to raise rates, Goldway said. Top executives at Hearst Corp., Time Warner Inc., Pitney Bowes Inc. and banks were among those who personally pushed for the law to go through, she said.
The 'Hurdle'
The 2006 law also created the requirement of paying $5.5 billion a year for future retirees' health benefits to set up a $50 billion fund.
That requirement should be lower, based on the agency's shrinking workforce and current calculations for medical inflation rates, Goldway said.
The Postal Service and its allies would have to convince Congress, including Representative Darrell Issa's House Oversight and Government Reform Committee, which Goldway called "the hurdle."
Issa, a Republican from California, and Representative Dennis Ross, the Florida Republican who runs the panel overseeing the Postal Service, became chairmen of the respective committee and subcommittee when their party took control of the U.S. House in January.
Appropriate Term?
"They've expressed skepticism and tend to use the word 'bailout,' which the rest of us don't think is an appropriate term in this situation," Goldway said.
Spokesmen for Issa and Ross didn't respond to e-mail seeking comment.
The Postal Service is seeking to transfer money it overpaid for federal pensions to an account it's required to fill to cover health-benefit costs for future retirees.
The amount of overpayment into two separate funds is in dispute, with the Postal Service's Office of Inspector General setting the amount for one fund at $75 billion and the regulatory commission estimating $50 billion. The U.S. Office of Personnel Management, the postal inspector general and the postal service agree that that overpayment into another fund totals $6.9 billion.
The service has a borrowing limit of $3 billion a year and a total cap of $15 billion.
Cutting Saturday Delivery
The agency has asked Congress and its regulator for permission to cut Saturday mail delivery, shutter post offices for financial reasons and to raise postal rates faster than normally allowed.
The Postal Regulatory Commission will issue a non-binding recommendation as soon as next week on whether the Postal Service should be allowed to reduce mail delivery to six days a week. Goldway, who has spoken against cutting Saturday service, said her opinion "hasn't changed." Federal law, which mandates mail delivery six days a week to all U.S. addresses, would have to be changed for Saturday service to be cut.
"I still believe there's a strategic advantage for them to have Saturday delivery," Goldway said, citing United Parcel Service Inc.'s use of the Postal Service for Saturday deliveries.
The agency may not realize the benefits of projected cost savings by eliminating a day of delivery because it would probably lose business at the same time, she said. The postal service estimates it would save $3 billion a year by eliminating Saturday deliveries.
Push From Home
Corporate executives who take the time to push postal changes in Washington are effective because they represent jobs in lawmakers' districts, said Jerry Cerasale, senior vice president of government affairs for the Direct Marketing Association. The New York-based group's board includes CEOs of Publishers Clearing House and Quad/Graphics Inc., a Sussex, Wisconsin-based printer of magazines including Oprah Winfrey's "O" and "Good Housekeeping."
"It's the economy within their district or state," Cerasale said in a telephone interview. While the associations have "great relationships" in Washington, "it always helps to have some push from back home," he said.
Before it's here, it's on the Bloomberg Terminal.
LEARN MORE