Evonik Chief Plans More Asset Sales, Eyeing IPO Inside 15 Months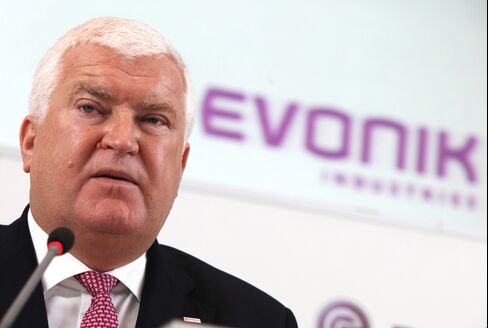 Evonik Industries AG is seeking a buyer for a unit making color blends used in adhesives and paint as Chief Executive Officer Klaus Engel focuses the company on specialty chemicals ahead of an initial public offering.
Evonik is in the final throes of selling its carbon black operation and expects to divest the colorants unit by the end of the year, Engel said today at a press conference in Essen, where the company is based. Carbon black accounts for the bulk of the units' combined sales of about 1 billion euros ($1.4 billion).
"We are embarking on a new chapter in our journey to the stock market," Engel said.
Disposals will help Evonik focus on more value-added specialty chemicals as petrochemical producers in the Middle East and Asia squeeze margins on commoditized products. With annual sales of 13.3 billion euros, Evonik is a candidate to join Germany's benchmark DAX index upon selling shares. Part owned by CVC Capital Partners, Evonik's IPO is expected to take place inside 15 months, Engel said today.
RAG Stiftung, a state trust that oversees mining assets in Germany, will likely decrease its stake to 25 percent from a current 74.99 percent, the CEO said. RAG sold a 25.01 percent stake to CVC after shelving plans for an IPO in 2008 because of an economic slowdown.
A rebound in earnings and sales is helping put those IPO plans back on the table. Earnings before interest, taxes, depreciation and amortization increased 47 percent to 2.4 billion euros last year. Sales added 26 percent. Evonik had a fourth-quarter net loss of 56 million euros on costs to dispose of an initial stake in its Steag energy unit.
Real-Estate Disposal
Sales this year are expected to rise "slightly" while operating profit will hold steady, the company predicted today.
Buyout firms including Advent International Corp., Triton Beteiligungsberatung GmbH, Rhone Capital LLC and Apollo Management LP are among the potential buyers for carbon black, which supplies materials used to improve the performance of tires, two people with knowledge of the situation told Bloomberg on Jan. 22.
Evonik will also divest a real-estate unit by 2013 and its remaining stake in an energy business with an enterprise value of about 600 million euros within five years, the CEO said. It sold 51 percent of Steag to a Ruhr-Rhein group of municipal utilities.