Japan's Nuclear Risk Revives Iodide Supply Debate in U.S.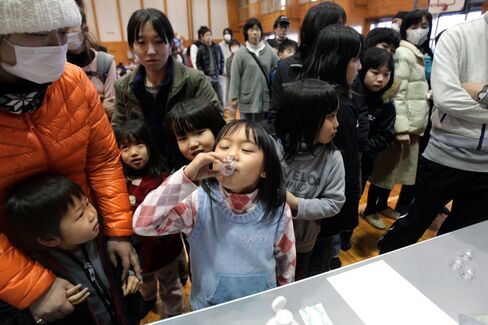 U.S. lawmakers want federal authorities to expand the availability of potassium iodide to protect people who live near nuclear power plants from the cancer-causing effects of radiation.
Representative Edward Markey of Massachusetts, the senior Democrat on the House Natural Resources Committee, urged the White House to provide the medicine to people within 20 miles of plants, not just the 10-mile radius currently enforced. Representative Gus Bilirakis, a Florida Republican who chairs a panel that will hold a hearing tomorrow on nuclear-emergency preparedness, also supports the policy, his spokesman, Creighton Welch, said in an e-mail.
The risk of a nuclear meltdown in Japan should serve as a warning that the U.S. needs to be better prepared to protect its citizens from a similar catastrophe at one of its 104 nuclear plants, Markey wrote to John Holdren, director of the White House Office of Science and Technology Policy, on March 14.
"We should not wait for a catastrophic accident at or a terrorist attack on a nuclear reactor in this country to occur to implement this common-sense emergency preparedness measure," Markey wrote. "Please move quickly to do so."
Markey wrote provisions in a 2002 law to expand the availability of potassium iodide, which can prevent thyroid cancer from radiation exposure and is also known by its chemical designation, KI. The administrations of George W. Bush and Barack Obama have declined to implement this aspect of the law in a "subversion of the intent of the Congress," Markey wrote.
Earlier Request Rejected
The White House rejected an identical request Markey made in December 2009. Countermeasures such as evacuating people near nuclear sites and preventing them from eating contaminated food are adequate, Holdren said.
Thirteen House members from Florida, including Bilirakis, wrote Health and Human Services Secretary Kathleen Sebelius last June urging the agency to "fully implement" the 2002 law and expand the availability of potassium iodide beyond the 10-mile radius. The Homeland Security Committee's Subcommittee on Emergency Preparedness, Response and Communications will hold a hearing on response plans at nuclear plants tomorrow. Bilirakis may raise questions about potassium iodide, Welch said.
The administration will reexamine its rules on who can get potassium iodide, Dori Salcido, a spokeswoman for the Department of Health and Human Services, said in an e-mail.
Policy Options
"The U.S. government will be studying every aspect of the Japanese disaster and the Japanese government's response, with the goal of learning as much as possible from that review," Salcido said. "Policy options relating to KI distribution will be among the issues studied."
Japan has distributed 230,000 units of potassium iodide to evacuation centers surrounding nuclear plants, according to officials. The ingestion of iodide can help to prevent the accumulation of radioactive iodine in the thyroid. Treatments taken in advance can't prevent health effects of future radiation exposure and the medicine is only effective for about 24 hours.
"In no case should the tablets be taken right away," said Ilsa Bartenstein, chief executive officer of Gerot Lannach, an Austrian supplier of potassium iodide, in a telephone interview. "They're only meant for use when one is in contact with radiation in an emergency."
Demand for potassium iodide because of the crisis in Japan is leading to shortages of the drug, according to three companies approved to sell the treatment in the U.S.
Sold Out
Anbex Inc., based in Williamsburg, Virginia, sold out of its Iostat brand of the medicine on March 14, according to the company's website. Jordbro, Sweden-based Recipharm AB makes its version, ThyroSafe, as orders come in and has no stock on hand, spokesman Mark Quick said. Fleming Pharmaceuticals in Fenton, Missouri, was due to run out of its ThyroShield yesterday, co-owner Deborah Fleming Wurdack said.
Making the medicine available to more people would exacerbate supply problems and won't provide additional protection, said Bill Stephens, the project manager at the Southwest Center for Advanced Public Health Practice, part of Tarrant County Public Health, in Fort Worth, Texas. The nearest nuclear facility, Comanche Peak Nuclear Power Plant, is more than 60 miles from Tarrant County, he said.
"You may have plenty of it for the people that need to take it, but if a lot of people rush in and get it that don't need to take it, then you could have a shortage," Stephens said by telephone.
Evacuations and orders that people stay in their homes to avoid exposure to radiation are more effective, and degree of radiation should be considered, he said.
Potassium iodide is recommended for kids, nursing mothers and pregnant women because children's faster-growing cells are more susceptible to radiation, he said. People aged 40 or older usually don't get the medicine because of possible side effects, which may include stomach upset, allergic reactions and rash, are greater, he said.
Before it's here, it's on the Bloomberg Terminal.
LEARN MORE