European Power Prices Surge as Germany Decides to Shut Reactors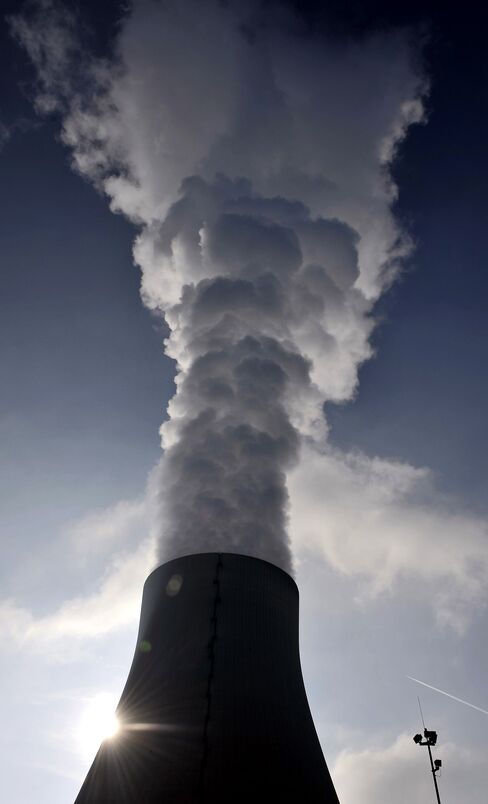 European power prices rose, surging to their highest in more than two years in Germany, where the government decided to halt the country's seven oldest nuclear reactors following explosions at an atomic plant in Japan.
Baseload electricity for the next quarter in Germany, Europe's biggest power market, rose to the highest price since November 2008. The contract increased as much as 8.75 euros, or 16 percent, to 62.75 euros ($87.23) and was at 61 euros as of 4 p.m. Berlin time, according to broker data compiled by Bloomberg. Baseload is generated and sold around the clock.
Germany will keep its seven oldest nuclear reactors off line during a three-month moratorium it will use to evaluate the safety of the facilities, Chancellor Angela Merkel told reporters in Berlin today. The plants were all built before 1980. Germany has 17 reactors operated by E.ON AG, RWE AG, EnBW Energie Baden-Wuerttemberg AG and Vattenfall AB. The halts will account for 25 percent of the country's atomic energy capacity.
"There was a massive reaction to the decision to halt the nuclear plants and that caused an intraday rally," Kevin McDermott, a Tullett Prebon director for European energy and commodities, said today by phone from London. Volumes are set to beat yesterday's levels, the highest this year, he said.
E.ON, Germany's largest utility, is preparing to take its 878-megawatt Isar-1 reactor built in 1977 off line, and will close it in the coming days. RWE AG, the second-biggest, said it is stopping its 1,167-megawatt Biblis A plant for security checks. EnBW is shutting down its 840 megawatt Neckarwestheim 1 reactor on a temporary basis, it said.
Future of Nuclear
Japan's worst earthquake, which hit the nation on March 11, led to three explosions at the Fukushima Dai-Ichi nuclear plant. Workers are struggling to prevent a meltdown, triggering a review of nuclear safety at plants across the world.
In France, Europe's second-biggest market, the next-quarter price jumped as much as 14 percent to 61.75 euros. The country gets more than 80 percent of its power from its 58 reactors.
Japan's nuclear accident will spark questioning about the safety and future of nuclear energy in Europe, according to French Industry Minister Eric Besson.
"The shock wave of what is happening in Japan will touch Europe and France," Besson said today in an interview on RTL radio. "There will be a debate of some kind around our energy and nuclear production."
Nordic next-quarter power rose as much as 8.8 percent to 65.15 euros. The market which includes Sweden, Norway, Denmark and Finland, is dominated by hydro and nuclear capacity.
'Capacity Problem'
Sweden's 10 working reactors supply almost half of the country's electricity. Prime Minister Fredrik Reinfeldt said concern that a nuclear disaster may be unfolding in Japan should prompt the Nordic country to revisit security measures supporting its own nuclear facilities.
"We should learn from this experience," Reinfeldt said at a press conference in the Lithuanian capital Vilnius today. While "it's too early" to adjust Sweden's nuclear policy based on Japan's experience, "the more renewable we can introduce, the more we can push back nuclear energy," he said.
The German halts "may cause a capacity problem due to already planned outages," said Konstantin Lenz, a portfolio management director at Kom-Solution GmbH in Berlin, an adviser to local Stadtwerke utilities. Some of the capacity lost by the nuclear halts in Germany can be replaced by importing atomic power from France, he said. Utilities typically shut reactors for maintenance in the second or third quarter, when demand is lower than in the winter.
European Benchmark
Baseload electricity for next year in Germany rose to the highest price since October 2009. The regional benchmark climbed as much as 4.5 percent, to 58.45 euros a megawatt-hour. The German next-year contract "has another 2 euros to go for the next-year contract to price in the decision to halt these old reactors," Lenz said.
Prices in the neighboring Czech Republic also surged following the German government's decision. Month-ahead Czech baseload gained 19 percent, to 62.95 euros a megwatt-hour.
The Czech Republic has 17,625 megawatts of installed capacity, according to Bloomberg data. As much as 1,319 megawatt-hours of power was being exported from the Czech Republic to Germany at noon local time, according to Entsoe, the European Transmission System Operators transparency platform.
Polish electricity for delivery next month climbed 2.6 percent to 196.00 zloty ($66.97) a megawatt-hour.
"Exports from Poland have limited potential to increase given the low cross-border capacity," Marek Krzysteczko, director at the Warsaw-based unit of Vattenfall Energy Trading GmbH, said today by e-mail. "But prices in Czech Republic are highly correlated with Germany and will be rising."
Bloomberg tracks prices from brokers including ICAP Plc, GFI Group Inc., Spectron Group Ltd., Tullett Prebon Plc and Tradition Financial Services.