Heftier Riders Make Transit Buses Next to Adjust for Their Girth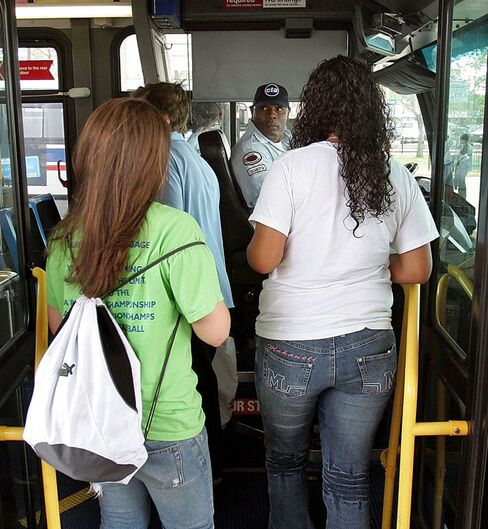 March 15 (Bloomberg) -- Buses, like airplanes and ships, are being weighed down by their passengers, leading U.S. regulators to consider changing rules to accommodate them.
The Federal Transit Administration said in a Federal Register notice yesterday that for safety-testing purposes it may bump the average weight of municipal-bus riders to 175 pounds from 150, and assume passengers take up more space when they're standing in aisles.
Buses' maximum weight capacity has not kept up with riders' expanding waistlines, meaning they often are loaded beyond specifications at rush hour, said the agency, which has used the 150-pound standard since 1987. Bus drivers cannot be expected to not pick up passengers when at capacity, so manufacturers may need to build vehicles to withstand more weight, the agency said.
"Weight matters on a fully loaded bus," Paul Griffo, an agency spokesman, said in an e-mail. "This isn't about changing bus requirements, but rather about transparency and helping the industry better understand its needs. It's good for transit riders and taxpayers."
The transit-safety regulator's proposal, should it become final, would follow moves by the Federal Aviation Administration and U.S. Coast Guard to increase the size of the average person used in developing safety regulations. For U.S. adults, the average weight for men is 194.7 pounds and 164.7 pounds for women, according to the Centers for Disease Control.
The FAA raised its average passenger weight calculation in 2005 and 1995, while the Coast Guard boosted its figure last year. The National Highway Traffic Safety Administration, the Transportation Department agency that regulates auto safety, has used the same weight standard for seat belts since 1968, the year the first federal vehicle safety standards took effect.
Charlotte Crash
The most recent FAA change was prompted by a fatal 2003 Mesa Air Group Inc. plane crash at North Carolina's Charlotte/Douglas International Airport that the National Transportation Safety Board blamed in part on weight and balance issues and the FAA's weight assumptions.
"Each aircraft has a center of gravity, and it's important to have the weight in the right parts of the plane for the plane to perform properly," Laura Brown, a FAA spokeswoman, said in an interview. "In small aircraft, a small change may create a bigger change in the center of gravity."
For planes and maritime vessels, the size of passengers can affect lift, balance and buoyancy. For transit buses, it's more a matter of economics.
Bigger passengers not only take up more space in seats and standing in bus aisles, they also place more wear and tear on bus parts including axles and wheels and lead the vehicles to consume more fuel to move them to their destinations.
Stronger Buses
The Federal Transit Administration contracts with a center at Penn State University to evaluate buses on performance, safety and fuel economy. New buses being bought with federal funds must be tested before being purchased, according to the testing center's website.
Transit operators, which according to the American Public Transportation Association operate 66,500 transit buses in the U.S., use the information to evaluate their purchases.
If buses are carrying more passenger weight, they could be designed to accommodate heavier loads, something the proposed rule would not mandate, the transit administration said.
Bus manufacturers, which include Daimler AG and Volvo AB, may choose to upgrade chassis, tires, wheels, brakes or suspensions to carry more weight, the transit agency said in the proposed rule. Vehicle upgrades cost as much as $25,000 for buses designed to operate for 10 years to 12 years, the maximum lifespan evaluated in the federal tests, the agency said.
Manufacturers React
"Our bus manufacturers have not yet had an opportunity to analyze the proposal to determine whether these newly proposed standards will require changes to their designs," James LaRusch, chief counsel and vice president of corporate affairs for the Washington-based public transportation association, said in an e-mail. "Buses are routinely designed to exceed the regulatory minimum standards to maximize reliability and safety."
Daimler Buses North America, based in Greensboro, North Carolina, is reviewing the proposed rule "to determine how the new regulations will impact the future design of our buses," Chief Commercial Officer Patrick Scully said in an e-mail.
The transit group, in a study released yesterday, said rising gasoline prices will lead more people to ride public transit in the U.S. The average price of a gallon of gas in the U.S. has risen 33 percent since Sept. 1 to $3.558 on March 13, according to U.S. motorist group AAA.
The study found that gas prices at $4 a gallon would spur an additional 670 million passenger trips per year on transit, which also includes subways. Gas at $5 a gallon may mean an additional 1.5 billion passenger trips per year or a 15 percent increase in ridership, the analysis found.
(With assistance from Craig Trudell in Southfield, Michigan.)
To contact the reporter on this story: Angela Greiling Keane in Washington at agreilingkea@bloomberg.net
To contact the editor responsible for this story: Bernard Kohn at bkohn2@bloomberg.net