Wisconsin Bonds Beat Illinois Debt Suggesting State Not 'Broke'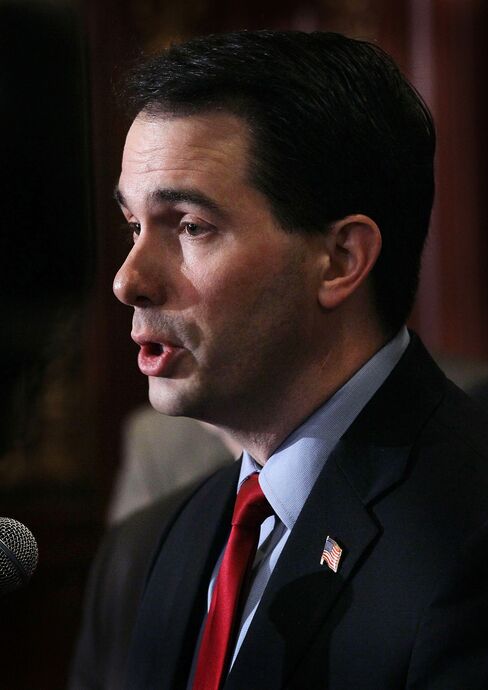 Wisconsin Governor Scott Walker insisted his state is "broke" as he sought to limit collective bargaining for most government workers, while investors in the $2.93 trillion municipal-bond market have shown faith in the government's ability to work out its fiscal difficulties.
In the past two months, the cost of insuring $10 million of five-year Wisconsin bonds against default averaged $113,400, compared with a national average of $131,450 for all states so protected. Walker, 43, signed the union curbs into law March 11.
"The market is saying the state will resolve its issues and manage itself in a decent way," Gary Pollack, who oversees $12 billion as head of fixed-income trading at Deutsche Bank AG in New York, said March 11 by telephone. He said the credit markets show investors have remained confident that the state is in better shape than the dire straits suggested by Walker.
For Illinois, with one of the biggest budget gaps relative to general-fund spending and public pensions with the lowest ratio of assets to future liabilities, the cost to insure five-year bonds averaged $232,290. The rate for California, with the largest deficit, averaged $208,500. Credit-default swaps provide a measure of risk by showing what investors pay for protection.
"The governor is using 'we are broke' as a rationale for saying he has to cut back dramatically on employee compensation," said Andrew Reschovsky, who teaches public affairs and applied economics at state-run University of Wisconsin-Madison. "He's totally ignoring the revenue side of the budget and the ability of the states' residents to pay more in taxes."
Budget Cuts
Walker, a Republican, has proposed spending cuts, including reductions in school funding, and forcing most state workers to pay more for benefits to help close a $3.6 billion gap in the state's next two-year budget. He has said the curbs on union bargaining power, excluding police and firefighters, are needed to help the state and local governments cope with funding cuts.
"The facts are clear: Wisconsin is broke and it's time to start paying our bills today -- so our kids are not stuck with even bigger bills tomorrow," Walker told lawmakers in the Capitol on March 1 as he introduced his budget proposal. He has made similar statements during the past several weeks amid the local and national uproar sparked by his measure to curb unions.
California and neighboring Illinois pay more, relative to top-rated issuers, than Wisconsin does when they sell new debt, according to data compiled by Bloomberg. That shows investors aren't penalizing Wisconsin because of its deficit and spending difficulties, Pollack said.
Illinois Pays More
Illinois pays almost six times as much more on new debt issues than Wisconsin does, compared with top-rated 10-year municipal securities, based on data compiled by Bloomberg. California pays almost four times as much, the data show.
"When you want to see the market's opinion, look at the spread," said Pollack, who works in the bank's private-wealth management unit.
An e-mail and a telephone call to Cullen Werwie, a Walker spokesman, seeking further comment on Walker's "broke" description didn't elicit an immediate response.
Wisconsin bonds have traded at a premium to their face value this year, according to data compiled by Bloomberg. A general-obligation bond issued in January and maturing in May 2020 has sold at prices between about 110.1 cents and 114 cents on the dollar, according to Municipal Securities Rulemaking Board data. On March 8, the bonds were priced to yield about 3.2 percent, down from 3.53 percent when issued, the data show.
The state's general-obligation debt is rated AA by Fitch Ratings, Aa2 from Moody's Investors Service and AA from Standard & Poor's, the third-highest grade from each.
Best-Funded Pension
Wisconsin has had one of the most secure pensions in the U.S., holding more than 99 percent of the assets needed to cover projected payouts at the end of 2007 and 2008, according to data compiled by Bloomberg. It was one of five U.S. states with retirement plans that were fully funded last year, according to a report from the Pew Center on the States in Washington.
"We don't have unfunded pension liabilities or a bad bond rating," said Dennis Dresang, professor emeritus of public affairs and politics at the state-funded University of Wisconsin-Madison. "We're paying our bills, and Walker just proposed a $60 billion budget -- that's not quite being broke."
The state faces a projected fiscal 2012 deficit of $1.8 billion, or almost 13 percent of current-year spending, according to the Center on Budget and Policy Priorities, a nonprofit group in Washington that focuses on issues that affect lower-income Americans. The ratio compares with a national average of almost 18 percent, according to Nicholas Johnson, the center's vice president for state fiscal policy.
"States have the tools they need to pay their bills," Johnson said by telephone March 11. "To say that any state right now is 'broke' is to oversimplify to the point where it's pretty much meaningless."
Treasurer's Protest
One target of Walker's proposed budget cuts, Republican Treasurer Kurt Schuller, immediately protested the governor's plan to shift two programs he oversees to another department. He said reduced resources will make it difficult for him to perform such remaining functions as handling unclaimed property.
"Gutting the office is not what I committed to," Schuller said in a March 2 statement, referring to his campaign pledge to eliminate the position he now holds. He said he wants voters to have the chance to change the state constitution to eliminate the treasurer's office, a process that may take years.
Instead of slashing funding or burdening government workers, the state could repeal tax cuts that lawmakers passed this year, according to Democrats Mark Pocan, a representative from Madison, and Chris Larson, a senator from Milwaukee. The $142 million in relief was designed to help business and wealthy residents, they said in a March 11 statement.
"How can you have tax cuts for business at the same time you say the state is broke?" said Dresang. "It's a political calculation and doesn't have much to do with math."
Before it's here, it's on the Bloomberg Terminal.
LEARN MORE