Bank of Japan Pumps Cash, Boosts Asset Purchases by $61 Billion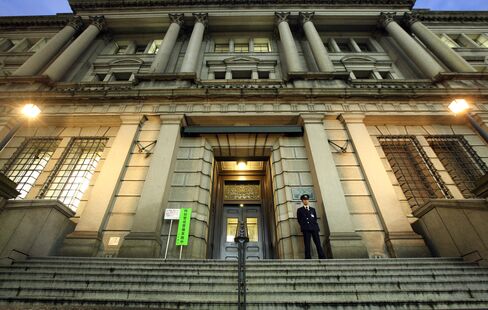 The Bank of Japan poured a record amount of cash into the financial system and doubled the size of its asset-purchase plan to shield the economy from the effects of the nation's strongest earthquake on record.
The central bank pumped 15 trillion yen ($183 billion) into money markets today to assure financial stability amid a plunge in stocks and surge in credit risk. Governor Masaaki Shirakawa and his board enlarged a program buying assets from government bonds to exchange-traded funds by 5 trillion yen, about one-tenth the size of the Federal Reserve's quantitative easing.
Policy makers said they were concerned corporate and household sentiment will worsen, with production set to decline in the aftermath of the temblor and an ensuing tsunami. The March 11 catastrophe killed an estimated number of more than 10,000 people, shut down factories, prompted rolling power cuts and sparked the risk of a meltdown at a nuclear power plant.
"The disaster will push down gross domestic product in the short run, and the BOJ wants to mitigate the deflationary impact through liquidity injections," said Tomo Kinoshita, a Hong Kong-based economist at Nomura Holdings Inc.
Japan's currency, which initially climbed against the dollar then retreated in the wake of the central bank's cash injections, stayed lower after the policy decision. It traded at 81.95 as of 6:04 p.m. in Tokyo. Stocks stayed lower, with the Nikkei 225 Stock Average closing down 6.2 percent minutes following the announcement.
Shut Plants
Manufacturers from Sony Corp. to Toyota Motor Corp. closed plants today, with Sony, Japan's biggest exporter of consumer electronics, halting operation at 10 factories and two research centers. Toyota, the world's largest automaker, said it closed all 12 factories in Japan through March 16.
The BOJ chief told reporters cash injections will continue as needed and it is "crucial" the central bank stabilizes money markets, an indication it will take further steps in coming days.
Policy makers boosted their asset-purchase program to 10 trillion yen. The bank said it will increase buying of government debt in the fund by 500 billion yen and boost purchases of short-term government securities by 1 trillion yen. Corporate debt will rise by 1.5 trillion yen and it will also take on an additional 450 billion yen in ETFs and 50 billion yen in Real Estate Investment Trusts, today's statement said.
Today's steps go beyond the forecast of analysts including Takehiro Sato, chief Japan economist at Morgan Stanley MUFG Securities Co., who anticipated that the bank would limit its response to short-term liquidity provision.
Preempting Deterioration
The asset-purchase fund was increased in size "with a view to preempting a deterioration in business sentiment and an increase in risk aversion in financial markets from adversely affecting economic activity," the BOJ policy board said in its statement. Since the earthquake "the Bank of Japan has been trying to gauge its effects on financial markets and financial institutions' business operations," it said.
"Buying riskier assets may have a positive impact on the risk-taking stance of market participants," Shirakawa said at a news conference following the board meeting today.
Officials kept the benchmark interest rate at a range of zero to 0.1 percent and maintained their monthly target for regular government-bond purchases, which are separate from the asset-purchase program, at 1.8 trillion yen. Borrowing costs were already cut near zero last year as officials sought to revive growth and end deflation.
Last week's 8.9-magnitude temblor and subsequent tsunami devastated northeastern regions. More than 350,000 people are in emergency shelters.
Bond Buys
Besides the 15 trillion yen of emergency funds deployed in the central bank's biggest one-day operation, the Bank of Japan offered to buy 3 trillion yen of government bonds from lenders in repurchase agreements starting March 16.
"We need money at the banks -- they shouldn't be lacking cash," said Kazuaki Oh'e, a debt salesman at CIBC World Markets Japan Inc. in Tokyo. Trading is taking place as usual, he said.
The disaster may have killed 10,000 in Miyagi prefecture north of Tokyo, said Go Sugawara, a spokesman for the prefectural police department. The official toll reached 1,597, with 1,481 more missing and 1,683 injured, the National Police Agency said.
Before the quake, Japan's economy was showing signs of a revival, after shrinking an annualized 1.3 percent in the fourth quarter of last year.
With Prime Minister Naoto Kan planning a supplemental budget to pay for reconstruction, Moody's Investors Service said today that Japan may "at some point" reach a fiscal "tipping point" if investors lose confidence in the soundness of public finances and demand a risk premium on government bonds.
Japan's economy will recover and a fiscal crisis is not "imminent," Tom Byrne, a senior vice president at Moody's Investors Service, also said in an e-mailed note today.