Tchenguiz Brothers Arrested in London in Probe of Kaupthing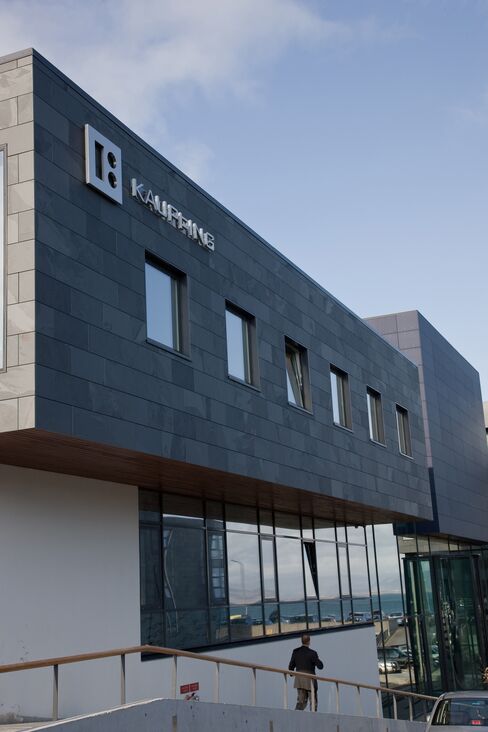 U.K. real estate investors Vincent and Robert Tchenguiz were among nine men arrested as part of a fraud investigation by authorities in the U.K. and Iceland into the collapse of Kaupthing Bank hf.
The U.K. Serious Fraud Office and police in Britain and Iceland searched homes and businesses in London and Reykjavik, prosecutors said in an e-mailed statement. Robert Tchenguiz, 50, and Vincent Tchenguiz, 54, said in a statement they were detained in London. Two of the nine men were arrested in Reykjavik and two homes were searched there, the SFO said.
"We were arrested earlier this morning and are being questioned with regard to matters relating to our relationship with Kaupthing," the brothers said in an e-mailed statement. "Both of us are cooperating fully with the investigation and are confident that, once concluded, we will be cleared."
Gudni Niels Adalsteinsson, Kaupthing's former treasurer and a former employee of the U.K. Financial Services Authority, was also arrested, according to two people familiar with the case who declined to be identified because they weren't authorized to speak. Sigurdur Einarsson, the former chairman of Kaupthing was among those arrested, Iceland's Morgunbladid newspaper reported.
The SFO is investigating Kaupthing's "decision-making processes, which appear to have allowed substantial value to be extracted from the bank in the weeks and days prior to its collapse," the agency said in December 2009 when it opened an investigation into possible fraud at the lender. Kaupthing was the last of Iceland's three biggest banks to collapse in 2008.
Biggest Borrower
In 2008, lending to Robert Tchenguiz and "related parties" corresponded to more than 25 percent of Kaupthing's equity, according to an Icelandic parliament-appointed Special Investigative Commission. Tchenguiz, Kaupthing's biggest retail borrower, was also a board member in Exista hf, one of the former owners of the bank.
The Iranian brothers are co-chairmen of Rotch Property Group, which owns and manages properties with a value of more than 1 billion pounds ($1.6 billion), according to the company's website. The company, based in London's Mayfair neighborhood, was restructured in 2001, with Robert establishing R20 and Vincent setting up Consensus.
The pair were worth a combined 850 million pounds in 2007, according to the Sunday Times Rich List of the most-wealthy people in England. Robert Tchenguiz has owned stakes in companies including pub owner Mitchells & Butlers Plc and supermarket chain J Sainsbury Plc. They also had considered taking over department-store operator Selfridges Plc in 2003.
Credit Suisse, Lehman
Adalsteinsson worked at the fixed income division of Credit Suisse Group AG in 2004 and 2005 and from 1998 until 2004 was employed as director of fixed income at Lehman Brothers International (Europe), which collapsed in 2008, according to Kaupthing's website and the FSA's register of people working in the U.K. financial-services industry.
The SFO is also probing whether Kaupthing made misrepresentations to attract U.K. investors, particularly its efforts to attract British investors to a high-yield deposit account called Kaupthing Edge. More than 30,000 people and companies in the U.K. invested in Kaupthing Edge, the SFO said. Iceland took control of Kaupthing when the bank wasn't able to get enough short-term funding.
Four people were previously detained in the Kaupthing probe in Iceland, including the bank's former Chief Executive Officer Hreidar Mar Sigurdsson, former head of the bank's domestic unit Ingolfur Helgason and the former head of the bank's Luxembourg unit, Magnus Gudmundsson. Kaupthing's former Chief Risk Officer Steingrimur Karason was banned from leaving the island.
Interrogated
Einarsson, Kaupthing's former chairman, who was interrogated by Iceland's special prosecutor in August 2010, has denied claims against him. Iceland issued an international arrest warrant for Einarsson after the special prosecutor opened a probe into a number of former Kaupthing executives for alleged market manipulation and forgery.
Einarsson's lawyer, Ian Burton, didn't immediately respond to a request for comment.
Before its collapse, Kaupthing lent $12 billion in deals that were "if not illegal, completely unethical," Prime Minister Johanna Sigurdardottir has said.
Kaupthing, Glitnir Bank hf and Landsbanki Islands hf collapsed after amassing debts equivalent to 12 times the island's gross domestic product. After taking control of the three banks, the government was forced to seek a $4.6 billion International Monetary Fund-led loan.
The searches and arrests in London today involved 135 police officers and SFO investigators. Investigators from the Icelandic Special Prosecutor's Office are in the U.K. to assist and members of the SFO are in Reykjavik to attend searches there, the agency said.
SFO spokeswoman Katie Winstanley declined to confirm the names of those arrested and said no one will be charged today.
Before it's here, it's on the Bloomberg Terminal.
LEARN MORE