Stiglitz Says Europe May Face Same Lost Half-Decade as Japan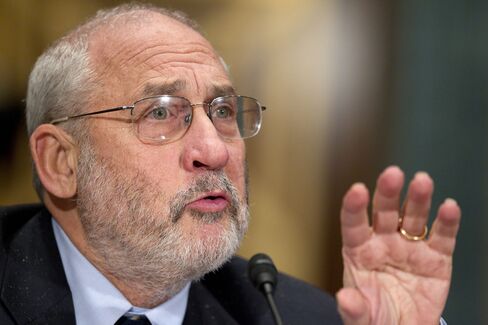 Nobel Prize-winning economist Joseph Stiglitz said the European Union may face a "lost half-decade" similar to that experienced by Japan as governments implement budget cuts that may undermine the economic recovery.
"In Japan -- where they tried to balance the budget too early -- in 1997 and 1998, Japan went in for another lost half-decade," Stiglitz said in an interview with Tom Keene on Bloomberg Radio's "Surveillance" in New York today. "Europe is really facing exactly the same kind of risk."
Governments from Spain to Ireland are struggling to reduce their budget deficits with tax increases and spending cuts, while at the same time reviving their faltering economies. European Union leaders are seeking a solution to the region's debt crisis as a March 25 deadline for a reinforced plan to aid debt-strapped countries draws nearer.
Stiglitz, a Columbia University professor, also said he sees a "low" risk of rising energy and food prices leading to more persistent inflation. Euro-region consumer-price growth quickened to 2.4 percent last month, the fastest since October 2008, and European Central Bank President Jean-Claude Trichet said last week that policy makers may raise interest rates as soon as April.
"There will be some inflationary pressures because of commodity prices, food, energy," Stiglitz said. "But the likelihood that that will pass through and lead to real inflation momentum, persistent inflation, is relatively low given the magnitude of the excess capacity."
Before it's here, it's on the Bloomberg Terminal.
LEARN MORE