BOE to Hold Rate Next Week as It Awaits Evidence of Recovery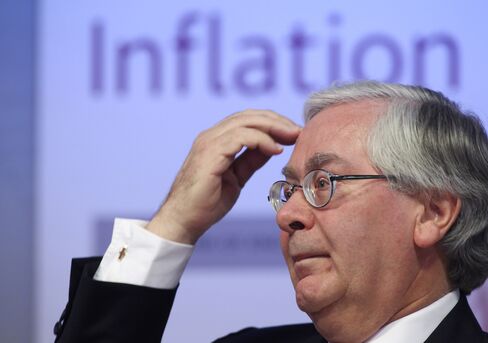 The Bank of England will leave its benchmark interest rate unchanged at a record low in the coming week as policy makers hold off tackling inflation on concerns about the strength of the recovery.
The nine-member Monetary Policy Committee, led by Governor Mervyn King, will leave its key rate at a record low of 0.5 percent, according to all 61 economists in a Bloomberg News survey. They'll also keep their bond purchase plan at 200 billion pounds ($325 billion), said all 34 economists in a separate poll.
Three of the committee voted to increase interest rates last month, with Andrew Sentance calling for a 50 basis-point increase to tame inflation that's accelerated to twice the bank's 2 percent target. Still, the economy shrank 0.6 percent in the fourth quarter and Deputy Governor Charles Bean said yesterday that the recovery "still faces headwinds and has recently shown signs of fragility."
"The body of the committee is still looking for further evidence of a bounce back," said David Tinsley, an economist at National Australia Bank in London. "The data over the last month hasn't changed that story much. They're looking for a bounce in activity in the first quarter for them to move."
Tinsley forecasts the bank will increase its key rate by a quarter-point in May, though he sees "a non-trivial risk" of a move in April. He sees the rate at 1.5 percent by year-end.
The Bank of England will announce its decision at noon on March 10, a week after Jean-Claude Trichet said an interest-rate increase by the European Central Bank next month is "possible." The Frankfurt-based central bank has left its benchmark interest rate at 1 percent since May 2009.
In the U.K., the key rate has been at 0.5 percent since March 2009. Investors have priced in a 25 basis-point jump in the rate by June, according to forward rates on the sterling overnight interbank average, or Sonia, compiled by Tullett Prebon Plc. It will rise to 1 percent by November, the data show.
Before it's here, it's on the Bloomberg Terminal.
LEARN MORE