Nobel Winner Yunus Stays at Grameen Bank Amid Ouster Call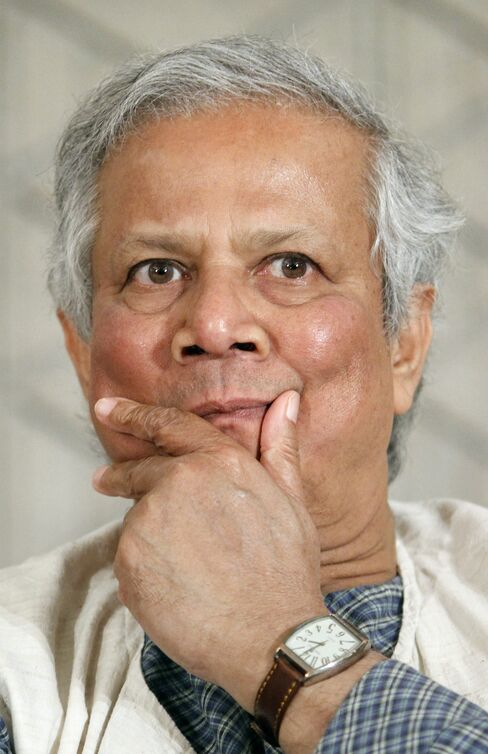 March 3 (Bloomberg) -- Muhammad Yunus, the Nobel Peace Prize-winning pioneer of microfinance, will remain as managing director of Bangladesh's Grameen Bank amid calls from the nation's central bank for his ouster, the lender said.
Grameen, which won the prize in 2008 with its founder, is seeking legal advice after the bank's chairman said Yunus had been removed from his position by the central bank, spokeswoman Jannat-E Quanine said in an e-mailed statement yesterday. A call to Yunus's mobile phone was referred to his office in Dhaka, where he wasn't available. He didn't reply to an e-mail.
The dispute, less than five months after a government clampdown on loan practices in India, underscores the need for microlenders to seek the support of governments and central banks, said Mathew Titus, head of an Indian microfinance association. The standoff may derail lending by Grameen, which offers financing to the poorest in 95 percent of Bangladesh's villages.
"The incident confirms the fears of bankers that there are big political risks in the microfinance sector," Titus, executive director of Sa-Dhan, an association of 239 Indian microfinance institutions, said by telephone from New Delhi. "If the government can take on the iconic Yunus, others would be susceptible."
Kerry 'Deeply Concerned'
In Washington today, John Kerry, chairman of the Senate Foreign Relations Committee, said he was "deeply concerned" by what critics have suggested is a politicized attempt by the government to remove Yunus from Grameen Bank.
"The international community will watch this situation closely, and I hope that both sides can reach a compromise that maintains Grameen Bank's autonomy and effectiveness," said Kerry, a Massachusetts Democrat. "Institutions like the Grameen Bank make a significant contribution to Bangladesh's development."
Bangladesh is Asia's poorest nation, trailing Afghanistan and Nepal, according to the World Bank. It has a population of about 156 million people, according to data compiled by Bloomberg.
The Reserve Bank of India in January recommended that microfinance companies cap interest rates at 24 percent and limit loans to individual borrowers to 25,000 rupees ($555).
New Rules
That took the central bank a step closer to new rules for microlenders after a clampdown by the state of Andhra Pradesh led to a slump in collections and sent shares of SKS Microfinance Ltd. down 36 percent in Mumbai since its August listing. Andhra Pradesh accounts for about a third of such loans in India.
"Grameen Bank has been duly complying with all applicable laws," the lender said in its statement. "It has also complied with the law in respect of appointment of the managing director."
Yunus, 70, breached retirement norms in Bangladesh by continuing to head Grameen Bank, K.M. Abdul Wadood, general manager at the banking regulation and policy department at Bangladesh's central bank, said on March 1. The age limit for such positions is 60, he said.
"We have written to Grameen Bank that Muhammad Yunus can no longer continue to be the managing director," Bangladesh Bank's Wadood said by telephone yesterday. "Grameen Bank is bound to follow our instructions."
Norwegian Documentary
In December, a documentary shown on Norwegian national television alleged that aid money to Grameen Bank had been diverted. Prime Minister Sheikh Hasina Wajed called for the allegations to be investigated.
Yunus said he would welcome any probe, India's Telegraph newspaper reported Dec. 6. Norway's Minister of Environment and International Development Erik Solheim said in a statement the same month that there was "no indication" the funds were misused.
The Bangladesh government owned 5 percent of Grameen Bank as of January, with the rest held by borrowers, according to the lender's website. Grameen's services are available in 95 percent of the country's villages, and it has 8.35 million borrowers, most of whom are women.
"Moving Dr. Yunus out would affect Grameen Bank in the longer term," Sa-Dhan's Titus said. "Not every banker has that vision."
To contact the reporters on this story: Rakteem Katakey in New Delhi at rkatakey@bloomberg.net; Pradipta Mukherjee in Kolkata at pmukherjee7@bloomberg.net
To contact the editor responsible for this story: Philip Lagerkranser at lagerkranser@bloomberg.net