Jets Release Jenkins, Taylor, Woody Before NFL's New Year Starts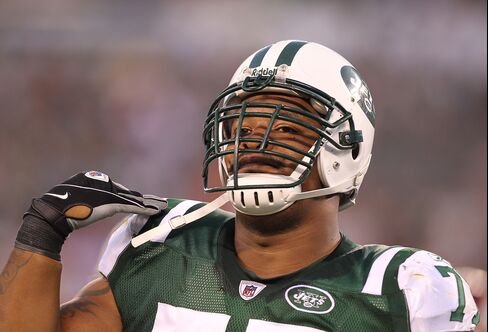 March 2 (Bloomberg) -- The New York Jets released defensive tackle Kris Jenkins, linebacker Jason Taylor and tackle Damien Woody two days before the start of the National Football League's new year, General Manager Mike Tannenbaum said.
Jenkins, 31, has been on injured reserve since he tore the anterior cruciate ligament in his left knee against the Baltimore Ravens on Sept. 13. He spent three seasons with the Jets.
Taylor, 36, a 14-year veteran who ranks first among active players with 132.5 sacks, appeared in 16 regular season and three postseason games in his only year with the Jets.
Woody, 33, who played three seasons with the Jets, started 13 regular-season games and one playoff game during 2010 before being placed on injured reserve with a damaged Achilles tendon on Jan. 12.
To contact the reporter on this story: Nancy Kercheval in Washington at nkercheval@bloomberg.net
To contact the editor responsible for this story: Michael Sillup at msillup@bloomberg.net