Republicans Introduce Bill to Block EPA Greenhouse Gas Rule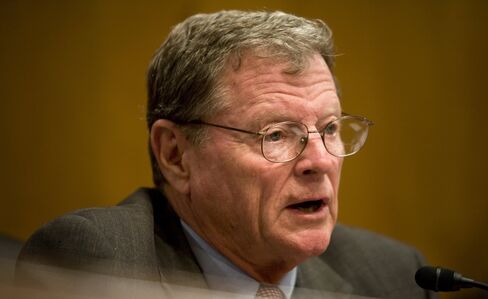 Legislation to bar the U.S. Environmental Protection Agency from regulating greenhouse gases was introduced today by Republicans, who also lined up support from several Democrats in Congress.
Matching bills by House Energy and Commerce Committee Chairman Fred Upton of Michigan and Senator James Inhofe of Oklahoma, both Republicans, would bar the EPA from mandating emission limits from factories and power plants, while allowing a previous agreement the Obama administration reached with automakers to cut vehicle tailpipe emissions.
EPA Administrator Lisa Jackson, whose agency began on Jan. 2 to regulate gases blamed for contributing to climate change, has said President Barack Obama would veto any attempt to stop the rules. Upton said the regulations would increase energy prices that are already rising.
"The very last thing the federal government should do is make matters worse by intentionally driving up the cost of energy," Upton said in an e-mailed statement.
Republican sponsors won support from Democratic representatives Collin Peterson of Minnesota, Nick Rahall of West Virginia, and Dan Boren of Oklahoma.
"EPA is out of control, and we have to send them a message," Peterson, who headed the Agriculture Committee until Republicans won control of the House in the November elections, said in an interview yesterday.
'Out of Control'
Rahall, former chairman of the House Natural Resources panel, said he's "dead-set against the EPA's plowing ahead on its own with new regulations to limit greenhouse gas emissions."
Rahall had backed a bill to delay EPA regulation for two years, legislation being pushed by Democratic Senator Jay Rockefeller of West Virginia. Rockefeller's bill probably has a better chance to pass Congress, given concerns in the Senate over permanently blocking EPA regulation, Rahall said in an interview yesterday.
In the Senate, the bill will have the support of Republican Senators such as Lisa Murkowski of Alaska and Lindsey Graham of South Carolina, according to Inhofe spokesman Matt Dempsey. Inhofe also is seeking the backing of Democrats, including Senator Joe Manchin of West Virginia, Dempsey said.
'Courts Step In'
The chief of one power utility said he is worried Congress will take away EPA's power and then do nothing. Legislation establishing a cap on carbon emissions failed in the last Congress.
"I'd much rather see Congress itself address greenhouse gases than have the EPA do it," Ralph Izzo, chief executive officer of Public Service Enterprise Group Inc., owner of New Jersey's largest utility, said yesterday in an interview. "My fear is Congress doesn't address the issue and then the courts step in and make our life even crazier."
Michael Morris, president and chief executive officer of Columbus, Ohio-based American Electric Power Co., expressed "strong support" for the bill in a letter released by the House Energy committee.
The company, the biggest U.S. producer of coal-fueled electricity, said reducing greenhouse gases should be handled exclusively by Congress. Burning coal releases carbon dioxide gases that scientists say are warming the planet.
Several industry trade groups also offered support for the bill.
"This legislation will prevent EPA from imposing regulations that could significantly raise energy costs and harm our fragile economy," said Marty Durbin, executive vice president for the Washington-based American Petroleum Institute, the largest trade group for oil and gas companies.
Before it's here, it's on the Bloomberg Terminal.
LEARN MORE