Carson Palmer Says He Won't Return to Bengals, WCPO TV Says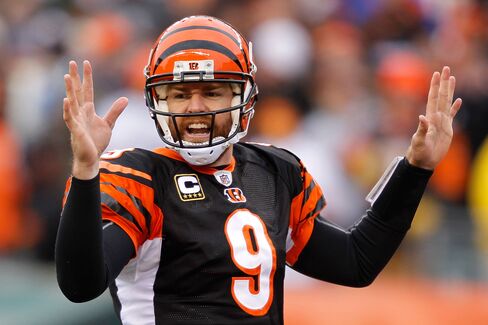 Carson Palmer would rather retire than return to the Cincinnati Bengals, WCPO-TV said, citing the quarterback.
"I have $80 million in the bank," the Cincinnati television station cited Palmer as saying in a report on its website. "I don't have to play football for money. I'll play it for the love of the game but that would have to be elsewhere."
The Bengals may seek to trade Palmer rather than let him retire, the report said.
The 31-year-old Palmer has been a Bengal since being chosen by Cincinnati with the first overall pick in the 2003 National Football League draft. Palmer's request to be traded after the Bengals finished 4-12 last season was denied by team owner Mike Brown, the Associated Press said Feb. 7.
Before it's here, it's on the Bloomberg Terminal.
LEARN MORE