Bernanke Doesn't Rule Out More Bond Buying to Aid Economy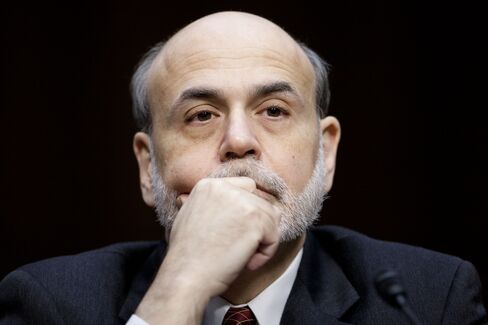 March 2 (Bloomberg) -- Federal Reserve Chairman Ben S. Bernanke didn't rule out expanding the central bank's asset purchases aimed at stimulating the economy, saying he doesn't want to see the U.S. relapse into a recession.
Asked at a House Financial Services Committee hearing today what conditions would warrant a third round of so-called quantitative easing, Bernanke said that "what we'd like to see is a sustainable recovery. We don't want to see the economy falling back into a double dip or to a stall-out."
Bernanke's testimony today and yesterday signaled that he will keep the Fed on course to complete $600 billion of Treasury purchases through June under the second round of quantitative easing, a policy criticized by Republican lawmakers as risking an inflation surge. He's avoided saying what the central bank may do after that.
A third round of purchases "has to be a decision" of the Federal Open Market Committee, and "it depends again on our mandate" for stable prices and maximum employment, Bernanke said in response to Texas Representative Jeb Hensarling, the House panel's vice chairman and a critic of QE2.
"We're looking very closely at inflation both in terms of too low and too high," Bernanke said during the second day of semiannual testimony on monetary policy. "I want to be sure that you understand that I am very attentive to inflation and potential risks for inflation. That will certainly be a major consideration as we look to determine how to manage this policy."
Beige Book
Separately today, the Fed said in its regional Beige Book survey that the labor market improved throughout the country early this year, driven by increasing retail sales and "solid growth" in manufacturing.
Overall, the economy "continued to expand at a modest to moderate pace," the central bank said in Washington. Eleven of the Fed's 12 regional banks, including San Francisco and Philadelphia, described their regions as expanding, improving or experiencing moderate growth. Only Chicago reported growth "at a pace not quite as strong" as before.
The Standard & Poor's 500 Index rose 0.4 percent to 1,311.66 at 2:45 p.m. in New York after climbing 0.6 percent earlier.
Treasuries declined after a report earlier today showed the pace of employment growth is picking up before the Labor Department issues February jobs data March 4. The yield on the 10-year Treasury note rose to 3.46 percent from 3.39 percent yesterday.
'Extended Period'
Responding to a question from Representative Nydia Velazquez, a New York Democrat, Bernanke said the Fed's policy of keeping its benchmark rate near zero for an "extended period" helps provide support to the economy, "which in our judgment, it still needs."
"The economy's recovery is not firmly established, and we think monetary policy needs to be supportive," he said.
The second round of bond buying follows a $1.7 trillion first round of purchases of mortgage-backed debt and Treasuries.
Since August, when Bernanke signaled the Fed might buy securities to stimulate the economy, "downside risks to the recovery have receded, and the risk of deflation has become negligible," he said in testimony this week.
Many of the questions Bernanke fielded dealt with the outlook for the federal budget deficit, giving the Fed chief an opportunity to reiterate his call for Congress to come up with a long-term plan for reining in the national debt. Bernanke's statements resonated especially with House Republican lawmakers. The House passed a bill last month cutting $61 billion from 2011 government spending.
Debt, Deficit
"QE2 has given us some opportunity to act on our debt and deficit, and we have not taken advantage of that," panel Chairman Spencer Bachus, an Alabama Republican, said during today's hearing. "Any criticism directed at the chairman, you need to also sort of point that finger back at yourselves."
Bernanke got caught up in a debate over the extent to which House spending cuts would result in job losses. He told lawmakers the reductions may lead to about 200,000 fewer jobs over the next couple of years. That compares with the prediction of Mark Zandi, chief economist at Moody's Analytics, that the budget reductions would mean 700,000 fewer jobs in the U.S. by the end of 2012.
Last week, the Commerce Department reduced its estimate of fourth-quarter growth to a 2.8 percent annual pace. Consumer purchases rose at a 4.1 percent pace, the most since the same three months in 2006, compared with a 4.4 percent rate originally estimated.
Closely Monitor
Inflation is likely to remain low through 2013, Bernanke, 57, a former Princeton University economist, said in Senate testimony yesterday.
"We will continue to monitor these developments closely and are prepared to respond as necessary to best support the ongoing recovery in a context of price stability," he said.
At the same time, the labor market "has improved only slowly," and it may take "several years" for the unemployment rate to reach a "more normal level," he said. "The housing sector remains exceptionally weak," and "slow wage growth" is keeping labor costs in check, he said.
A report yesterday showed U.S. manufacturing accelerated in February to the fastest pace since May 2004. The Tempe, Arizona-based Institute for Supply Management's factory index increased to 61.4 from 60.8 a month earlier. Readings greater than 50 signal growth.
The Fed's preferred price gauge, which excludes food and fuel, rose 0.8 percent in January from a year earlier, matching December's year-over-year gain, the lowest in five decades of record-keeping. Fed officials aim for long-run overall inflation of 1.6 percent to 2 percent.
To contact the reporter on this story: Scott Lanman in Washington at slanman@bloomberg.net.
To contact the editor responsible for this story: Christopher Wellisz at cwellisz@bloomberg.net