New Crop of U.S. Governors Commiserates Amid Unrest at Home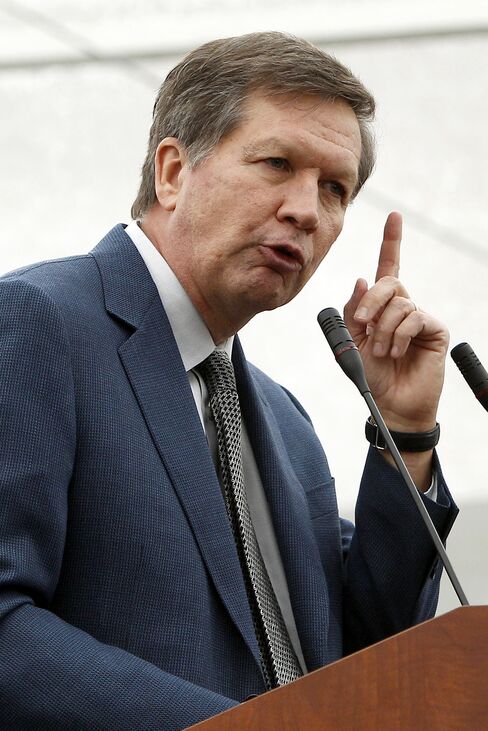 Ohio Governor John Kasich, facing a fiscal crisis not seen for decades, gave his constituents a warning last month in his inaugural address: "Put on the seat belt."
The belts have been buckled, in Columbus and throughout the U.S. This weekend, Kasich is joining his peers at a National Governors Association meeting in Washington as states face deficits that may total $125 billion in 2012, and protests have erupted in Ohio, Wisconsin, Indiana and elsewhere after attempts to limit collective-bargaining rights for government employees.
Labor groups plan a protest Feb. 27 against Wisconsin Governor Scott Walker and other governors at the meeting to tell them "Hands off Our Rights," Josh Goldstein, an AFL-CIO spokesman, said in an e-mail.
Walker may not be there. He doesn't plan to attend as long as 14 Democratic senators remain in Illinois to prevent a vote on his union bill, Chris Schrimpf, a spokesman for Walker, said in a telephone interview from Madison.
The weekend meeting allows the governors, especially the 29 new state chief executives, to compare notes, said Raymond C. Scheppach, executive director of the association. It's the largest number of new governors to attend the annual meeting, he said.
"This really is their first meeting together," Scheppach said in a telephone interview Feb. 24.
The confab, which runs from tomorrow through Feb. 28, includes a black-tie evening Feb. 27 at the White House with governors and their spouses and President Barack Obama and first lady Michelle Obama. The next day, the governors meet with the president and members of his cabinet.
Spending Dwindles
They gather as cuts in state government spending in the wake of the longest recession since the Great Depression are becoming a drag on the national economy. States and cities are trimming jobs and pay, and governors are pushing cuts to programs such as Medicaid, the health-care program for the poor. Federal economic stimulus assistance that states have relied on since 2009 expires in June.
In the fourth quarter, the U.S. economy grew at a 2.8 percent annual rate, slower than previously calculated and less than estimated, according to the Commerce Department. State and local government expenditures fell at a 2.4 percent annual rate in the fourth quarter, compared with a previous estimate of a 0.9 percent drop, the department said. In the third quarter, state and local government spending rose 0.7 percent.
No Help
"Current spending by state and local governments has been under downward pressure for some time now, as governments and municipalities have been forced to enact wide-ranging cuts to meet their balanced budget requirements," Paul Ashworth, chief U.S. economist of Toronto-based Capital Economics, said today in a research note. "The end of the emergency federal support for states isn't helping either."
Tomorrow, the governors will focus on jobs in an opening session with the title, "Growing a Competitive State Economy." It concludes with remarks from Zhou Qiang, the Communist Party secretary of the Hunan Provincial Committee in China.
Panels Feb. 27 include discussions about education, public finance and Medicaid. The meeting concludes with a speech from Bill Gates, co-founder of Microsoft Corp.
Scheppach said he expects that through the weekend, "budget cutting will be a fair amount of the conversation."
Before it's here, it's on the Bloomberg Terminal.
LEARN MORE