Sears Quarterly Profit Declines 13% After Sales Tumble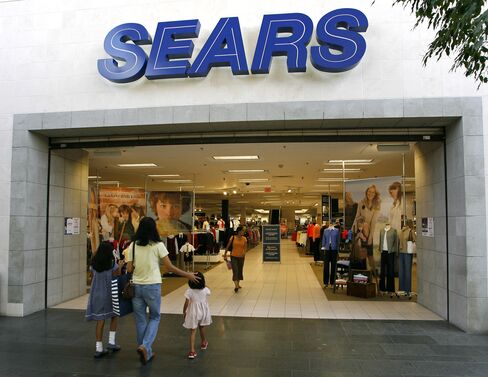 Sears Holdings Corp., the largest U.S. department-store chain, said fourth-quarter profit fell 13 percent after same-store sales declined during the holidays. The shares slid the most in six months.
Net income dropped to $374 million, or $3.43 a share, in the quarter ended Jan. 29, from $430 million, or $3.74, a year earlier, the Hoffman Estates, Illinois-based company said today in a statement. Adjusted earnings per share were $3.60, compared with a company forecast of $3.39 to $4.12.
Falling sales of consumer electronics and clothing led to a 4.5 percent decline in sales by domestic Sears stores open at least 12 months. Chairman Edward Lampert said in a letter on the company's website that "our financial results remain at unacceptable levels." He cited delays in shifting to redesigned Kenmore appliances among Sears "missteps" in big-ticket items.
"Sears remains a very weak retail asset," Greg Melich, an analyst at International Strategy & Investment Group in New York, wrote today in a note to clients.
Sears fell $4.83 to $82.40 at 4 p.m. New York time in Nasdaq Stock Market trading. It was the steepest slide since Aug. 19. The shares have advanced 12 percent this year.
Melich, who rates the shares "sell," said inventories rose 4.8 percent while total revenue fell slightly, signaling the retailer may be forced to mark down merchandise this quarter. Price cuts may pressure gross margin, the fraction of sales remaining after subtracting the cost of goods sold, in this year's second half, he said.
'Long-Term Investments'
Lampert said in the letter that "we will continue to make long-term investments in key areas that may adversely impact short-term results when we believe they will generate attractive long-term returns."
Lou D'Ambrosio assumed duties today as chief executive officer and president. D'Ambrosio, a former CEO of telecommunications company Avaya Inc., had worked as a consultant to the Sears board on strategy and operations, the retailer said in a statement yesterday.
D'Ambrosio, who replaces interim CEO W. Bruce Johnson, sold Avaya to Silver Lake and TPG Inc. for $8.2 billion in 2007 and stepped down for medical reasons in June 2008.
The hiring of D'Ambrosio, an executive at International Business Machines Corp. for 16 years before taking charge at Avaya, is aimed at boosting technology in Sears retail operations, Lampert said in the letter.
Comparable-store sales for the Kmart unit rose 2.5 percent in the fourth quarter, helped by demand for clothing, shoes and sporting goods.
Sears opened its namesake stores on Thanksgiving Day for the first time as it competed against Wal-Mart Stores Inc. and J.C. Penney Co. to lure holiday shoppers.