Oil May Surge to $220 If Libya, Algeria Halt, Nomura Says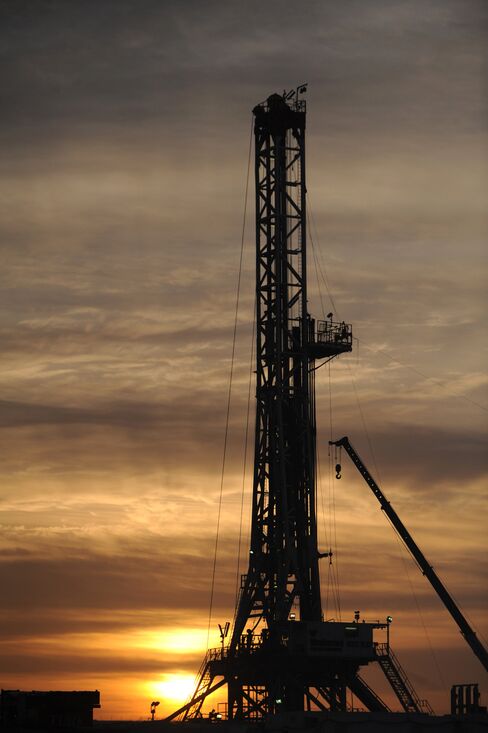 Oil prices may surge to $220 a barrel if political unrest in North Africa halts exports from Libya and Algeria, Nomura Holdings Inc. said.
Crude futures rose to almost $100 in New York today, the highest in more than two years, as violence in Libya threatened to disrupt exports from Africa's third-biggest supplier. Libyan leader Muammar Qaddafi vowed yesterday to fight a growing rebellion until his "last drop of blood." Protests in Algeria led to the ending of a 19-year state of emergency.
"If Libya and Algeria were to halt oil production together, prices could peak above $220 a barrel and OPEC spare capacity will be reduced to 2.1 million barrels a day, similar to levels seen during the Gulf war and when prices hit $147 in 2008," the Tokyo-based bank said in a note today.
The Organization of Petroleum Exporting Countries has spare production capacity of about 5 million barrels a day, according to the International Energy Agency. Saudi Arabian Oil Minister Ali al-Naimi said yesterday that the organization will boost output if there is a shortage. Algeria produced 1.25 million barrels a day last month, while Libya pumped 1.59 million a day, according to data compiled by Bloomberg. Both nations are members of OPEC.
Crude for April delivery was at $99.68 a barrel as of 12:38 p.m. on the New York Mercantile Exchange, the highest since Oct. 2, 2008. Futures are up 24 percent from a year ago. Brent for April settlement climbed 5.4 percent, to $111.49, on the ICE Futures Europe exchange.
Gulf War
"The closest comparison is the 1990-1991 Gulf War," during which OPEC's spare capacity dropped to 1.8 million barrels a day and prices surged 130 percent in seven months, Nomura analysts led by Michael Lo in Hong Kong said.
Nomura said the $220 prediction may be an underestimate, as speculative investors trading crude oil who were not active in the early 1990s may amplify the price.
A surge to $220 would trigger demand destruction and a correction lower, according to Stephen Schork, president of the Schork Group Inc. in Villanova, Pennsylvania.
"These are levels that effectively kill the global recovery," Schork said in an interview. "You can never say never, but $220 is blatantly not sustainable."
Nomura forecasts that a jump to $220 would probably cause a temporary collapse in global oil consumption of 2 million barrels a day. That's more than the 1.5 million barrels of daily growth anticipated this year by the IEA.
Scaling Back
Total SA and OMV AG followed Eni SpA, RWE AG and BASF SE's Wintershall unit in scaling back their Libyan operations this week. The moves have reduced production by as much as 300,000 barrels a day, Vienna-based researcher JBC Energy GmbH said in a report today.
Protests in Algeria, while not as violent as in Libya, led to the announcement yesterday of an end to the state of emergency. The measure was imposed after the cancellation of the country's first multiparty elections that Islamists were set to win in 1992.
"I see a higher chance for Libyan production to stop at the moment, but I will not be surprised if this rolls over into Algeria too," Nomura's Lo said by e-mail. "We are hearing a threat to oil infrastructure in Algeria already."
If an export suspension is confined to Libya, rather than both countries, prices would rise to about half of the $220 a barrel forecast, Lo said.
Before it's here, it's on the Bloomberg Terminal.
LEARN MORE