Chinese Consumers' Confidence Slides on Inflation Concern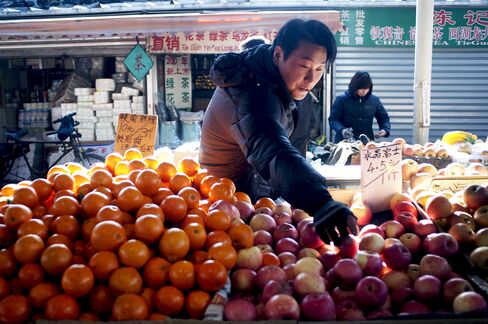 A Chinese consumer confidence index fell in the fourth quarter to the lowest since 2009 as inflation accelerated in the fastest-growing major economy.
The measure was at 100, compared with 104 in the previous three months, Nielsen Co. and the Chinese statistics bureau's Economic Monitoring and Analysis Center said in a statement released in Beijing today.
Inflation topped the government's 4 percent target for 2011 in each of the past four months even as the central bank raised interest rates and drained money from the financial system by boosting lenders' reserve requirements. Rising commodity costs threaten to worsen price pressures after growth accelerated in the fourth quarter.
Confidence will "continue to slide as long as the consumer price index keeps running high," said Lu Zhengwei, a Shanghai-based economist at Industrial Bank Co. At the same time, he cautioned against relying too much on an indicator that sometimes lacks "consistency."
High housing prices and rising interest rates also curbed private consumption, the statement said. Eighty-three percent of consumers expected prices to rise further in the next 12 months, 6 percentage points higher than in the previous quarter.
In January, consumer prices rose 4.9 percent from a year earlier, up from a 4.6 percent gain in December.
Before it's here, it's on the Bloomberg Terminal.
LEARN MORE