Qaddafi Vows More Deadly Attacks as Army Units Defect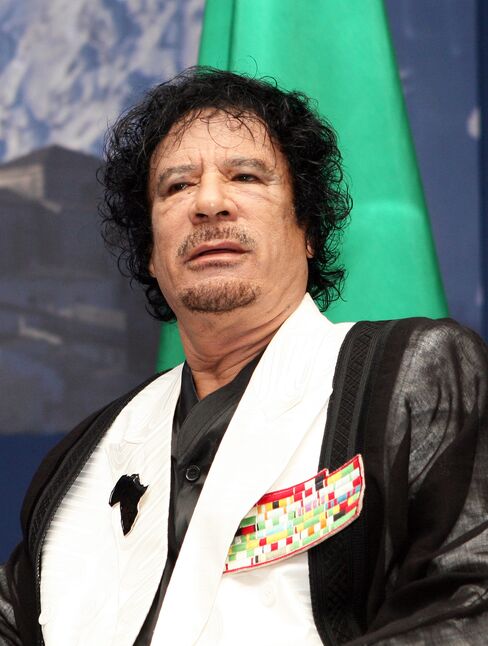 (Corrects to remove reference to Dabbashi resigning in 18th paragraph of article originally published on Feb. 23. See EXTRA <GO> for more news on regional unrest.)
Feb. 23 (Bloomberg) -- Libyan leader Muammar Qaddafi vowed to fight a growing rebellion until his "last drop of blood," as parts of the capital of Tripoli resembled a war zone and some of his followers and troops defected to the opposition.
In Tripoli, bodies were left in the streets after an attack on protesters by pro-Qaddafi gunmen, the opposition National Front for the Salvation of Libya said. In the eastern city of Benghazi, where the protests began, the flag of the constitutional monarchy overthrown by Qaddafi in 1969 flew on streets and over several buildings and there were no security forces in evidence except traffic police, witnesses said.
"In my opinion, the regime is over," former Interior Minister Abdel Fattah Younes, one of those who defected, said on Al Arabiya television. "Most of the towns and tribes have said they back the revolution," he said, while urging the Libyan army to join the rebellion.
While Middle East rulers have tried to put down uprisings that have overthrown leaders in Tunisia and Egypt and spread to Bahrain and Yemen, none used as much force as the Libyan ruler. Qaddafi's crackdown on the week-long demonstrations has already left almost 300 dead, according to Human Rights Watch, and driven oil prices to a 2 1/2-year high.
'Grave Concern'
The United Nations condemned the violence and U.S. Secretary of State Hillary Clinton said the Obama administration was watching the events with "grave concern" and would take "appropriate steps," which she did not describe.
"Qaddafi has unequivocally declared his intention to massacre his own people," said Shadi Hamid, director of research at the Brookings Doha Center in Qatar. "Time for the international community to intervene. For starters, NATO should enforce a no-fly zone over Libya" to prevent Qaddafi's aircraft from attacking, he said.
Rebels supported by defecting army units have taken control of the eastern area of Libya near the border with Egypt, Mohammed Ali Abdallah, deputy secretary-general of the National Front, said by phone from Dubai, citing contacts in the city.
Asian stocks today fluctuated as oil companies advanced, countering declines among airlines. The MSCI Asia Pacific Index was little changed at percent to 137.23 as of 12:15 p.m. in Tokyo. Crude for April delivery was at $95.86 a barrel, up 44 cents, in electronic trading on the New York Mercantile Exchange at 11:31 a.m. Tokyo time. Yesterday, it increased $5.71 to $95.42, the highest since October 2008.
Oil Reserves
Libya, holder of Africa's largest oil reserves, is the latest nation to be rocked by protests ignited by last month's ouster of Tunisia's president and fanned by the Feb. 11 fall of Egyptian President Hosni Mubarak.
In Yemen, the poorest country on the Arabian peninsula, there were clashes in the capital, Sana'a, for a 12th straight day between supporters and opponents of President Ali Abdullah Saleh, who has ruled for more than 30 years. At least two people were killed and ten others wounded yesterday, the media committee of the protesters said in a statement.
In Bahrain, home to the U.S. Navy's Fifth Fleet, opposition groups, mostly Shiite Muslims, yesterday held their largest demonstrations so far, with tens of thousands marching peacefully in the capital, Manama, to call for more democracy and an end to discrimination by the Sunni Muslim royal family.
Bahrain Death Toll
A government spokeswoman yesterday put the death toll from more than a week of protests at seven, after security forces attacked protesters last week. The island kingdom's largest opposition group said it is looking for "significant steps" by the government before agreeing to join in a national dialogue.
Qaddafi, in a television address that lasted more than an hour, said continued protests "will lead to civil war." He called the rebels "rats" and "microbes" who will face death penalties for taking up arms against the state. The revolt's "masterminds" are abroad, he said, speaking from the ruined house in Tripoli where he was targeted by U.S. bombs in 1986 that killed his adopted daughter.
"The regime is probably willing to kill more people than other Arab regimes to maintain its position," Charles Cecil, who served as the U.S. Charge d'Affaires in Libya from 2006 to 2007, said in an interview.
Evacuations
The U.S. and other nations are seeking to evacuate their citizens from Libya. A ferry chartered by the U.S. government is to leave Tripoli today for Valletta, Malta, carrying U.S. citizens who want to leave Libya, the U.S. Embassy in Tripoli said in a statement on its website. The U.K. will re-deploy a Royal Navy frigate to near Libya in case it is needed to help with evacuations, Foreign Secretary William Hague said.
Libyan diplomats in several cities abandoned the Qaddafi regime in protest, including Ambassador to the U.S. Ali Aujali, a native of Benghazi. "The regime is killing our people in a very brutal way," he said on National Public Radio's "Morning Edition" program.
It is unclear what degree of control the Libyan leader has over his military. Two Libyan warships arrived yesterday off the coast of Malta after refusing to carry out an order to attack Benghazi, Al Jazeera reported. Earlier, two jet fighters landed in Malta and their pilots said they had been ordered to attack protesters.
Libya's deputy ambassador to the UN, Ibrahim Dabbashi, said after the Security Council meeting that the regime's forces were attacking cities in western Libya in what he called "genocide." He said Qaddafi's speech was a signal to launch attacks.
'Burn Everything'
Qaddafi said he hasn't yet ordered the use of force and that giving that order would "burn everything." It was unclear whether that would include Libyan oil facilities.
Libya, with a population of about 6.3 million, pumps 1.6 million barrels of oil a day, selling most of it to Europe, according to Bloomberg estimates. That's about 1.8 percent of world supply. It's the third-biggest producer in Africa after Nigeria and Angola, while Libyan reserves of 44.3 billion barrels are the continent's largest according to BP Plc's Statistical Review of World Energy.
The Libya ruler cited actions by other governments, including China's at Tiananmen Square in 1989, as examples of repression of civil unrest that the world accepted. He also said he expects new "popular rule" committees to be formed and said he's open to a new constitution, without giving details.
No Succession Mechanism
Ending Qaddafi's rule may not be enough to stabilize a country lacking state institutions or a succession mechanism, said Charles Gurdon, an expert on Libya and managing director of Menas Associates, a political risk consultant, in London.
"The transition will be difficult because there are no political parties in Libya, there are only opponents of the regime," he said.
Without a clear alternative to Qaddafi the country could easily slip into a civil war, said Edward Walker, a scholar at the Middle East Institute in Washington.
"There is this split between the West and East, Tripoli and Benghazi, and the Tripoli people have a vested interest in keeping control," said Walker, a former Assistant Secretary of State for Near Eastern Affairs. "I'm not really sure it's about democracy. It's about tribes."
To contact the reporters on this story: Alaa Shahine in Dubai at asalha@bloomberg.net; Ola Galal in Cairo at ogalal@bloomberg.net; Nayla Razzouk in London at nrazzouk2@bloomberg.net
To contact the editor responsible for this story: Andrew J. Barden at barden@bloomberg.net