New Zealand Quake May Be Costliest Disaster Since 2008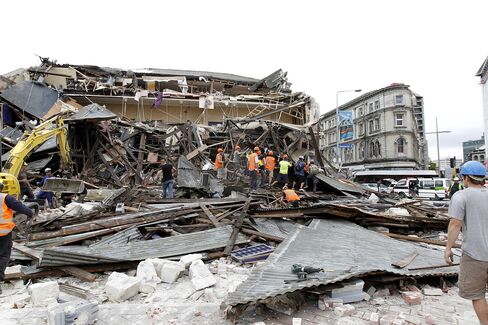 New Zealand's deadliest earthquake in eight decades may be the costliest natural disaster for insurers since 2008.
Insured losses from yesterday's temblor may be $12 billion, Michael Huttner, an analyst at JPMorgan Chase & Co., said in a note to clients. That would be the most expensive calamity since the $19.9 billion loss from Hurricane Ike, which struck the U.S. in 2008, according to the Insurance Information Institute, a New York-based trade group.
The 6.3-magnitude quake killed at least 75 people, toppled buildings and trapped workers in Christchurch, New Zealand's second-largest city. It followed a 7.0-magnitude temblor that shook the city of 400,000 people on Sept. 4, costing insurers an estimated $6 billion, according to Huttner.
"Even buildings which are still standing may have hidden structural damage and could then need to be rebuilt," he said in the note. "This is a very conservative assumption on our part and in support of this we note that all reinsurers revised" cost estimates for the previous earthquake.
The scale of yesterday's quake remains unknown and will be treated as a separate event, New Zealand Prime Minister John Key said in a press conference from Wellington today.
"We think there may be another 100,000 claims," Key said. "There were 180,000 claims I think in the first earthquake. We know that different properties have been affected. Some properties that had no impact in the last earthquake have been severely damaged."
Flagstone, Munich Re
Flagstone Reinsurance Holdings SA, the Luxembourg-based company founded in response to the 2005 hurricane season, increased its estimated costs tied to the September quake to $75.5 million from $52.5 million on Dec. 30. Bermuda-based reinsurer PartnerRe Ltd. more than doubled its projection to between $140 million and $160 million on Dec. 15 from $64 million it had estimated on Nov. 3. Munich Re, the world's largest reinsurer, said the costs from the September quake were 340 million euros ($464 million) on Feb. 3.
Yesterday's disaster may lower Munich Re's 2011 operating profit by 16 percent, based on a doubling of industry losses from the September quake, Huttner wrote. Hannover Re, the world's third-largest reinsurer, may have operating profit cut by 18 percent, and No. 2 Swiss Reinsurance Co. by 13 percent, he said.
PartnerRe fell $3.38, or 4.1 percent, to $78.72 yesterday in New York Stock Exchange composite trading. That's the biggest drop since May 2009. Flagstone declined 58 cents, or 4.6 percent, to $11.96.
Reinsurers
Reinsurers such as Munich Re help primary insurers shoulder risk that they assume for clients.
Insurance Australia Group Ltd. cut its margin forecast today after yesterday's earthquake in Christchurch. Its reinsurance arrangements will cap the quake's cost to A$40 million, IAG said today.
Suncorp Group Ltd., an Australian lender and insurer, said today first-half profit fell 39 percent after a jump in claims from flooding in Queensland state and last year's New Zealand earthquake. Suncorp's "exposure" to New Zealand is limited to NZ$60 million ($45 million), it said in a statement.
Suncorp Chief Executive Officer Patrick Snowball said today that while he doesn't expect any problems with the capacity of reinsurers to sell cover for future natural disasters, "I'm certain that there will be some horse-trading over the price."
'Far Exceed'
Recent catastrophes are moving reinsurance to a sellers' market, and may make cost and availability of reinsurance less attractive than before, Standard & Poor's credit analyst Michael Vine wrote in a note today.
Insurance losses will "far exceed" that of the September quake, which currently stands at about NZ$5 billion, and the loss of life and damage to property is unprecedented for the area in recent times, Vine said.
Vine and Bank of America Corp.'s Merrill Lynch & Co. analysts Andrew Kearnan and Thomas Cherian, said in separate notes that the largest slice of the losses will be borne by reinsurers.
"Key exposures will be borne by the Earthquake Commission, which will meet the first NZ$1.5 billion of its eligible residential exposure, with substantial reinsurance protection beyond that," Vine said. "Additionally, major global reinsurance players will bear the majority of insured exposure to the event."
Seventh-Most Expensive
A $12 billion loss from this week's earthquake would make it the seventh-most costly natural disaster for insurers since 1970, according to the Insurance Information Institute's ranking. The industry's most expensive catastrophe was 2005's Hurricane Katrina, which cost $71.2 billion.
Insured losses from the Chilean earthquake, last year's most costly disaster, were $8.5 billion, according to Aon Corp. The catastrophe wasn't included in the ranking, which ran through 2009.
Fifty-five victims of yesterday's Christchurch quake have been named with another 20 recovered and awaiting identification, Prime Minister Key told reporters today. About 300 remain missing, Bob Parker, Christchurch's mayor, told reporters.
The combined death-toll of natural catastrophes in New Zealand from 1980 to 2010 was 90, according to Munich Re.
'Very Different Feel'
"It's the central business district where a significant number of buildings will be destroyed and will have to be rebuilt," Key said. "This is quite different from the first earthquake. It's quite clear that there'll be a major rebuild and the center of Christchurch will have a very different feel to it in years to come."
The first quake was estimated to cost between NZ$6 billion and NZ$8 billion, Key said.
"It seems likely that the market loss will be larger than the September quake," Mark Williamson, a London-based analyst at Peel Hunt LLP, wrote in a note to clients yesterday.
The government has the financial resources to cover the costs from the quake, Finance Minister Bill English said in an interview with Bloomberg Television today.
"The government has its own earthquake insurance scheme which will be called upon; it's backed by reinsurance in the U.S. and European markets," English said. "The private sector insurers and commercial insurers here also have significant reinsurance. We will be having significant cash flows coming in from offshore to finance the rebuilding effort."
Before it's here, it's on the Bloomberg Terminal.
LEARN MORE