Japan Debt Outlook Lowered by Moody's on 'Inexorable' Debt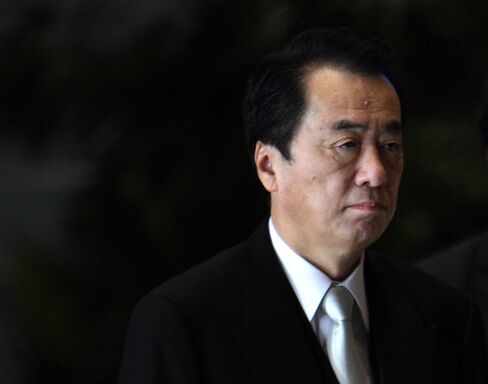 Feb. 22 (Bloomberg) -- Japan's debt rating outlook was lowered to negative from stable by Moody's Investors Service on concern that political gridlock will constrain efforts to tackle the biggest debt burden of any nation.
Economic and fiscal policies "may not prove strong enough to achieve the government's deficit reduction target and contain the inexorable rise in debt," Moody's said in a statement today. The rating is Aa2, the company's third highest. Standard & Poor's cut its rating last month to fourth highest.
Today's move adds pressure on Prime Minister Naoto Kan as his public approval rating slides and he struggles to secure lawmakers' support for measures to reduce debt, including a possible sales-tax increase. Japanese shares accelerated declines after the announcement and amid tensions in the Middle East. The Nikkei 225 Stock Average slid 1.8 percent today.
"Politicians will take today's announcement as a warning sign, but their biggest priority right now isn't Japan's fiscal health -- it's maintaining their seats in parliament," said Yoshimasa Maruyama, a senior economist at Itochu Corp. in Tokyo. "Japan can't sustain its borrowing needs without real tax hikes. The more the government delays this, the more its debt burden's going to swell. We're running out of time."
The risks to Japan's credit rating are "predominantly on the downside," Thomas Byrne, senior vice president at Moody's, said at a Tokyo news conference today.
Financing Budget
The dollar traded at 83.10 yen as of 5:38 p.m. in Tokyo compared with 83.14 in New York yesterday.
Finance Minister Yoshihiko Noda told reporters he won't comment on decisions by private rating companies. Japan needs to maintain fiscal discipline and push ahead with efforts to make its finances healthy, Chief Cabinet Secretary Yukio Edano said at a regular news conference today.
Moody's also lowered the credit-rating outlook for Japan's three largest banks to negative from stable, saying "the government debt rating is a key input into the supported senior unsecured ratings for the Japanese banks." The change relates to long-term debt at the banking units of Mitsubishi UFJ Financial Group Inc., Sumitomo Mitsui Financial Group Inc. and Mizuho Financial Group Inc.
The cut by Standard & Poor's last month was the company's first in nine years for Japan and reduced the nation's rating to AA-, on a par with China.
Political Opposition
Kan's task of securing legislation to finance the national budget for the year starting April 1 is more difficult because the opposition controls the upper house of parliament. Sixteen lawmakers in his party last week vowed to oppose a plan to increase the sales tax, further complicating his efforts to pass the budget-related bills.
The prime minister's public approval rating fell to 20 percent in an Asahi newspaper survey taken Feb. 19-20, down 6 percentage points from January and the lowest since he took office in June, the paper reported yesterday.
There is "increasing uncertainty over the ability of the ruling and opposition parties to fashion an effective policy reform response to the debt and growth challenges," Moody's said in today's statement.
Fitch Affirms Rating
Fitch Ratings affirmed its AA- rating for Japan, with a stable outlook, in an e-mailed statement today.
Japan's gross domestic product contracted in the fourth quarter and the nation was overtaken last year by China as the second-biggest economy.
The nation faces "chronic deflationary pressures" and can't grow its way out of debt, making fiscal adjustments essential for mending its finances, Moody's said. At the same time, Japan's large economy and deep financial markets can help the nation withstand shocks and the ratings company doesn't see any funding crisis "in the near- to medium-term."
A downgrade could be triggered by a failure to push through tax reform, a swing to a current-account deficit, or a drop in household savings cutting the domestic appetite for government debt, Moody's indicated.
While Moody's could keep Japan's Aa2 rating, "the risks are predominantly on the downside unless there are very good results for the tax reform program and also good results for the government's efforts to revitalize economic growth," Byrne said.
Japan's public debt is set to exceed twice the size of the economy this year and reach 210 percent of gross domestic product in 2012, the highest among countries tracked by the Organization for Economic Cooperation and Development, compared with an estimated 101 percent for the U.S.
The debt will probably swell to 997.7 trillion yen ($12 trillion) in the year starting April 1, Japan's Finance Ministry said last month. When Standard & Poor's lowered its rating, the company said the government lacks a "coherent strategy" for tackling the debt.
To contact the reporter on this story: Aki Ito in Tokyo at aito16@bloomberg.net
To contact the editor responsible for this story: Paul Panckhurst at ppanckhurst@bloomberg.net