Nokia Siemens Sees Strategy Benefits From Private Equity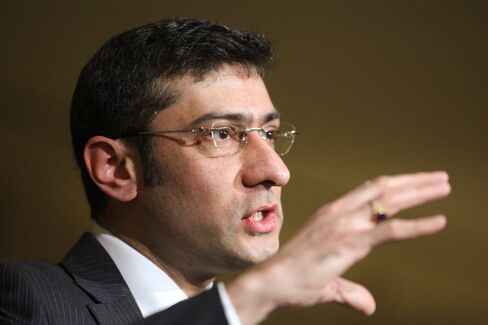 Nokia Siemens Networks, the network equipment joint venture between Nokia Oyj and Siemens AG, sees strategic advantages from a possible private equity investment.
"There could be new capital that would give us additional strategic flexibility," Chief Executive Officer Rajeev Suri said at a briefing for reporters at the company's headquarters in Espoo, Finland. "These companies also bring expertise and knowledge, and they just bring a network where we sometimes don't see it and I believe it's good to have a strong base of three shareholders."
Suri said in August that the company had been approached by private equity investors. A deal may be reached by the end of the second quarter with TPG Capital, Gores Group LLC, or a third investor, people familiar with the discussions said last week. Suri said today he couldn't speculate on timing and added that the company didn't necessarily need a deal to happen.
A private equity firm "can come and say by the way there are these nice small companies you can buy, consider are there any holes in your portfolio you would like to cover, this is what we think," Suri said. Private equity companies may have previous experience in telecommunications holdings and relationships with operators, he added.
Nokia Oyj Chief Executive Officer Stephen Elop unveiled his strategy for the parent company on Feb. 11, including a deal to use Microsoft Corp.'s Windows Phone 7 on Nokia handsets and "substantial reductions in employment in various locations around the world." Elop didn't announce any changes for Nokia Siemens.
"If you look at the market overall, we clearly see a lot of very successful companies in the mobile devices industry who do not have a networks asset," Nokia Chief Financial Officer Timo Ihamuotila said on Feb. 11.
Suri, who is holding "town hall" meetings with workers in Tampere and Oulu, Finland this week, said Elop's strategy has no direct impact on Nokia Siemens as the company is self-funded in its operations. The venture's Finnish workers shouldn't be worried if its progress continues, he said.
Suri praised Finnish research and development groups that produced improved products for Long-Term Evolution, or LTE, a so-called fourth-generation wireless technology offering higher speeds for Web surfing and video streaming.
Nokia Siemens agreed last year to acquire the networks business of Motorola Solutions Inc. for $1.2 billion to add more business in North America and Japan. Closure of the deal has been hampered by delays in obtaining approval from the Chinese authorities and a lawsuit in the U.S. from Huawei, which sought to ensure that Motorola wouldn't disclose confidential information about the Chinese company's technology to Nokia Siemens.
Suri aims to complete the deal in the first quarter, he said last week.
LTE Contracts
The Nokia-Siemens joint venture was formed in 2007 to take on market leader Ericsson AB. It has struggled to make a profit as the recession crimped carrier spending and price competition increased from Chinese vendors such as Huawei Technologies Co.
Nokia Siemens posted a 1 million-euro operating profit in the fourth quarter on revenue that increased 9 percent from the previous year. Suri has focused the business on high-spending markets such as North America and Japan as well as the world's biggest developing economies including China and India.
Nokia and Nokia Siemens said the market for network equipment and services in euros was flat last year. It will "grow slightly" this year, Suri has said. Nokia said the joint venture will have a loss or break even in the first quarter on sales of as much as 3.1 billion euros ($4.2 billion).
Last quarter, Nokia Siemens announced 3G contracts with Idea Cellular, Vodafone Essar and Aircel in India, and 4G or LTE contracts with Deutsche Telekom in Germany, Elisa Oyj in Finland as well as a core network upgrade for Tele2 AB in Sweden. The company has a total of 31 commercial LTE contracts, not counting trials, Suri said.
Before it's here, it's on the Bloomberg Terminal.
LEARN MORE