Qaddafi's Son Warns of 'Rivers of Blood,' Calls For Dialogue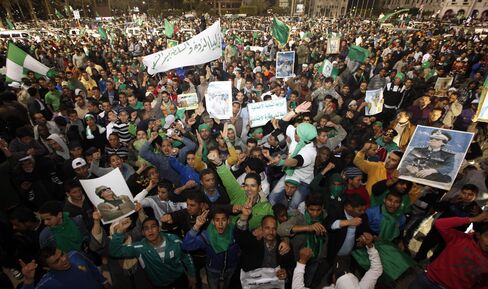 Muammar Qaddafi's son called on protesters in Libya to engage in dialogue or face a civil war that risks the country's oil wealth, as a widening revolt posed the most serious challenge to his father's 41 years of rule.
"Instead of weeping over 84 dead people, we will weep over hundreds of thousands of dead," Saif al-Islam Qaddafi said on state television. "Rivers of blood will flow."
He accused Islamists of attacking army positions and said some demonstrators had captured military equipment. Human Rights Watch puts the number of dead at over 200.
Libya, holder of the largest crude oil reserves on the African continent, has become the focal point of region-wide protests ignited by the ouster of Tunisia's president last month and energized by the fall of Egypt's President Hosni Mubarak on Feb. 11. Violence has flared in Yemen, Djibouti and Bahrain as governments have sought to crack down on calls for reform.
Qaddafi, who sported stubble and was dressed in a dark suit and tie, said the Libyan army "is not the army of Tunisia or Egypt," referring to the uprisings that toppled the leadership of those two countries. He said the army should "impose security and get things back to normal, whatever the price."
At the same time he offered to conduct a dialogue with the opposition, engage in national debate on the constitution and amend laws to "open up the realms of freedom." He conceded that the Libyan army had made errors in handling the anti-government protests and pledged to continue plans to increase wages and raise unemployment benefits.
'Oil Will Stop'
If civil war ensued, Qaddafi warned that "oil will stop. Foreign companies will leave Libya tomorrow." He said it would also invite a return of colonial powers: "Do you think Europe, NATO, the U.S. will accept an Islamic emirate in the middle of the Mediterranean," he said.
Oil prices climbed while Asian stocks snapped a three-day rally amid the escalating tensions in the Middle East. Crude for April delivery jumped 1.9 percent in New York to $91.38 a barrel as of 12:30 p.m. in Tokyo, gaining for a fourth day. The MSCI Asia Pacific Index slid 0.2 percent to 139.59. Standard & Poor's 500 Index futures retreated 0.1 percent. U.S. financial markets are shut for a holiday.
Thousands of people demonstrated yesterday in Benghazi, Libya's second largest city. They were met by gunfire from forces loyal to the 68-year-old Muammar Qaddafi, Human Rights Watch said, citing reports from witnesses. Libyan state television broadcast footage early Monday morning of dozens of demonstrators shouting pro-Qaddafi slogans in Tripoli.
'Little Credibility'
"The speed of the whole thing in Libya has surprised most of the specialists because Colonel Qaddafi established a very special repressive system of his own," Amin Saikal, a political science professor and director of the Centre for Arab and Islamic Studies at Australian National University, said in an interview on Bloomberg Television. "Probably the casualties will be extremely high and therefore Qaddafi will be left with very little credibility to really go on and govern the country for much longer."
The U.S. has received "multiple credible reports that hundreds of people have been killed and injured" and delivered its "strong objections" to the use of lethal force against protesters, State Department spokesman Philip J. Crowley said in a statement.
Condemnation
U.K. Foreign Minister William Hague told Saif Qaddafi in a call yesterday that the Libyan government's actions "were unacceptable and would result in world-wide condemnation," according to a Foreign Office statement.
Demonstrations also were reported yesterday in Iran and Morocco and analysts warned of the risk of unrest spreading to Saudi Arabia, the world's biggest oil exporter. Saudi Arabia neighbors Bahrain and has a Shiite Muslim minority population in the east, where most of its oil is produced.
Secretary of State Hillary Clinton discussed "regional developments" in a phone conversation with Saudi Foreign Minister Prince Saud al-Faisal, the State Department said in a statement yesterday. Clinton "underscored the necessity of restraint by the security forces in Bahrain," the statement said.
Persian Gulf shares slumped yesterday, sending Dubai's benchmark stock index down the most this month. Swap contracts for Saudi Arabia, used as a measure of confidence although the country has no debt to insure, jumped 11.5 basis points to 138 last week, the highest since July 2009.
Fracturing Qaddafi's Rule
At least 233 people have died in Libya with hundreds injured in the clashes between Qaddafi's forces and anti-government protesters since Feb. 16, New York-based Human Rights Watch said. Qaddafi, Africa's longest-serving leader, came to power in a military coup in 1969.
The U.S. issued a travel warning for Libya, citing "violent clashes" in six cities in the east of the country including Benghazi. Libya has barred international media and human rights groups, making the full extent of deaths and injuries unknown, Crowley said.
The demonstrations show signs of fracturing Qaddafi's rule. Libya's representative to the Arab League said he had resigned from his post and had "joined the popular revolution," Egypt's state-run Middle East News Agency reported yesterday.
The violence rippling across the region poses a challenge to American strategic interests in Bahrain and Djibouti, both U.S. allies, as well as in Yemen, whose government cooperates with the Obama administration on anti-terrorism efforts.
Yemen Opposition
"This will be bloody to the last moment but these leaders are finally aware of what is going on," Helmy Sharawy, director of the African Arab Research Center in Cairo, said by phone. "We see it in Yemen, we see emergency meetings in the Gulf. They can't ignore it anymore."
Yemen's main opposition group rejected an offer from President Ali Abdullah Saleh for dialogue with the government as long as protesters are being attacked by security forces and urged people to join in demonstrations. Five people have been killed in 10 days of protest.
In Bahrain, home to the U.S. Navy's Fifth Fleet, seven opposition groups were drawing up demands to put to the government as they discussed the government's call for dialogue, said Ebrahim Sharif, head of the National Democratic Action Society.
Thousands of protesters yesterday poured back into the central square that has become the focus of protest in the Bahraini capital, Manama, after tanks, armored personnel carriers and riot police withdrew on the orders of Crown Prince Salman bin Hamad Al Khalifa. Unions called off a general strike planned for today in response.
Pressure on Bahrain
President Barack Obama and members of his administration have pressured Bahrain's King Hamad Bin Isa Al Khalifa to show restraint. They also have been "encouraging what is now transpiring, which seems to be the pullback of the military forces," Susan Rice, the U.S. ambassador to the United Nations said on NBC's "Meet the Press."
In Iran, one protester was shot dead in Tehran as thousands gathered in main squares in the Iranian capital and clashed with government supporters, Dubai-based Al Arabiya television said. Security forces also clashed with demonstrators in the city of Shiraz, it reported.
Adding to turmoil in the region, two naval ships from Iran will pass through the Suez Canal and on to the Mediterranean Sea tomorrow, Reuters reported, citing an unidentified canal official.
Iranian Warships
Ahmed El Manakhly, head of traffic at the waterway, hasn't received "any notifications about where they are and when they are requesting to cross," he said by phone yesterday, referring to the two ships.
Israeli Prime Minister Benjamin Netanyahu said Iran is seeking to "exploit the situation to expand its influence" by sending warships through the canal.
"Israel views this Iranian move with utmost gravity," Netanyahu told his Cabinet yesterday, according to an e-mailed statement from his office.
The 120-mile (190-kilometer) Suez Canal carries about 2.5 percent of world oil output, according to Goldman Sachs Group Inc., and is a key route for ships carrying Asian consumer goods to Europe.
Separately, the Tunisian government has presented Saudi Arabian authorities with a formal request to extradite ousted President Zine el Abidine Ben Ali, according to a statement from the Foreign Affairs Ministry.
The statement accuses Ben Ali of various crimes, including committing and inciting manslaughter, and sowing discord among citizens of the country by urging them to kill each other.
Middle East shares dropped yesterday, with the DFM General Index retreating 3.7 percent, the most since Jan. 30, to 1,536.45 at the 2 p.m. close in Dubai. Saudi Arabia's Tadawul All Share Index declined 0.8 percent.