Bahrain Vows to Ease Tension; Mideast Unrest Spreads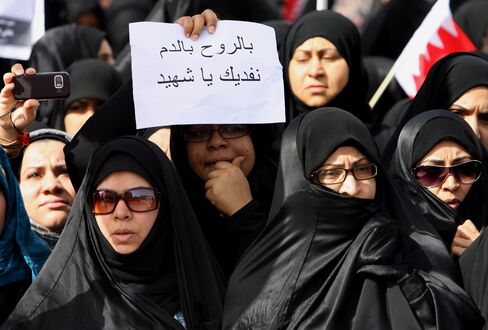 Bahrain's authorities backed down from a standoff with protesters in a bid to ease tensions as government forces in Yemen, Libya and Djibouti shot at demonstrators, seeking to suppress calls for change sparked by the toppling of leaders in Egypt and Tunisia.
Protesters poured into Pearl Roundabout in downtown Manama, the Bahraini capital, yesterday after tanks and armored personnel carriers withdrew on the orders of Crown Prince Salman bin Hamad Al Khalifa. The crown prince, speaking on Bahrain TV, said the country is entering a phase "in which we will discuss all our issues sincerely and honestly. Calm is required so all parties can put forward their views and issues in a responsible and productive way."
In Yemen, gunfire broke out in the capital yesterday, leaving one man dead, shot in the neck by government supporters, as the unrest entered the ninth day. Security forces in Libya have killed at least 84 people in three days of protests in several cities, Human Rights Watch said in a statement on its website. Libyan special forces stormed a protest camp in the eastern city of Benghazi yesterday, the Associated Press said.
The violence challenges the U.S., which has strategic interests in Bahrain, home to the U.S. Navy's Fifth Fleet, and in Yemen, whose government cooperates with the U.S. on anti-terrorism efforts. U.S. General James Cartwright, the vice chairman of the Joint Chiefs of Staff, said Feb. 18 the wave of protests sweeping the region reflects frustration among 18-to 35-year-olds who can't get good jobs.
Fast Pace
"It is moving through Northern Africa, the Middle East at a pace that is just unheard of, and each of those governments and each of those nations is watching it come, trying to figure out what's happening and how they might prevent it," Cartwright told the Economic Club of Florida in Tallahassee, according to AP.
Protesters clashed with police in Djibouti, the Horn of Africa nation where President Ismail Guelleh's People's Rally for Progress party has ruled since independence from France in 1977. The U.S. has its only African base in Djibouti, with about 2,000 personnel, while France has 3,000 troops in the country, which borders the Red Sea and the Gulf of Aden.
Libya, run for 41 years by the anti-American leader Muammar Qaddafi, has Africa's largest crude oil reserves.
U.K. Foreign Secretary William Hague said the government was "deeply concerned by continuing reports overnight of unacceptable violence used against protesters in Libya, Bahrain, and Yemen and the deaths of protesters."
Respecting Rights
Bahrain's government must show restraint in dealing with peaceful protests and hold accountable those responsible for violence, President Barack Obama told King Hamad Bin Isa Al Khalifa Feb. 18, according to an administration statement issued in Washington.
National Security Adviser Tom Donilon spoke by telephone with the crown prince yesterday and expressed support for the steps the government is taking to "show restraint and initiate dialogue with all segments of Bahraini society," the White House said in a statement.
The cost of insuring Bahrain debt rose for a fifth day, climbing 18 basis points to 302, the highest in 17 months, according to CMA prices for credit default swaps. Fitch Ratings put Bahrain on rating-watch negative on Feb. 17, saying the protests "increase the risks to the sovereign's credit profile."
Confidence Measures
Swap contracts for Saudi Arabia, used as a measure of confidence although the country has no debt to insure, jumped 10.5 basis points to 137, the highest since July 2009, on concern the unrest may spread to the world's biggest oil exporter, which neighbors Bahrain and has a Shiite minority population in the east, where most of its oil is produced.
Brent crude for April settlement slipped 7 cents to $102.52 a barrel on the ICE Futures Europe exchange in London, after reaching a 2 1/2-year high during the past week.
In Bahrain, a Persian Gulf island connected by a causeway to Saudi Arabia, King Hamad asked his son, the crown prince, to try to resolve the conflict, the Bahrain News Agency reported. The prince, who attended the U.S. Defense Department high school in Bahrain and earned a B.A. at American University in Washington, is viewed by American diplomats as part of the "reformist camp within the ruling party," according to a December 2009 embassy cable made public by the website WikiLeaks.org.
Talks Rejected
The king's announcement came after security forces attacked protesters -- many of them majority Shiite Muslims in the Sunni-ruled kingdom -- for a second day on Feb. 18. Bahrain's opposition al-Wefaq party, the largest Shiite opposition bloc in parliament, yesterday rejected an offer of talks with the crown prince.
Riot police replaced Bahraini troops at Pearl Roundabout, where clashes between government security forces and Shiite demonstrators left several people dead. Police fired tear gas as hundreds of protesters marched toward the traffic circle from Salmaniya Hospital after the military withdrew.
Abduljalil Khalil, head of Al-Wefaq bloc in parliament, said the army's withdrawal wasn't sufficient to begin discussions with Bahrain's rulers.
Nationwide Strike
Bahrain's General Federation for Trade Unions will start a general nationwide strike today to protest the government's violent response to the unrest, said Abdulla Mohammed Hussain, the assistant secretary general for Arab and international affairs at the federation. The organization represents workers in industries including aluminum, oil and transport.
Protesters in Bahrain are calling for a constitutional monarchy and a change of government. The prime minister, the focus of the demonstrators' demands, has held the office for four decades.
Saudi Arabia's main regional rival, Shiite-ruled Iran, deployed security forces to suppress a Feb. 14 rally by opposition movements to show solidarity with the Arab revolts. Many Shiite Bahrainis retain cultural and family ties with Iran; Bahrain's Sunni ruling family has links with Saudi Arabia.
In Yemen, the biggest crowd since unrest began more than a week ago gathered on Feb. 18 to demand the ouster of Ali Abdullah Saleh, president for 32 years. Police swinging batons and government supporters hurling rocks were seen attacking demonstrators near Sanaa University.
Friday Prayers
More than 20,000 people streamed out of Friday prayers and began to march on the presidential palace in what was billed as a "Friday of Fury."
Protests were also reported in Aden, Yemen's Red Sea port city, where people set fire to a council building and a police station.
In Djibouti, as many as 20,000 people joined in the Feb 18 protest, according to opposition leader Mohamed Daoud Chehem, head of the Djibouti Party for Development. Aden Robleh Awaleh, leader of the National Democratic Party, said opposition leaders will meet today to discuss further protests in the country of about 860,000 people.
In Libya, groups of people set fires in the streets of the capital, Tripoli, and the office of internal security was set ablaze in Benghazi, the British Broadcasting Corp. reported Feb. 18. Pro-government rallies have taken place in Tripoli and Qaddafi has been meeting with tribal leaders to solicit their support, Al Jazeera reported.
Violence erupted during "Day of Anger" marches on Feb. 18 in five eastern cities, Human Rights Watch said in a statement. There is little independent reporting from Libya because of the country's tight press restrictions.
Algiers Sit-In
Algerian authorities yesterday surrounded about 1,500 protesters in a peaceful sit-in in the capital, Algiers. The demonstrators chanted slogans against the Algerian regime and called for democracy in the North African country. Police, who outnumbered the protesters, separated about 50 government supporters carrying portraits of President Abdelaziz Bouteflika from the anti-government demonstrators.
Kuwaiti authorities used tear gas, rubber bullets and water cannons to break up a demonstration by 1,000 stateless residents west of Kuwait City on Feb. 18. The government says there are about 100,000 stateless people in Kuwait and many don't have access to basic services such as medical care and education.
Eight people were injured in Jordan in clashes between government supporters and protesters demanding wider rights and higher living standards, Al Arabiya television said.