Germany's Investor Confidence Increased Fourth Month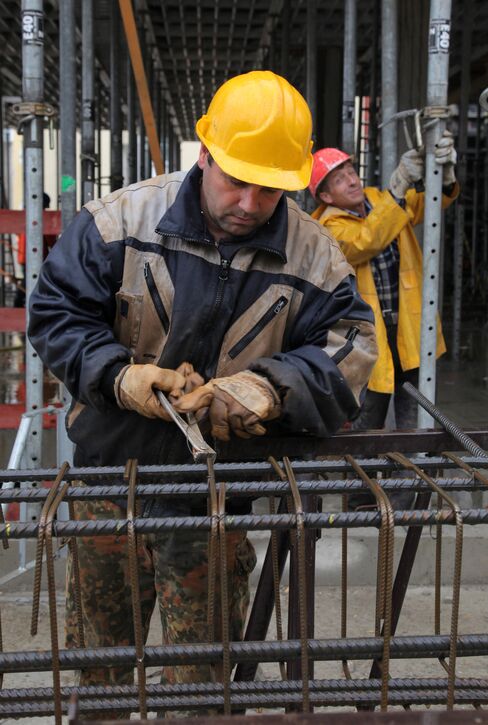 Feb. 15 (Bloomberg) -- German investor confidence increased for a fourth month in February as Europe's largest economy gathered strength and stocks rose to a three-year high.
The ZEW Center for European Economic Research in Mannheim said its index of investor and analyst expectations, which aims to predict developments six months in advance, rose to 15.7 from 15.4 in January. That's the highest July 2010. Economists forecast a gain to 20, according to the median of 38 estimates in a Bloomberg News survey.
The German economy is driving the region's expansion after demand from faster-growing economies such as China boosted exports and helped push unemployment to the lowest in almost two decades. Germany's DAX Index has gained 35 percent over the past year and Bayerische Motoren Werke AG, the world's largest luxury carmaker, has forecast "significant" sales growth.
"The small gain has to be seen in the context of significant increases over previous months," said Carsten Klude, head of investment strategy at M.M. Warburg & Co. in Hamburg. "We're still very optimistic for this year and expect strong economic growth."
The euro was little changed after the release, trading at $1.3522 at 11:52 a.m. in Frankfurt, up from $1.3489 yesterday.
ZEW's indicator measuring current economic sentiment rose to 85.2 in February from 82.8 the previous month, ZEW said. That's the highest since July 2007. A gauge measuring euro-region investor confidence rose to 29.5 from 25.4. The survey of 267 analysts was conducted Jan. 31 to Feb. 14.
China Sales
The German economy expanded 0.4 percent in the fourth quarter from the previous three months, when it grew 0.7 percent, the Federal Statistics Office in Wiesbaden said today. The euro-region economy grew 0.3 percent over that period.
The benchmark DAX index has rallied 7.3 percent this year to the highest since January 2008, reflecting optimism that a strengthening global recovery will boost earnings. Hochtief AG, Germany's largest builder, yesterday forecast higher fiscal full-year profit on surging orders.
BMW Chief Financial Officer Friedrich Eichiner on Feb. 3 forecast the Munich-based company to have "double-digit" sales growth in markets including China, Korea and Brazil. "It's clear that the capacity in China will be increased," he said.
Germany's VDMA machine-makers' association said on Feb. 10 that output may increase 10 percent this year after rising 8.8 percent in 2010. Plant and machinery orders surged an inflation adjusted 44 percent in December from a year ago, it said.
'Encouraging' Prospects
The improving outlook has also fueled payrolls growth, lowering the German jobless rate to 7.5 percent, the lowest since 1992. Business confidence rose to a record last month.
Companies are already gaining room to pass on higher costs to consumers just as labor unions seek more pay. German inflation accelerated to 2 percent in January from 1.7 percent the previous month. The European Central Bank aims to keep annual increases in consumer prices just below 2 percent.
With countries from Ireland to Greece struggling to lower their budget deficits and restore investor confidence, the ECB earlier this month kept its benchmark interest rate at a record low of 1 percent. Luxembourg Prime Minister Jean-Claude Juncker said last night in Brussels that economic growth remain "encouraging" in the 17-member euro region.
"Business surveys suggest that the economy made a good start to 2011," said Nick Kounis, an economist at ABN Amro NV in Amsterdam. The euro-region recovery "should remain supported by strong, albeit moderating, global growth during the course of this year, as well as an upswing in investment."
To contact the reporter on this story: Jeffrey Black in Frankfurt at jblack25@bloomberg.net
To contact the editor responsible for this story: Craig Stirling at cstirling1@bloomberg.net