Arcade Fire, Rihanna, Mumford & Sons Win Brit Music Awards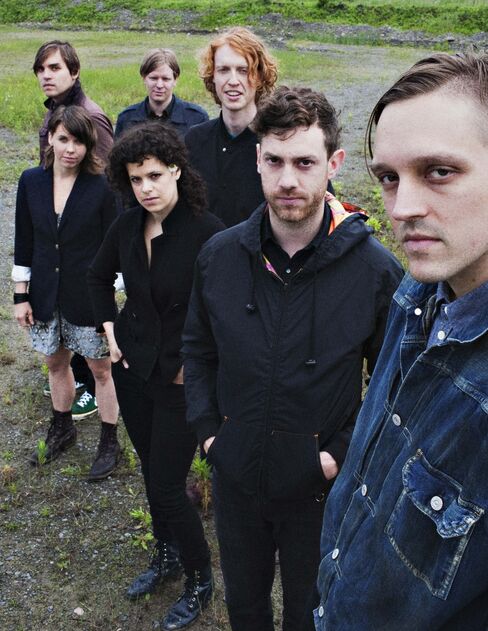 Arcade Fire, Mumford & Sons and Tinie Tempah were winners at the Brit music awards in London tonight.
Arcade Fire's "The Suburbs" was the best international album, following the Canadian group's similar success at this year's Grammy awards.
Take That, which reunited with former member Robbie Williams last year, was named best British group.
Tinie Tempah was named the winner of best British breakthrough artist and his song "Pass Out" won best U.K. single.
Rihanna was best international female solo artist. Mumford & Sons took the prize for the best U.K. album with "Sigh No More."
A win may add as much as 5 million pounds ($8 million) to an album's sales, a certain boon for record-company bosses at the O2 event. Winners also receive a Brit statuette.
The Brits are the British Phonographic Industry's annual pop-music awards and presented in one form or another since 1977. They have been sponsored by Mastercard Inc. for the last 13 years.
List of winners:
British Male Solo Artist: Plan B.
(Also nominated: Mark Ronson, Paul Weller, Robert Plant, Tinie
Tempah.)

British Breakthrough Act: Tinie Tempah.
(Also nominated: Ellie Goulding, Mumford & Sons, Rumer, the xx.)

International Album: Arcade Fire, "The Suburbs."
(Also nominated: Cee Lo Green, "The Lady Killer," Eminem,
"Recovery," Katy Perry, "Teenage Dream," Kings of Leon,
"Come Around Sundown.")

Critics' Choice: Jessie J.
(Also nominated: James Blake, the Vaccines.)

International Male Solo Artist: Cee Lo Green.
(Also nominated: Bruce Springsteen, David Guetta, Eminem, Kanye
West.)

British Single: Tinie Tempah, "Pass Out."
(Also nominated: Alexandra Burke featuring Pitbull, "All Night
Long"; Cheryl Cole, "Parachute"; Florence & the Machine,
"You've Got the Love"; Matt Cardle, "When We Collide"; Olly
Murs, "Please Don't Let Me Go"; Plan B, "She Said"; Scouting
For Girls, "This Ain't A Love Song"; Taio Cruz, "Dynamite";
The Wanted, "All Time Low.")

International Group: Arcade Fire.
(Also nominated: Black Eyed Peas, Kings of Leon, the Script,
Vampire Weekend.)

International Breakthrough Act: Justin Bieber.
(Also nominated: Bruno Mars, Glee Cast, the National, the Temper
Trap.)

British Female Solo Artist: Laura Marling.
(Also nominated: Cheryl Cole, Ellie Goulding, Paloma Faith,
Rumer.)

International Female Solo Artist: Rihanna.
(Also nominated: Alicia Keys, Katy Perry, Kylie Minogue, Robyn.)

British Group: Take That
(Also nominated: Biffy Clyro, Gorillaz, Mumford & Sons, the xx.)

MasterCard British Album of the Year: Mumford & Sons, "Sigh No
More."
(Also nominated: Plan B, "The Defamation of Strickland Banks";
Take That, "Progress"; Tinie Tempah, "Disc-Overy"; the xx,
"xx.")
(Mark Beech writes for Bloomberg News. The opinions expressed are his own.)