Reliance Communications Says Hasn't Violated Phone Permit Rules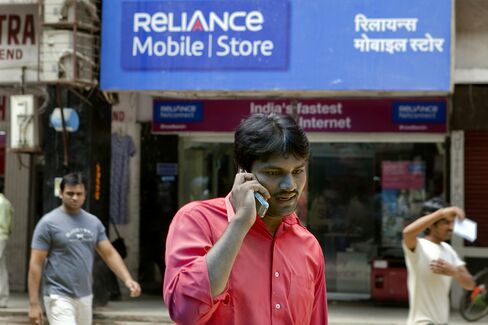 Reliance Communications Ltd. said it hasn't violated any phone-permit rules because it held less than 10 percent stake in a company, which according to India's state auditor was ineligible for a mobile-phone license.
The Comptroller and Auditor General of India has said applications for mobile-phone services from companies including Swan Telcom Ltd. and Unitech Ltd. should have been rejected because they were ineligible. The license rules of the Department of Telecommunications say that an operator can't own 10 percent or more in another operator that provides services in the same telecommunication zone.
Reliance Communications' unit Reliance Telecom Ltd. "held only 9.9 percent of the equity share capital of Swan Telecom at the time of filing the relevant license application in March 2007," Reliance Communications said in an e-mailed statement. "This shareholding was fully disclosed at inception, and this information has always been in the public domain."
Billionaire Anil Ambani's Reliance Communications, plunged 15 percent last week. Ambani's group said on Feb. 12 brokers sent e-mails, text messages and made telephone calls disseminating "baseless" accusations about its firms that led to a drop in shares of Ambani's companies.
Reliance Communications said today in a statement that the company has told the government auditor and the Department of Telecommunications that "as per the provisions of the Companies Act 1956, the preference share capital held by Reliance Telecom in Swan Telecom is not to be included for the purposes of determining shareholding levels."
The company also said it sold its stake in Swan Telecom without disclosing the date of the sale.
Minister's Custody
India's federal investigation agency, the Central Bureau of Investigation, said in a New Delhi court on Feb. 10 that Swan Telecom, now known as Etisalat DB Telecom Pvt., is one of the companies that received favors from former Telecommunications Minister Andimuthu Raja in the process of granting licenses and allocation of spectrum.
Raja and Shahid Balwa, vice chairman of Etisalat DB, can be held in custody for four days, the court said Feb. 10 following their arrest in the investigation into the 2008 sale of mobile-phone licenses.
Balwa, who is also the managing director of DB Realty Ltd. was "wrongly implicated," according to a company statement on Feb. 9. Raja's lawyer, Ramesh Gupta, said the former minister was cooperating with investigators and shouldn't be kept in custody.
The Anil Ambani group yesterday said Indian federal investigators examined some of its officials, hours after reporting it knows the brokers who spread "sensational charges" that caused a $2.6 billion loss in value Feb. 9.
Reliance Communications, the group's flagship will post a sixth straight drop in profit tomorrow, according to a mean estimate fo 25 analysts compiled by Bloomberg.
Before it's here, it's on the Bloomberg Terminal.
LEARN MORE