Zoellick Says Rising Food Prices Squeeze Neediest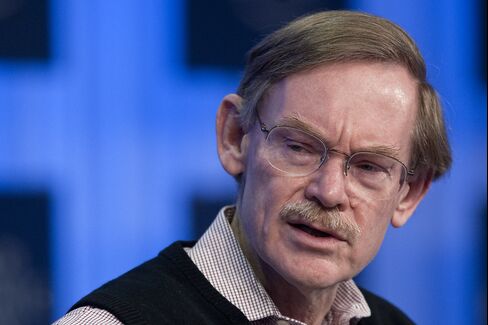 Feb. 10 (Bloomberg) -- World Bank President Robert Zoellick said today there is "no doubt" that food prices are rising in Egypt and elsewhere, increasing pressure on the world's neediest people.
"There's no doubt that we're seeing rising food prices just as we saw a couple of years ago and it puts stress on the most vulnerable," Zoellick said in an interview with Bloomberg television. "People often in developing countries spend half or three quarters of their income in food, so they've got little margin."
World food prices rose to a record in January on higher dairy, sugar and cereal costs and probably will remain elevated, the United Nations said earlier this month. An index of 55 food commodities climbed 3.4 percent from December to 231 points, the seventh straight increase.
Zoellick recommended targeted government aid plans for the poor over the short term, such as school feeding programs. At the same time, steps can be taken to reduce price volatility and to work on food security over the longer term, he said.
"It would help to have better information on food stocks," which is "pretty good in the developed world, not so good in the developing world," Zoellick said. Another measure would be to have "long-range weather forecasting" in developing countries, he said.
Mubarak Powers
Zoellick spoke minutes before Egyptian President Hosni Mubarak delegated powers to his deputy, Omar Suleiman, while refusing to bow to the calls of protesters crammed into the center of Cairo demanding his immediate ouster.
"Egypt is a very big wheat importer, food prices have been going up, so while we're in a transition process we have to be trying to think of how to help the country get through to the next steps," he said.
Speaking to reporters at Yale University in New Haven, Connecticut, yesterday, Zoellick said that even though the World Bank had taken its staff out of Egypt, it was "trying to stay in touch," adding that he didn't foresee major problems.
"Across the Middle East and Tunisia especially, we are keeping close touch with the governments there," he said. "We are seeing a youth bulge and the primary problem is going to be creating jobs for all those people."
He said today that Egypt has been making some "good progress" in terms of growth and reducing poverty though the country "will need to have ongoing reforms."
To contact the reporter on this story: Sandrine Rastello in Seoul at srastello@bloomberg.net;
To contact the editor responsible for this story: Christopher Wellisz at cwellisz@bloomberg.net.