Tyson Foods to Pay $5.2 Million Over Mexican Bribes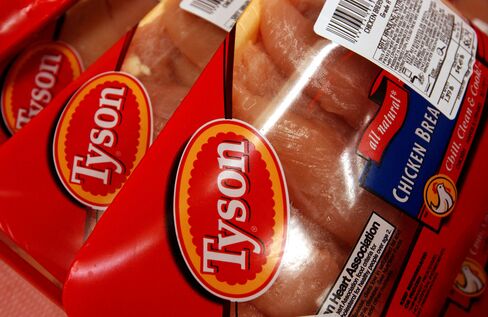 Tyson Foods Inc. agreed to pay $5.2 million to settle U.S. allegations that a unit of the nation's largest meat processor bribed officials in Mexico to certify chicken products for export.
The settlement, announced today by the U.S. Justice Department and the U.S. Securities and Exchange Commission, will resolve criminal charges as well as civil claims filed against Tyson for violating the Foreign Corrupt Practices Act. The settlement must be approved by a federal court in Washington.
"Tyson and its subsidiary committed core FCPA violations by bribing government officials through no-show jobs and phony invoices, and by having a lax system of internal controls that failed to detect or prevent the misconduct," Robert Khuzami, director of the SEC's Division of Enforcement, said in a statement.
Tyson, in a deferred-prosecution agreement, admitted to paying Mexican officials and falsifying financial statements and agreed to pay a $4 million criminal fine. The company was criminally charged with two FCPA violations. Prosecutors said they will drop the charges in two years if Tyson abides by terms of the agreement, which includes the development of a compliance program and cooperation with corruption probes.
The company, based in Springdale, Arkansas, also reached a consent agreement with the SEC and will pay a disgorgement penalty of $1.2 million.
Tyson said it voluntarily reported the payments to U.S officials in 2007.
'Corrective Action'
"While we're disappointed mistakes were made, corrective action has been taken and the improper payments were discontinued," David L. Van Bebber, Tyson executive vice president and general counsel, said in a statement.
Tyson de Mexico paid $100,000 to two Mexican government veterinarians who were responsible for certifying chicken products for export sales, the U.S. said. To disguise the payments, the Gomez Palacio, Mexico-based unit placed the wives of the two veterinarians on the company payroll until that was discovered in 2004. Later payments were made directly to one of the veterinarians.
The payments, made during fiscal years 2004 through 2006, resulted in net profits of more than $880,000, according to the SEC lawsuit. The deferred-prosecution agreement said the "the problematic operations" comprised less than 1 percent of Tyson's global net assets. Tyson reported in October that its total assets were valued at $10.8 billion.
Two-Year Delay
The SEC said Tyson officials learned of the payments in June 2004 and allowed them to continue.
"It was not until two years after Tyson Foods officials first learned about the subsidiary's illicit payments that its counsel instructed Tyson de Mexico to cease making the payments," the SEC said.
Tyson fell 15 cents, or 0.8 percent, to $18.44 at 4:15 p.m. in New York Stock Exchange composite trading. The shares have risen 7.1 percent this year.
The civil case is Securities and Exchange Commission v. Tyson Foods Inc., 11-cv-00350, U.S. District Court, District of Columbia (Washington).