Nippon Steel, SMI May Invite Kobe to Join Merger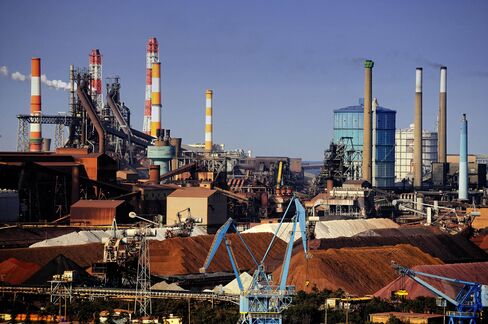 Sumitomo Metal Industries Ltd. and Nippon Steel Corp., in talks to create the world's No. 2 steelmaker, may invite partner Kobe Steel Ltd. to join should it spin off its steel operations, Sumitomo Metal's chairman said.
"It will be difficult to merge with Kobe with the current business structure" that holds aluminum, construction machinery and plants, chairman Hiroshi Shimozuma told reporters in Kyoto, western Japan. "If Kobe can make a decision to separate steel division, there will be another story."
Kobe Steel "isn't in a position to comment," company spokesman Hiroyuki Yabuki said by telephone.
Nippon Steel and Sumitomo Metal, Japan's largest and third-largest mills, are seeking regulatory approval for the merger plan unveiled Feb. 3 to counter intensifying competition from Asian and European rivals in what may be the country's largest non-bank takeover. No terms for the deal, scheduled for completion next year, have been announced.
"The steel industry is likely to consolidate further if the planned merger of Nippon Steel and Sumitomo Metal is approved and goes well," said Shinya Yamada, an analyst at Credit Suisse Securities Japan Ltd.
Kobe Steel shares closed down 1.4 percent at 220 yen as of the 3 p.m. trading close on the Tokyo Stock Exchange after surging as much as 5.4 percent. Sumitomo Metal fell 2.3 percent to 213 yen, and Nippon Steel slid 1.9 percent to 303 yen.
Merger Talks
Shimozuma and Nippon Steel Chairman Akio Mimura started merger talks at the end of December, as domestic steelmakers see the need to pool resources to expand globally, the chairman of Sumitomo Metal said today.
Kobe Steel has been in a partnership with Nippon Steel and Sumitomo Metal since 2002, the year when JFE Holdings Inc. was created through the merger of NKK Corp. and Kawasaki Steel Corp. Nippon Steel and Sumitomo each held a 3.45 percent stake in the Kobe-based company as of Sept. 30.
Nippon Steel and Sumitomo Metal together held a 69 percent share of Japan's market for seamless steel pipes used in oil extraction, and 72 percent share of steel sheet piles used in construction in the year ended March 31, according to data from Nikko Cordial Securities Inc. Their combined crude steel production accounted for 44 percent of domestic output last year, while they held just a 3 percent share globally.
Japan's Fair Trade Commission was notified of the merger plan by Nippon Steel President Shoji Muneoka and Sumitomo Metal President Hiroshi Tomono a day after they made announcement on Feb. 3, Takashi Yamamoto, secretary-general of the FTC, told reporters today in Tokyo. The regulator hasn't received the necessary documents from the steelmakers yet, he said.
FTC
"This is a big merger case," Yamamoto said. "It will be necessary to probe the plan prudently."
The commission will look at the market share of the combined company in each product and whether buyers can switch to substitutes, including imported steel, Yamamoto said.
Steel accounted for 42 percent of Kobe's operations for the year ended March 31, while aluminum and copper made up 15.6 percent. It also produces excavators used in construction and mining and compression machines and nuclear reactor parts.
The Fair Trade Commission may require the companies to sell some assets to approve the merger, said Akira Negishi, professor at the Graduate School of Konan University.
Before it's here, it's on the Bloomberg Terminal.
LEARN MORE