Royal Family Rules Out 3-D for Prince William Nuptials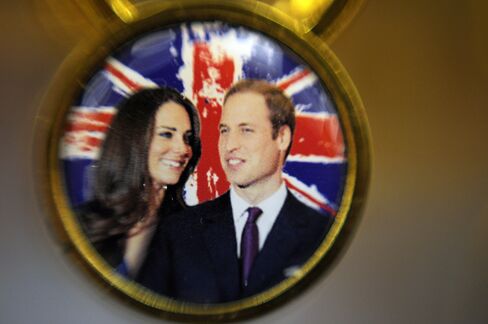 The wedding of Prince William and Kate Middleton won't be broadcast in 3-D, after the U.K. royal family rejected any plans to use the technology inside Westminster Abbey.
"We decided not to progress with 3-D coverage, most notably because of the additional camera footprint in the abbey," a spokeswoman for the family said. Also considered was the "relatively small, albeit growing audience for 3-D and our desire to not be distracted away from negotiating and facilitating the optimal 2-D, radio, photographic and online coverage of the day."
British Sky Broadcasting Group Plc, the pay-TV provider controlled by Rupert Murdoch, had been negotiating with royal officials. The talks, which involved the British Broadcasting Corp., included shooting the event in 3-D and transmitting it to cinemas, people familiar with the matter had said. Other parts of the festivities may still be shot in 3-D, Sky News said today in an e-mailed statement.
The three-dimensional plan drew interest from cinema chains including U.K. operators Cineworld Group Plc and Vue Entertainment Ltd. BSkyB, which started a 3-D television channel last year, confirmed the wedding would not be shot with the technology.
"Naturally, Sky News is disappointed," Charlotte Reed, a publicist for Sky News, said in the statement. "We are however still exploring ideas on how we might cover the rest of the event in 3-D."
The engagement of William -- son of Prince Charles and the late Diana, Princess of Wales -- was announced on Nov. 16. William, second in line to the throne, has been dating Middleton since 2003. The wedding is scheduled for April 29.