Obama Says Egypt 'Making Progress' in Negotiation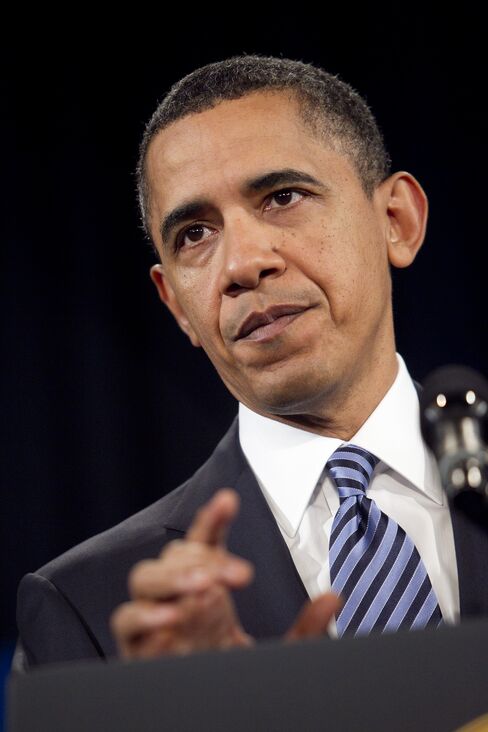 Feb. 7 (Bloomberg) -- President Barack Obama said Egypt is "making progress" in negotiating an end to the standoff between the government of President Hosni Mubarak and the protesters demanding his ouster.
"Egypt has to negotiate a path," Obama told reporters as he returned from a speech to the U.S. Chamber of Commerce. "I think they're making progress."
The president was responding to a question about talks in Cairo between Vice President Omar Suleiman and some leaders of the opposition after two weeks of demonstrations intended to topple Mubarak. Suleiman promised to issue within a month a draft list of changes needed to hold free elections.
White House press secretary Robert Gibbs said later that the president was referring to "the beginnings of a process" for change in Egypt and there still must be actions that will lead to free elections there.
"This thing does change very quickly, hour by hour," Gibbs said. Already there have been "monumental changes" in Egypt with Mubarak's decision to not seek re-election and government negotiations with the opposition, he said.
As many as 300 people have been killed in the unrest, according to the United Nations. It has shaken the 30-year rule of a key U.S. ally, pushed oil prices higher as anti-government protests spread to other Middle East nations and driven the Egyptian pound to a six-year low.
The demonstrations have called for the immediate resignation of Mubarak and new elections.
Election Timing
At the State Department, spokesman Philip J. Crowley said it would be a "challenging undertaking" for Egypt to hold new elections within 60 days, which is the time frame specified under the constitution should Mubarak step down.
Still, Crowley said Egypt needs to "seize this opportunity" for moves toward democracy and that the "sooner this can happen the better." Egypt was already scheduled to have an election in September.
"These are decisions for the Egyptian people," he said. "If they want to hold to the schedule, that is their decision. If they want to advance the schedule, that is their decision."
In an interview on News Corp.'s Fox network last night, Obama said Egypt has been changed by the mass protests.
"Egypt is not going to go back to what it was," Obama said. "The Egyptian people want freedom. They want free and fair elections; they want a representative government; they want a responsive government."
Negotiations With Opposition
The president and members of his administration have been pushing the Egyptian government to negotiate with the opposition and begin immediately preparing for a transition of power.
"I have confidence that, if Egypt moves in an orderly transition process, that we will have a government in Egypt that we can work with together as a partner," Obama said.
Obama said the anti-government protests in Egypt, which began Jan. 25, must lead to a "representative government" in the country. He downplayed concerns about the Muslim Brotherhood's participation in the negotiations, calling it "one faction" of the opposition to Mubarak and saying it doesn't have majority support in Egypt.
The U.S. can't "dictate" the outcome, Obama told Fox.
Gibbs today said the U.S. has "significant disagreements" with the group and hasn't been in contact with it.
To contact the reporter on this story: Kate Andersen Brower in Washington at kandersen7@bloomberg.net; Nicholas Johnston in Washington at njohnston3@bloomberg.net
To contact the editor responsible for this story: Mark Silva at msilva34@bloomberg.net