Toyota May Raise Profit Forecast, Following Suppliers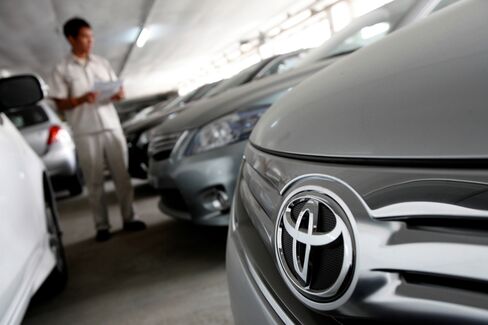 Toyota Motor Corp., the world's biggest carmaker, may increase its full-year earnings forecast next week after affiliated vendors raised their profit outlook.
Denso Corp., Toyota's biggest supplier, as well as Toyota Auto Body Co. and Aichi Steel Corp., all increased profit forecasts yesterday, citing greater-than-expected demand.
"Toyota's sales in Southeast Asia have been better than expected," said Mamoru Kato, a Nagoya-based analyst at Tokai Tokyo Research Center. A forecast increase of between 50 billion yen ($612 million) and 100 billion yen is likely, he said.
Rising sales in Asia are helping the Toyota City-based automaker recover from the impact of record recalls and weaker U.S. sales than competitors. Toyota said last week sales in Asia outside Japan rose 24 percent in December, while deliveries in Thailand gained 31 percent. The carmaker also started selling the new Etios compact in India in December and has received more than 22,000 orders for the model.
Toyota can't comment on possible revisions of its forecast, Shiori Hashimoto, a spokeswoman for the automaker, said by phone from Tokyo today.
The company rose 1.3 percent to 3,485 yen as of 9:45 a.m. in Tokyo trading. Toyota has gained 8.2 percent this year after declining 17 percent in 2010.
Stronger Yen
Because the yen hasn't strengthened much beyond Toyota's outlook of 82 yen against the dollar for the fiscal second half, the strong currency won't have a negative impact on the forecast, Kato said. Still, as costs from recent recalls are still to be incurred, the company may be conservative in revising its outlook, he said.
Toyota said Jan. 26 it would recall 1.7 million vehicles globally for defects in fuel pipes and pumps, pressure sensors and spare-tire carriers. The announcement came after the carmaker recalled more than 8 million vehicles for problems linked to unintended acceleration.
Rising profit at affiliated suppliers may also benefit Toyota. Denso, about 23 percent owned by the automaker, lifted its net income forecast 10 percent to 147 billion yen because of strong demand in emerging markets, it said yesterday. Toyota Auto Body, in which Toyota has a 56 percent share, increased its operating profit forecast 16 percent to 22 billion yen, and Aichi Steel said profit will rise 20 percent more than earlier expected for the fiscal year. Toyota owns 24 percent of the steelmaker.
Net Income
Toyota said Nov. 5 net income may total 350 billion yen for the year ending March 31. Profit may reach 470 billion yen, according to the average of 11 analyst estimates compiled by Bloomberg in the past four weeks. The company reports third-quarter earnings Feb. 8.
In 2010, Toyota's U.S. sales fell 0.4 percent, making it the only major automaker to report a decline for the year.
In Japan, where Toyota aims to sell 1.3 million vehicles this year, the company will introduce new models and try to persuade customers to take advantage of reduced taxes on certain fuel-efficient cars, Hashimoto said. "We'll do our best to surpass our domestic sales plan in 2011 as we did last year," she said.
Earlier this week, Honda Motor Co., Japan's third-largest automaker, increased its full-year net income forecast 6 percent to 530 billion yen.
Before it's here, it's on the Bloomberg Terminal.
LEARN MORE