CLS Plans $406 Million London Redevelopment Project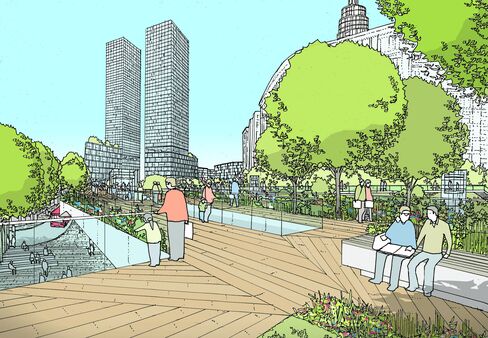 CLS Holdings Plc said it plans a 250 million-pound ($406 million) redevelopment of its 2.9-acre headquarters site at Vauxhall Cross in London including offices, apartments, restaurants, a 300-bed hotel and a movie theater.
The site, next to Vauxhall train, subway and bus stations, and near to where the U.S. is moving its embassy, would open in 2016 or 2017, the London-based developer and investment firm said in a statement on Regulatory News Service today.
The project would include a public square, over 200,000 square feet of offices, more than 80,000 square feet of retail, the cinema, housing for 240 students, and two 40-story towers of apartments, the company said. Plans will be submitted for the approval process late this year, the company said.
"These significant regeneration plans can provide Vauxhall with a new public square the size of Paternoster Square and establish the area as the next major London growth zone, just over a mile from the Houses of Parliament," Chief Executive Officer Richard Tice said in the statement.
CLS gained 33 pence, or 6.1 percent, to 578 pence at the 4:30 p.m. close in London. The shares have climbed 30 percent over the past 12 months, giving the company a market value of 269 million pounds.