AutoNation Sees Higher Pump Price 'Freak-Out Number'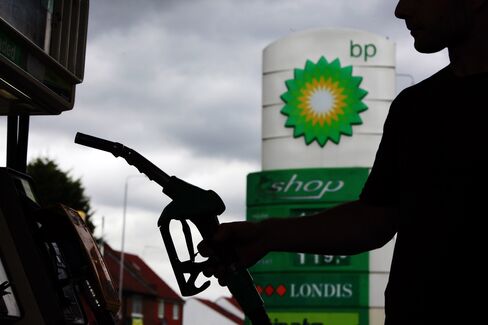 Consumers are signaling it will take higher gasoline prices than the worst of 2008 to curb new-vehicle sales, according to AutoNation Inc., the largest U.S. auto retailer.
The "freak-out number" at the gas pump is likely about $4.50 a gallon for unleaded regular, Mike Jackson, chief executive officer of the Lauderdale, Florida-based company, said in a telephone interview. AutoNation rose to a 13-year high today after reporting profit that topped analysts' estimates.
The auto industry can better handle higher oil prices that helped push General Motors Co. and Chrysler Group LLC into bankruptcy in 2009, because inventories now are lower and manufacturers have added smaller vehicles to their lineups, Jackson said. Brent crude oil earlier today climbed to the highest since September 2008 after protests in Egypt against President Hosni Mubarak.
"A dramatic spike is not good for economy and not good for our industry, but we're better prepared for it than we were in summer 2008," said Jackson, 61. "Even though we've moved 40 to 60 cents higher at the pump in the past three months, we haven't seen any change in consumer behavior."
Summer of 2008
Gasoline prices surpassed a national average of $4 a gallon in June 2008 and stayed above $3.80 until mid August, according to the American Automobile Association. The industry pace for new-vehicle sales slowed from March through July that year, according to Autodata.
The average U.S. gasoline price was $3.12 yesterday, according to AAA.
AutoNation rose $3.20, or 11 percent, to $31.45 at 4:03 p.m. in New York Stock Exchange composite trading. The shares have increased 70 percent in the past 12 months and today reached the highest since October 1997.
Fourth-quarter net income rose 9.1 percent to $67.3 million, or 45 cents a share, AutoNation said today in a statement. Analysts expected earnings of 35 cents a share, the average of 11 estimates in a Bloomberg survey. Sales rose 16 percent to $3.25 billion.
AutoNation's new vehicle sales advanced 24 percent in January to 14,911 units, the company said today in a statement. That exceeds the 17 percent gain in industrywide deliveries that pushed sales to a 12.6 million seasonally adjusted annual rate, the fastest pace in 17 months, according to Autodata.
Brent crude for March settlement fell 55 cents, or 0.5 percent, to $101.79 a barrel on the ICE Futures Europe exchange in London. It was the first decline in five days. Earlier, Brent touched a 28-month high of $103.37 a barrel in intraday trading.
Sales Pullback
"There could be a little bit of a pullback if gas prices spike, but I don't suspect that's going to be the overriding factor," John Tomlinson, an analyst at ITG Investment Research in New York, said in an interview. "If we see more job growth this year, that will have much more of an impact on retail spending than the run-up in gas prices."
Jackson has said he expects the U.S. economic recovery and improved credit for consumers to help boost the auto industry to a second consecutive annual sales gain, the first since 2005. AutoNation's retail deliveries increased 14 percent in the quarter, as domestic brand sales rose 22 percent, the company said last month.
AutoNation assumes industrywide new-vehicle sales will rise to 12.8 million units in the U.S. this year, the company said today, reiterating a forecast that Jackson gave last month. Industrywide deliveries were 11.6 million in 2010, according to Autodata Corp., based in Woodcliff Lake, New Jersey.
Subprime Approval
The auto retailer got credit approval for subprime buyers at a 33 percent rate in the fourth quarter, pushing the acceptance rate for the year to about 10 percent, said Michael Maroone, AutoNation's chief financial officer.
Before the recession, AutoNation's approval rate for buyers with weaker credit was 50 percent, Jackson said in January.
AutoNation plans to acquire a Toyota dealership in Fort Myers, Florida, that will have annual revenue of about $135 million. The transaction is expected to be completed by the end of March.
Auto dealership groups are likely to make more acquisitions this year after shunning them during the recession, when sales for the industry fell to a 27-year low, ITG's Tomlinson said.
"I don't think you're going to see AutoNation going on a massive acquisition spree, but when opportunities present themselves to bolt on small acquisitions they'll consider," said Tomlinson, who doesn't rate the companies he covers or own stock in them.
AutoNation had 206 stores as of Dec. 31, Maroone said today on a conference call. The company plans to open six new stores this year and will continue to seek acquisitions, he said.
Before it's here, it's on the Bloomberg Terminal.
LEARN MORE