Republican Governors Seize Court Ruling to Undo Health-Care Law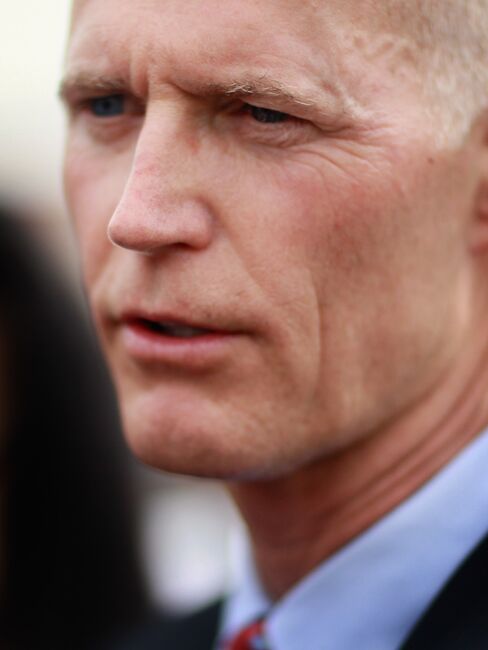 Republican governors from Florida to Arizona say a recent court decision is grounds to stop implementing President Barack Obama's health-care law.
Florida Governor Rick Scott, a former hospital industry executive, said he'll wait for further rulings before preparing to carry out the law aimed at creating near-universal health care. The state won't accept a $1 million grant intended to help it get ready, Florida Insurance Commissioner Kevin McCarty said in a letter to federal officials yesterday.
"We are not going to spend a lot of time and money with regard to trying to get ready to implement that until we know exactly what is going to happen," Scott told reporters after a cabinet meeting in Tallahassee yesterday.
The Patient Protection and Affordable Care Act that Obama signed in March requires citizens over age 18 to obtain health coverage beginning in 2014. U.S. District Judge Roger Vinson in Pensacola, Florida, ruled that it exceeded Congress's power to regulate commerce and invalidated the entire law. Conflicting rulings make it likely to be appealed to the Supreme Court.
"I knew Obamacare was unaffordable and unsustainable," Arizona Governor Jan Brewer said in a statement. With the ruling, she said, the U.S. Department of Health and Human Services should grant her request to drop coverage for 280,000 people under Medicaid, the health-insurance system for the poor. The program would expand under the Obama law.
Republican governors Nikki Haley of South Carolina, Nathan Deal of Georgia and Butch Otter of Idaho issued statements applauding the decision.
Otter, who was re-elected in November, hasn't taken any steps to implement the law, aside from informal planning, said Jon Hanian, a spokesman. Idaho may postpone a formal meeting on implementation scheduled for next month in light of the ruling.
'Where Do We Go'
"Now that's in question," Hanian said in a telephone interview. "We're going to have to take another look at where do we go from here."
Wisconsin Attorney General J.B. Van Hollen, a Republican opposed to the law and a participant in the Florida lawsuit, said he doesn't believe the statute needs to be enforced following Vinson's ruling.
"For Wisconsin, the federal health-care law is dead, unless and until it is revived by an appellate court," Van Hollen said.
Three other federal judges in Virginia and Michigan have also weighed in on the law, two affirming its legality and one striking it down in part, and the latest ruling paves the way for an appeals battle and may ultimately be settled by the U.S. Supreme Court.
'Federal Intrusion'
Texas Governor Rick Perry, chairman of the Republican Governors Association, called the ruling "a victory in the ongoing effort to end federal intrusion into the lives of every American through this one-size-fits-all approach to health care reform," according to a Jan. 31 statement.
The nation's second-largest state by population is proceeding with plans to implement exchanges that will help applicants choose health-care insurers, Tom Suehs, executive commissioner of the Texas Health and Human Services Commission, said in an interview yesterday.
California is going ahead with preparations, according to Diana Dooley, secretary of the state's Health and Human Services Agency. The state's focus is appointments to a board that will supervise the exchanges, she said in an interview yesterday.
Forty-eight states were awarded federal grants to begin designing the exchanges, according to the federal Department of Health and Human Services.
Managing Information
"That is the first order of business, to get an electronic system for managing that information in place," Dooley said. "My guess is that most states would want to have an exchange mechanism."
Most states aren't going to put off planning until the case is settled by the Supreme Court because the legal battle could drag on and leave them unprepared, according to Joy Johnson Wilson, the health policy director for the National Conference of State Legislatures.
States are unlikely to unilaterally drop coverage required by the law because that would jeopardize funds they get from the federal government, Wilson said.
"Most states are going to hedge their bets," she said in a telephone interview. "If you don't abide by it, you'd lose your Medicaid money."