Vaccines Make U.S. House Call, Van Etten Notches Big N.Y. Night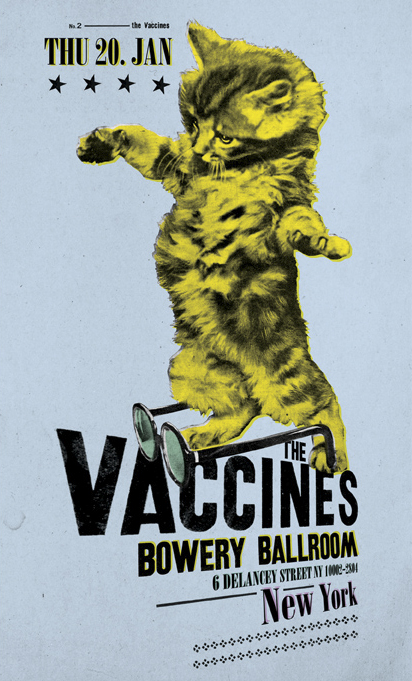 Feb. 1 (Bloomberg) -- The BBC put The Vaccines among "this year's most promising new artists." So why the silence?
Not a cheer, not a scream for the U.K. band as the house lights dimmed at the Bowery Ballroom on Jan. 20. Maybe the sold-out New York City crowd wanted The Vaccines to make the first move.
The band won the room over with the first 90 seconds of catchy punkish rock from "Wreckin' Bar (Ra Ra Ra)," followed quickly by the jangly and jumpy "We Are Happening."
Formed just last year, The Vaccines played its first show in October, taking Britain by storm even without an album. The debut release is "What Did You Expect From The Vaccines?" on March 21.
It was word of mouth that got this night's show moved from the tiny Mercury Lounge to the 600 capacity Bowery Ballroom.
The quartet was polished and tight for this U.S. debut, with most of the songs clocking in at a punchy two to three minutes. Just 30 minutes had gone by and the fellows exited stage left. Ringing cheers brought them back for a two-song, six-minute encore.
Up first was "Good Guys (Don't Wear White)," a song originally recorded by The Standells and now given a garage rock feel. They called it a night with the surf-rocker "Norgaard."
The Vaccines balanced familiarity -- I was reminded of the Editors, The Strokes, The Libertines, the Ramones, Bruce Springsteen -- with originality. The mix was enough to make them promising and supply one more reason to be excited about music in 2011.
Auspicious Occasion
With her jet-black hair flopped across her face and a loose-fitting striped cardigan, Sharon Van Etten looked quite comfortable on stage at the Bowery Ballroom on Jan. 5. Yet it was an auspicious occasion, her first sellout of a venue known as a turning point for artists.
On the heels of her beautiful second album, "Epic," Van Etten brought her red guitar, full backing band and a soothing yet powerful voice that took over the crowd.
Guests filled the stage for this special occasion. Van Etten invited up Brad Cook from Megafaun -- her first backing band -- to lend a hand with the sleepy, dreamy "Tornado," a track from her debut album, "Because I Was in Love."
To close out the set, Peter Silberman of The Antlers -- whose record "Hospice" features vocals from van Etten --joined the band on "Love More."
Remember the '90s
Van Etten, who was full of fun and banter all evening, came back for an encore that wrapped up with R.E.M.'s "Strange Currencies." She dedicated it to "anyone who grew up in the '90s." It was moment of nostalgia for many of us and a fitting end to a great night.
Van Etten will be out in Europe for much of February supporting The National before returning to the U.S. for a headlining coast-to-coast tour in March and April, including Austin's SXSW and a slot at the Music Hall of Williamsburg on April 16.
Here's a selection of New York-area shows in February. Please note that opening bands aren't always listed. Shows marked (SO) are sold out, although online services such as Craigslist often have tickets:
Feb. 1
Lia Ices at Joe's Pub
Feb. 2
The Radio Dept./Young Prisms at Music Hall of Williamsburg
Feb. 3
Best Coast/Wavves/No Joy at Music Hall of Williamsburg (SO)
Feb. 4
Chromeo/MNDR/The Suzan at Terminal 5 (SO)
Feb. 5
Delicate Steve/Dustin Wong/Grandchildren/Strange Shapes at
Public Assembly
Feb. 6
Neko Case at Bell House (SO)
Feb. 7
Prince at Madison Square Garden
Feb. 8
Gang of Four at Webster Hall
Feb. 9
Nicole Atkins & The Black Sea/The Gay Blades/Mon Khmer at Bowery
Ballroom
Feb. 10
Lindstrom at Santos Party House
Feb. 11
The Tony Castles/Headless Horseman/Miles Benjamin Anthony
Robinson at Pianos
Feb. 12
Sun Airway/Nightlands/Warm Ghost/Dinowalrus at Glasslands
Gallery
Feb. 13
Wild Nothing/Abe Vigoda at Bowery Ballroom
Feb. 14
Theophilus London at Music Hall of Williamsburg
Feb. 15
Drive-By Truckers at Bowery Ballroom (SO)
Feb. 16
Baths/Braids/Star Slinger at Mercury Lounge
Feb. 17
Interpol/School of Seven Bells at Radio City Music Hall
Feb. 18
Dr. Dog/Phantogram/The Head and the Heart at Terminal 5
Feb. 19
Tune-Yards/Roomful of Teeth at Merkin Concert Hall
Feb. 20
My Teenage Stride/Widowspeak at Mercury Lounge
Feb. 21
Kings Go Forth at SOB's
Feb. 22
Broken Records/U.S. Royalty at Mercury Lounge
Feb. 23
White Rabbits/Arms at Maxwell's
Feb. 24
Wanda Jackson at Bowery Ballroom
Feb. 25
Beach House/Papercuts at Webster Hall (SO)
Feb. 26
Revolver/Jump Into The Gospel at Mercury Lounge
Feb. 28
Ben + Vesper/Aaron Roche at Zebulon

(Jaime Widder works in sales for Bloomberg News. Any opinions expressed are his own.)
To contact the writer on this story: Jaime Widder in New York at jwidder@bloomberg.net;
To contact the editor responsible for this story: Manuela Hoelterhoff in New York at mhoelterhoff@bloomberg.net.