United, Delta Speed Cancellations to Avoid 'Havoc'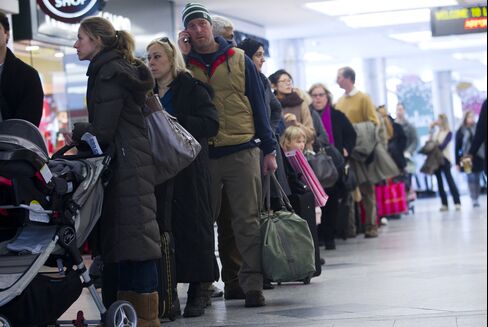 Feb. 1 (Bloomberg) -- United Continental Holdings Inc., Delta Air Lines Inc. and American Airlines are speeding up decisions on canceling flights and easing travel rules ahead of snowstorms as they heed the lessons of winter snarls.
Social-media networks such as Twitter Inc. give carriers another way to reach fliers, while new jet-tracking technology helps target the cutbacks so fewer planes and people pile up at socked-in airports, airlines said. Those procedures were tested again today as a fresh storm swept toward New York.
Waiting to scrub flights until foul weather hits "makes the problem even bigger," said Tracy Lee, vice president of operations planning at United Continental, the world's largest airline. "On a big storm, we've canceled two days in advance."
Faster responses can save millions of dollars in lost revenue and added costs, letting airlines avoid the type of gridlock that beset JetBlue Airways Corp. in a February 2007 ice storm. By the time JetBlue waived rebooking fees, its hub at New York's Kennedy was among six airports already shut by foul weather, and 130,000 travelers ended up stranded.
JetBlue said that storm cost it $41 million for lost revenue and expenses such as travel vouchers, a meltdown that came less than three months before the board replaced founder and Chief Executive Officer David Neeleman.
New Storm
Cancellations and rebooking-penalty waivers began yesterday for the storms marching across the U.S. today. The seven largest U.S. carriers -- a group led by United, Delta and AMR Corp.'s American -- scrubbed 6,262 departures today, spokesmen said.
American, Delta and other airlines also began trimming tomorrow's schedule, dropping 2,450 flights as of 4:30 p.m. New York time today. That includes 333 dropped by JetBlue, a spokesman, Mateo Lleras, said in an e-mail. CEO Dave Barger, who succeeded Neeleman, said JetBlue is moving earlier on cancellations and reaching out to passengers further in advance.
"People don't want to live in gray -- is my flight going to go or not go?" Barger said in an interview. "People want that predictability. Just tell me what my options are."
Six major storms lashing New York from Thanksgiving through yesterday spotlighted airlines' efforts to improve operations in bad weather, as well as the limits to what they can achieve. The Dec. 26-27 snowfall that closed New York's three big airports affected as many as 1.2 million people, and JetBlue said storms cut fourth-quarter revenue by about $30 million.
Delta alerted fliers about a Jan. 9 ice storm at its hometown Atlanta hub three days beforehand. It eventually had to cancel 4,000 flights, with a cost of $30 million.
72 Hours
"We're trying to do it as soon as possible," said Anthony Black, a Delta spokesman. "If we can give passengers 72 hours notice before an event, we can let them make changes and re-accommodate them quicker, possibly on earlier flights."
Plane-tracking technology helps refine those decisions, said Tim Smith, a spokesman for Fort Worth, Texas-based American. The airline can detect trouble spots on its network by monitoring the time needed for aircraft to taxi from the gate and await departure, he said.
The goal is to isolate areas affected by weather and "not create havoc everywhere," Smith said. "You try to keep the rest of the system as intact as possible, so that people whose flights aren't associated with the storm are not waiting on a flight that's never going to come."
At Chicago-based United Continental, the call on cancellations and fee waivers comes down to "what's the forecast, what's the expectation about the certainty of the forecast and the magnitude of the event," Lee said.
Wait at Home
Prompt cancellations and travel waivers let passengers fly before storms arrive, postpone their trips or hole up in a hotel or at home instead of at the airport. Airlines benefit by dodging gripes from marooned fliers who vent via social media.
"Individuals are far better equipped to make their complaints immediately known to a wider audience," said Jay Sorensen, a former marketing director at Midwest Airlines who is now an aviation consultant at IdeaWorks in Shorewood, Wisconsin.
When the 2007 storm crippled JetBlue's operations, communication tools such as Twitter were in their infancy. Twitter now has 175 million users, who send 95 million messages daily. That transforms complaints from a private affair handled by mail into a public venting "seen by that individual's entire social network," Sorensen said.
'Too Late'
"If you're handling a situation at the airport, you've lost," he said. "It's too late."
Airlines are using social media, too: Delta's first heads-up to passengers about the Atlanta ice storm was a Jan. 6 Twitter posting. On Jan. 7, the airline issued a ticket waiver.
Today's forecast for more Midwest storms spurred Delta passenger Rick Martin to take advantage of the airline's latest exemption from rebooking fees after he scrapped his trip to Milwaukee from Raleigh-Durham, North Carolina, via Minneapolis for his grandfather's funeral.
"I don't want to go to Minneapolis and be stuck there and not be able to get home or to Milwaukee," said Martin, 43, a graphic designer from Durham, North Carolina. "That would be infuriating right there."
To contact the reporters on this story: Mary Jane Credeur in Atlanta at mcredeur@bloomberg.net; Mary Schlangenstein in Dallas at maryc.s@bloomberg.net.
To contact the editor responsible for this story: Ed Dufner at edufner@bloomberg.net.