Truckers Call U.S. Electronic Monitor Plan Too Costly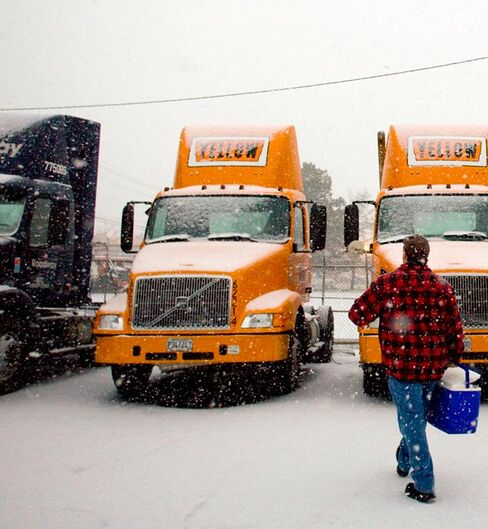 A proposal to require onboard electronic devices to monitor whether truck and bus operators are meeting U.S. limits on driving time may cost independent trucking companies as much as $3,000 a vehicle in installation costs, a trade group said.
The Transportation Department, which announced the proposal yesterday, estimates the cost per truck would range from $1,984 to $2,377. Savings from doing away with paperwork would be $1,965 a year, and safety benefits would be $734 to $746, the agency said.
Those estimates are probably based on larger companies, and truckers that already use the equipment aren't any safer than those using paper records, according to the Owner-Operator Independent Drivers Association.
"The agency has been hinting they've been looking for a way to justify an across-the-board mandate for all truckers, regardless of cost or effectiveness," said Todd Spencer, executive vice president of the Grain Valley, Missouri-based group. "It can't be remotely justified by any kind of real benefit in highway safety."
The plan to use electronic equipment instead of paper logbooks to record hours of service adds to a December proposal to cut driving time by an hour a day for 1.6 million U.S. long-haul truckers. Those limits may cost the industry as much as $1.8 billion a year, based on a Bloomberg Government analysis.
Monthly Costs
Truckers would also have to pay another $20 to $50 a month per truck to monitor the data, Spencer said. Additional costs include training for drivers and office staff.
Con-way Inc., the second-largest U.S. trucking company by revenue, has installed computers capable of tracking hours driven in about one-third of its full-truckload fleet, said Randal Mullett, the San Mateo, California-based company's vice president of government relations and public affairs. The rest will be installed by this summer, Mullett said.
The company has 2,600 trucks in that fleet, according to its website.
The company acted before the regulation was enacted because the paperwork savings made it cost effective, he said. Con-way supports the rule because all trucking carriers will have to "play by the same rules," Mullett said.
'A Long Way'
"It does go a long way toward taking care of people who have been less than accurate in their logging," Mullett said.
About 2 percent of the owner-operator group's 152,000 members currently use the technology, Spencer said. The association represents drivers and firms that operate smaller fleets, often with a single truck.
The American Trucking Associations said today in an e-mail that it wasn't surprised by the scope of the proposal, given the agency's previous comments.
"ATA will be carefully evaluating the proposal, especially with respect to the agency's explanations for expanding its scope, and the accompanying analyses," said Susan King, a spokeswoman for the Arlington, Virginia-based group.
The ATA criticized the December proposal to scale back driving shifts from 11 hours to 10 hours, saying improving fatality and injury rates don't justify the rule change. Regulators are exaggerating safety benefits by overcounting the number of crashes caused by fatigue, the group said in January.
Adoption of the proposal would benefit companies that make the electronic devices. XATA Corp., based in Eden Prairie, Minnesota, and Qualcomm Inc., based in San Diego, are among the manufacturers of electronic on-board recorders.
'Pretty Awesome'
"For us and our shareholders, it's a pretty awesome thing," said Christian Schenk, vice president of product marketing for XATA. The company's shares rose 14 cents, or 5.1 percent, to $2.89 on the Nasdaq Stock Market yesterday.
Christie Thoene, a Qualcomm spokeswoman, said the company had no comment. Qualcomm advanced 39 cents to $54.13 yesterday.
Fewer than 10 percent of trucking companies have started using electronic devices to monitor time spent on the road, Schenk said. XATA charges $35 a month for its data recorders with no installation fees.
Federal regulators were complying with an order of the U.S. Court of Appeals of the District of Columbia to publish a proposed rule by Jan. 31, the Federal Motor Carrier Safety Administration said yesterday.
Regulators will collect public comments for the next 60 days. Motor carriers would have three years to comply following adoption of the measure.
The truck-safety agency proposed a more narrowly targeted electronic data recorder rule last April. That regulation, which was challenged in federal court by the owner-operator trade group, was to apply only to companies cited with a history of violating federal driving time limits.
NTSB Target
Since 2008, the National Transportation Safety Board has listed among its main safety priorities the goal of having all interstate commercial vehicle carriers use electronic onboard data recorders. The board criticized the April proposal, saying it would only affect 930 out of 70,000 carriers in the first two years.
To address fatigue, the administration needs an hours-of-service rule that doesn't increase driving hours and a reliable mechanism to make sure trucking carriers comply, said Jackie Gillan, vice president of Advocates for Highway and Auto Safety, a Washington-based coalition of consumer groups and the insurance industry. Paper logbooks are prone to fraud, she said.
Fatigue is a factor in the more than 3,000 truck-related fatalities on U.S. highways each year, Gillan said. The Insurance Institute for Highway Safety said in 2006 that the number of truck drivers reporting they fell asleep behind the wheel rose to 21 percent in 2005 from 13 percent in 2003.
"A rule is only as good as it's enforced," Gillan said. "You know it's a problem out there. It's not just a couple of bad apples."