Ocado Annual Loss Narrows as Online Grocery Sales Gain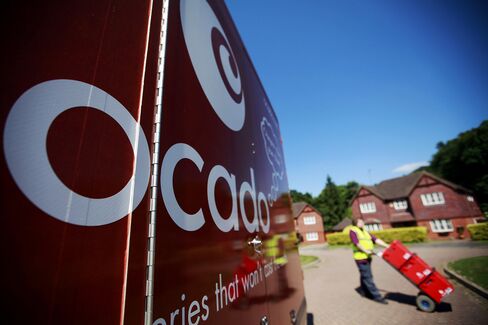 Ocado Group Plc, the U.K. online grocer that went public last year, reported a quarterly profit for the first time and said its full-year loss narrowed as a record number of customers ordered more frequently.
The pretax loss was 12.2 million pounds ($19.6 million) in the year ended Nov. 28, including 3.5 million pounds of initial public offering costs, the Hatfield, England-based company said today. That compared with the prior year's 25.5 million-pound loss. Ocado posted a fourth-quarter profit of 300,000 pounds.
Average orders per week surged 31 percent to 92,916, the retailer said. Ocado is spending 210 million pounds on a second distribution center in central England to extend its reach, expanding its own-brand range to as many as 1,000 lines and adding more non-food items such as pet-care products to take a larger portion of the 4 billion-pound U.K. online grocery market.
"Ocado management has achieved what it set out to at IPO," Andrew Wade, an analyst at Numis Securities wrote in a report. The company's profitability is "ahead of expectations," he said. Wade cut his rating on the stock to "hold" from "buy" on "valuation grounds."
Ocado rose as much as 9.2 percent in London trading, and was up 16.9 pence, or 7.8 percent, at 234.9 pence as of 12:24 p.m. The stock has have surged 32 percent this year, surpassing the 180 pence IPO price for the first time, amid speculation the company may be a takeover target.
Amazon, Morrison
"There is a long way to go, but the model is delivering according to plan and we continue to expect strong sales and profit momentum," said Justin Scarborough, an analyst at Royal Bank of Scotland Group Plc in London.
Chief Executive Officer Tim Steiner declined to comment today when asked about the possibility of a bid from Amazon.com Inc. or William Morrison Supermarkets Plc. Ocado is "aware of our regulatory responsibilities," he said on a conference call.
The pretax loss was more than the 9.7 million-pound average of nine analyst estimates compiled by Bloomberg. Earnings before interest, taxes, depreciation and amortization rose to 22 million pounds, beating the 21.6 million-pound average estimate.
Steiner said the retailer plans to widen its Ocado range of products to between 500 and 1,000 lines this year, from 250. Own-brand accounts for less than 10 percent of sales and was in 60 percent of customers' shopping orders, he said.
The retailer plans to offer the widest range of groceries of any major branch of a U.K. supermarket including Tesco Plc and J Sainsbury Plc in the next two years, he said.
John Lewis Stake
Achieving profitability in the fourth quarter "clearly demonstrates the operational leverage of the Ocado model," Chief Financial Officer Andrew Bracey said in a statement.
Bracey said he expects no let-up in the pace of sales growth, which reached 25 percent over Christmas.
"We aren't seeing any demand constraints for customers," he said. "We have supply side restraints in terms of putting machinery into our customer fulfillment center."
CEO Steiner declined to comment on the plans of John Lewis Partnership Plc's pension fund after the Financial Times reported that the fund is able to sell its shares in Ocado starting today. The fund holds about 11 percent, the newspaper said. Ocado secured a 10-year extension to its supply agreement with the Waitrose grocery chain, owned by John Lewis, last May.
It's too far in the future to discuss reducing reliance on Waitrose products with Ocado-branded goods, Steiner said.
The CEO said he expects gross margin to remain "relatively stable," this year.
Since the start of 2011, about 12 percent of orders have been placed via smartphones and Apple Inc. iPads, he said.
Before it's here, it's on the Bloomberg Terminal.
LEARN MORE