Mubarak's Top Spy Rejected by Cairo Streets as Masses March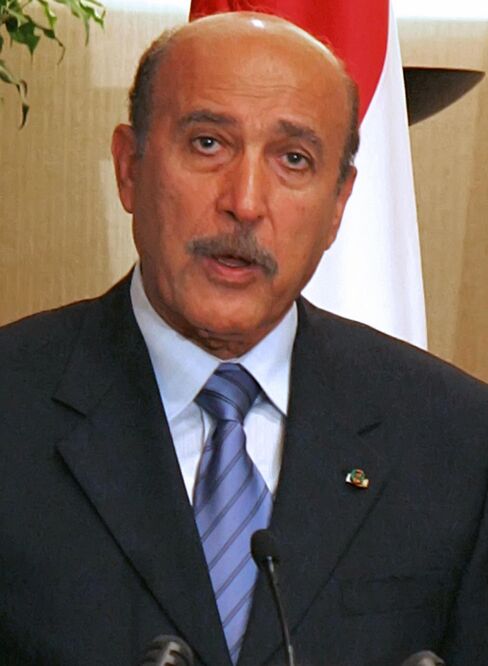 Omar Suleiman, the military careerist singled out by President Hosni Mubarak to save his regime, lacks the support where he now needs it most: the streets of Cairo.
"The Egyptians don't want Mubarak and they don't want Suleiman," said Chayma Hassabo, a researcher on Arab political movements at Cedej, a Cairo-based research center. "They want the whole system to change."
Suleiman, 74, has run Egypt's intelligence service since 1993, compromising his ability to deal with the protestors massing in Egypt's cities as an honest broker. Suleiman said yesterday that Mubarak has instructed him to start a dialogue with the protesters, who have defied curfews for the past week to demand an end to the president's 30-year rule.
"We want the whole regime to change, starting from Hosni Mubarak," Ramzi Mohamed Helwan, a 19-year-old student said during today's protests in Tahrir Square in downtown Cairo. "We don't accept Omar Suleiman or anyone else."
Helwan was one of the hundreds of thousands of people crowding Egypt's thoroughfares today demanding Mubarak's departure. On the morning after Suleiman's appointment as vice president on Jan. 29, signs popped up on Tahrir Square reading: "Mubarak and Suleiman: Get Out."
Former United Nations nuclear official Mohamed ElBaradei has been nominated by the Muslim brotherhood and some secular opposition groups to negotiate with the regime.
Low Profile
"Suleiman has the trust of the military, and he's handled Egypt's relations with other countries, such as Israel and the Palestinians, with great wisdom," said Roberto Aliboni, vice president of Rome-based International Affairs Institute. "But things may have gone too far. The population is pushing for real change, and Suleiman doesn't represent real change."
While Suleiman has had a low public profile in his own country until this week, he's been the main contact person with some of Egypt's key allies and neighbors. He helped negotiate the end of Israel's bombardment of Gaza in January 2009 and unsuccessfully sought the release of Gilad Shalit, an Israeli soldier seized by Hamas in 2006.
"The Israelis are happy with Omar Suleiman, he has been pivotal in the peace process, he's someone they know and someone they can deal with," said Maha Azzam, a fellow at Chatham House, a London-based international affairs research institute. "I would say the Saudis would be happy with Omar Suleiman. I think they'd want a strong man in Egypt like Suleiman."
Cables released by Wikileaks suggest he is also well regarded in Washington and at the Central Intelligence Agency.
'Consigliere'
"Our intelligence collaboration with Oman Soliman is now probably the most successful element of the relationship" with Egypt, said a 2006 U.S. diplomatic cable that used an alternative transliteration of his name. It described Suleiman as "formidable" and says he is Mubarak's "consigliere" on foreign policy.
Under Suleiman, the Egyptian General Intelligence Service has built a reputation as "one of the best-informed intelligence agencies on Islamist fundamentalism and its international dimensions," according to a report last month by Jane's Information Group, which publishes information on global defense resources. "It liaises regularly with Western intelligence agencies."
Another U.S. Embassy cable from 2005 said that "though he does not have a domestic constituency per se, he enjoys a reputation for being uncorrupt, in stark contrast to many, if not most, ministers and ruling party figures."
Suleiman served in both the 1967 and 1973 wars with Israel and has been one of Mubarak's closest advisors. In 1995 the two men survived an assassination attempt by Islamist radicals during an African summit in Addis Ababa.
Lockstep
Suleiman trained in the same Soviet Union military academy as Mubarak in the 1960s and studied at the John F. Kennedy Special Warfare School and Center at Fort Bragg, North Carolina in the 1980s, according to a 2009 article in Foreign Policy magazine.
Suleiman's career has moved in lockstep with a regime marked by widespread abuses, say Amnesty International and Human Rights Watch.
"Torture is an endemic problem in Egypt and ending police abuse has been a driving element behind the massive popular demonstrations that swept Egypt over the past week," Human Rights Watch said in a report Jan. 31.
Despite Suleiman's power in the regime, his future is out of his hands, says Aliboni from the International Affairs Institute.
Unstoppable
"If the U.S. pushes for an ElBaradei solution, seeing that he already has the support of both the liberals and the Muslim Brotherhood, it would be almost unstoppable," he said. "In that case, it won't be enough to push out Mubarak and just put in another military man."
A spokesman for U.K. Prime Minister David Cameron said ElBaradei better represents the change the protesters want.
"ElBaradei is the sort of figure the regime needs to be talking to," Cameron's spokesman Steve Field told reporters in London today. "We need to see a broad-based representative government. Many of the appointees in the Cabinet served in previous governments or have ties to the current regime. That does not represent the change the Egyptian people are calling for."
Before it's here, it's on the Bloomberg Terminal.
LEARN MORE