U.S. Economy: Manufacturing Grows by Most Since 2004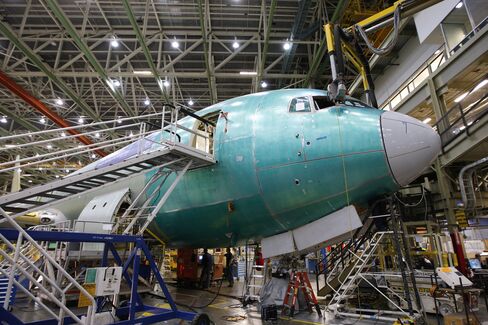 Manufacturing in the U.S. unexpectedly accelerated in January at the fastest pace in more than six years, reinforcing forecasts the economic recovery will strengthen in 2011.
The Institute for Supply Management's factory index rose to 60.8, exceeding the most optimistic forecast in a Bloomberg News survey of economists and the highest level since May 2004, figures from the Tempe, Arizona-based group showed today. Readings greater than 50 signal growth.
Stocks rose, extending a global rally, as factory reports from China to Europe bolstered the outlook for American companies like Caterpillar Inc. The ISM's employment gauge climbed to the highest level since 1973, indicating manufacturers may be more willing to hire as sales pick up.
"Businesses have figured out the economic recovery has legs so they're growing more confident about expanding production and new orders and increasing hiring," said John Silvia, chief economist at Wells Fargo Securities LLC in Charlotte, North Carolina. "Manufacturing is making a very decent contribution to growth."
The Standard & Poor's 500 Index gained for the seventh day in the last eight, rising 1.7 percent to 1,307.59 at the 4 p.m. close in New York. The yield on the benchmark 10-year note increased to 3.44 percent from 3.37 percent late yesterday.
Estimates for the factory index in the Bloomberg survey of 78 economists ranged from 56 to 59.5.
Figures from the Commerce Department showed housing remains the economy's weakest link. Construction spending in December fell 2.5 percent, the biggest drop since July, bringing the value of all projects to the lowest level in a decade.
Europe and China
Manufacturing in the U.K. grew at a record pace last month, while industry also expanded in China. The U.K. gauge, based on a survey of companies by Markit Economics and the Chartered Institute of Purchasing and Supply, climbed to 62 in January from 58.7 a month earlier.
A reading of 52.9 for a purchasing managers' index released by China's logistics federation on its website exceeded the 50 level dividing expansion and contraction. A measure from HSBC Holdings Plc and Markit Economics rose to 54.5 in January.
The ISM's measure of new orders, jumped in January to 67.8, the highest since January 2004. The employment gauge increased to 61.7 from 58.9 in the prior month.
The jobs data "sets us up for a good number for January payrolls," Silvia said. Economists project a 10,000 increase in factory employment last month, according to the median forecast in a Bloomberg survey before the Labor Department's Feb. 4 report. All payrolls may have climbed 140,000.
'Stronger Every Day'
General Electric Co. last month posted its third straight quarter of profit growth, beating analysts' estimates, driven by a rebound in its finance unit, health-care and transportation divisions.
"The environment continues to improve," Jeffrey Immelt, GE's chief executive officer, said on a Jan. 21 conference call. "The economy can get a little bit stronger every day."
Caterpillar, the world's largest maker of construction equipment, posted fourth-quarter profit that topped analysts' estimates as sales advanced in China, Australia and Latin America.
The Peoria, Illinois-based company last week said sales climbed 62 percent to $12.8 billion from the year-ago quarter. The company said 2011 sales will exceed $50 billion, compared with $42.59 billion in 2010.
'More Positive'
"Over the past quarter, we've become somewhat more positive about economic growth in the developed economies of North America, Europe, and Japan," Mike DeWalt, director of investor relations at Caterpillar, said on a Jan. 27 teleconference. "And we're now expecting the U.S. economy to grow about 3.5 percent in 2011."
Manufacturing, which accounts for about 11 percent of the economy, led the recovery from the recession as businesses rebuilt stockpiles slashed during the slump. Rising exports have also spurred output.
Further gains may come from a pickup in consumer spending, which accounts for about 70 percent of the U.S. economy. Household purchases rose at a 4.4 percent pace in the fourth quarter, the fastest since the first three months of 2006, while the economy grew at a 3.2 percent rate, the Commerce Department reported last week.
Economists last month boosted forecasts for growth this year, reflecting a pickup in consumer spending and passage of an $858 billion bill extending tax cuts for two years. The legislation also continued emergency unemployment insurance benefits through 2011, trimmed payroll taxes and included accelerated tax depreciation for equipment purchases.
Auto dealers are also seeing improved demand. Car sales in December rose to a 12.53 million unit pace, the highest since the government's cash-for-clunkers program in August 2009, according to industry data.
Before it's here, it's on the Bloomberg Terminal.
LEARN MORE