Gulf Shrimpers Facing Oil-Spill Woes Urge U.S. to Extend Duties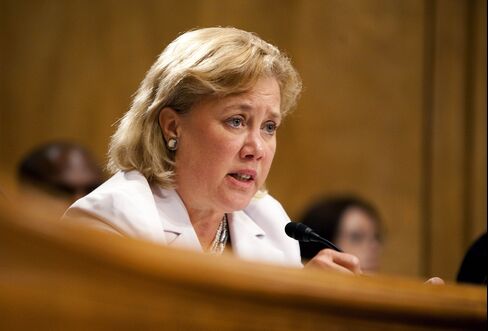 Gulf of Mexico shrimpers and lawmakers urged a U.S panel to extend duties on imports from nations such as China and Thailand, citing the BP Plc oil spill and hurricanes as reasons to protect a $2 billion industry.
"Gulf shrimp-industry producers have proven their resolve in the face of natural and man-made disasters," Senator Mary Landrieu, a Louisiana Democrat, said today at a hearing of the U.S. International Trade Commission. "The 2005 and 2008 hurricanes, the economic recession, and most recently the massive Gulf oil spill, have put this industry on the brink of collapse."
The U.S. five years ago imposed duties that can be more than 100 percent on shrimp from Thailand, Brazil, Vietnam, China and India. World Trade Organization rules require the U.S. to review the duties every five years, and the panel is scheduled to vote in March on whether to continue the tariffs.
The tariffs slowed the surge in imports of shrimp, raised prices U.S. producers may charge and let shrimpers and processors invest in equipment amid setbacks from storms and the economy, said Elizabeth Drake, a lawyer for the U.S. producers.
"As more and more low-priced imports kept coming in, prices kept falling," said Jonathan Appelbaum, president of Penguin Frozen Foods Inc., a distributor of U.S. shrimp based in Northbrook, Illinois. "With trade relief, we have enjoyed stability in pricing and that has once again opened the retail market to domestic product."
Hurricane Katrina in 2005 damaged processing facilities and harmed shrimping grounds, according to testimony from U.S. groups including the American Shrimp Processors Association. The BP spill last year kept shrimp boats from working in wide areas of the Gulf and prompted consumers to shun shrimp, they said.
The U.S. industry is facing off against importers and producers in nations including Thailand, which accounted for more than a quarter of the more than $4 billion in shrimp sold in the U.S. in 2009, according to a report by the staff of the commission prepared for today's hearing.
U.S. imports account for about 90 percent of the more than 1 billion pounds of shrimp Americans eat each year, the report said. Shrimp is the most popular seafood in the U.S.
Before it's here, it's on the Bloomberg Terminal.
LEARN MORE