Google Cameras Infiltrate Museums, Zoom in on Van Gogh, Ofili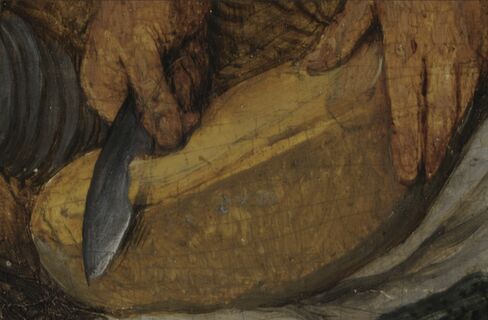 Google Inc. yesterday introduced virtual tours of 17 world museums, putting high-resolution close-ups of masterworks by Van Gogh, Rembrandt and Botticelli on a new one-stop website dubbed Art Project.
Announcing the venture in a canvas-filled gallery of London's Tate Britain, the search-engine company said Web users can now roam museums as they would neighborhoods on Google Street View, and eyeball 1,061 masterpieces. Each museum also has let Google digitalize one artwork at a resolution of 7 billion pixels, or 1,000 times the average digital camera.
"A project associated with Google is bound to reach audiences who haven't necessarily thought about coming to an individual museum," Tate Director Nicholas Serota said in an interview. "Here, they have an assembly of 17 museums across the world: A group of kids from Latin America will be able to go straight on the Web and look at a range of work."
The 17 museums have let Google cameras into some, not all, of their galleries. "You have to be careful: Everyone has rights," Serota said. "We can't just sweep in a number of paintings that don't have copyright protection."
Hence the concentration of historic works, Serota, 64, explained: They're both popular and out of copyright. Tate, he said, won approval from living artist Chris Ofili to put up his 1998 "No Woman No Cry" for 7-gigapixel digitalization.
Starting Point
While the project includes major world museums, the Louvre Museum in Paris and the Prado Museum in Madrid are among absentees. Google said the 17 were a starting point in a non-commercial venture funded entirely by the company itself, though it gave no figures.
The art site is a "20 percent" project -- initiated by a group of Google employees during the 20 percent of their work time spent on activities unrelated to their jobs. The idea first came to Amit Sood, 32, who now heads the project. Sood said he had no art background, and until recently, had never entered a museum.
The 7-gigapixel images throw up curious details. In Pieter Bruegel the Elder's "The Harvesters" (1565), from New York's Metropolitan Museum of Art, tiny background figures can be seen throwing sticks at a tied-up goose in a game called squail.
In "The Ambassadors" (1533) -- now in the U.K.'s National Gallery -- Hans Holbein not only represents France's ambassador to England, but makes sure that the tiny town where his chateau is located is clearly marked on the globe in the picture.
The 17 museums taking part include New York's Museum of Modern Art, the Uffizi Gallery in Florence, the State Hermitage Museum in St. Petersburg, the Museo Reina Sofia in Madrid, the Palace of Versailles, and the Gemaeldegalerie in Berlin.
To see the website, go to http://www.googleartproject.com.