ElBaradei Urged Mubarak to Ease Grip on Politics for Nine Years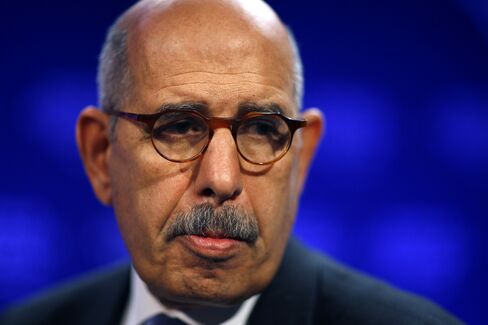 Mohamed ElBaradei privately called on President Hosni Mubarak to ease up on political controls for nine years before joining Cairo protests that prompted Egypt's leader to announce he won't seek another term in office.
ElBaradei's diplomacy with Mubarak began in the months leading up to the 2003 Iraq war, when the Nobel-prize winner stepped out of his role as chief of the United Nations atomic agency to have "candid talks in Cairo about the importance of starting democratic reform in Egypt," said Laban Coblentz, ElBaradei's former speech writer in a Jan. 31 interview.
The contacts show that ElBaradei, criticized by some in the opposition for being remote from politics at home, was pushing for changes in how the country was run for years.
Mubarak said yesterday he won't run for another term after hundreds of thousands of people rallied against his regime in Cairo's Tahrir Square in the culmination of a weeklong uprising. He said in a statement on state television that his 30-year rule will end with presidential elections that are due in September and that he plans to stay on until then to ensure "stability."
The meetings between Mubarak and ElBaradei were confirmed by Austria's ex-foreign minister, Ursula Plassnik, who has known ElBaradei for almost two decades.
'Very Outspoken'
"I know from him that he has had many conversations over time with President Mubarak and that he was very outspoken in these conversations," Plassnik said in a Jan. 31 interview in Vienna. "He was not shy about sharing his assessment with the authorities of his country all along."
She met with him last month, two weeks before he flew to Cairo to join the tens of thousands of Egyptians protesting in the street to demand Mubarak's resignation.
ElBaradei, 68, has emerged as the surprise face of an Egyptian opposition trying to end the president's 30-year rule over the nation of 87 million people. A coalition of opposition groups, including the banned Muslim Brotherhood, has coalesced around ElBaradei. Egypt's newly appointed Vice President, Omar Suleiman, offered on Jan. 31 to begin talks with opposition groups, which have authorized ElBaradei to speak in their name.
Thousands of protesters have shut down parts of central Cairo for the past nine days, insisting that Mubarak leave and refusing to accept his Jan. 29 appointment of Suleiman as a compromise. Demonstrators poured into downtown Cairo yesterday in response to an opposition call for 1 million people in the streets. ElBaradei is expected to attend.
'Catching the Momentum'
"Even when not well-positioned politically, he has a knack for catching the momentum," said Vilmos Czerveny, an International Atomic Energy Agency director who has known ElBaradei since 1992, in a Jan. 31 interview. "This is a natural thing for him to do. If he can be useful, he'll do it."
Criticized in his home country for spending most of his adult life outside the repression of Mubarak's regime, ElBaradei rose in the absence of other high-profile opposition leaders.
"He has more experience in politics -- more than many figures in the current regime -- although he is for sure detached from the reality of the people," said Mohamed Fahmy, a protester with a doctorate in political science. "Even if he is not so popular he stands a better chance of being accepted."
Colleagues at the United Nations nuclear agency, where ElBaradei was director general from 1997 to 2009, describe a man who never lost sight of Egyptian human rights issues even while dealing with international crises in Iraq, Iran and North Korea.
Weapons Inspections
On Nov. 25, 2002, ElBaradei landed in Cairo, ostensibly to brief Mubarak on weapons inspections in Iraq. The meeting was unusual because it was behind closed doors, without advisers, said Coblentz, who traveled with ElBaradei and was told about the meeting by him.
Coblentz helped ElBaradei write his memoir, slated for a June release by Metropolitan Books, a unit of Macmillan Publishing's Henry Holt & Co.: "The Age of Deception: Nuclear Diplomacy In Treacherous Times."
ElBaradei, a critic of the U.S. invasion of Iraq, saw democracy as a way of "unleashing the potential fountain of energy of Egypt's youth," Coblentz said. Subsequent meetings with Mubarak proved fruitless, including a Jan. 14, 2006, encounter after Mubarak awarded ElBaradei Egypt's highest civilian honor, the Nile Collar.
"He lost confidence in Mubarak's ability to listen and engage in conversation after that meeting," Coblentz said. At the meeting, ElBaradei continued pressing Mubarak to grant basic human rights to dissidents and minority groups, he said.
Talks With Mubarak
ElBaradei couldn't be reached for comment on his early talks with Mubarak. He said in an interview in Vienna that he had pressed for change in Egypt, without giving a time frame.
"I have been calling on the government to listen, to understand that they have to change their entire structure," he said on Jan. 25. "There's been none of that. In fact the government has continued to tighten the screws, to become more authoritarian, more repressive."
He spoke after signing autographs at a conference for international businessmen inside a Vienna palace. Wearing a four-day stubble and a frumpy dark gray suit, ElBaradei wielded a pen in one hand and monitored Twitter messages on his mobile phone with the other.
"He is the sort of figure the regime needs to be talking to. We need to see a broad-based representative government," U.K. Prime Minister David Cameron spokesman Steve Field said yesterday in London. "We need to see a broad-based representative government."
Fell Victim
Mubarak has already once fallen victim to ElBaradei's circuitous path to leadership. In 1997, the Egyptian government vainly pushed its U.K. ambassador, Mohamed Shaker, to take over the IAEA leadership after Hans Blix retired. The Vienna-based agency's 35-member board of governors couldn't bring themselves to elect the Mubarak family friend, Czerveny said.
The board's compromise, nominated by the African Union after being shunned by his own country, was ElBaradei, then an obscure IAEA middle manager.
"He's someone who believes in destiny," said Melissa Fleming, the former IAEA spokeswoman who worked with ElBaradei for eight years. "He believes the Nobel Peace Prize gave him the recognition and responsibility to do more than play on a golf course after his retirement."
Mubarak's regime will almost certainly fall within a period of months and the most important conversations going on in Cairo right now are to determine whether Egypt's military or civilians will usher in a new political order, former U.S. Secretary of State Henry Kissinger told Bloomberg yesterday in an interview.
'Traditional Figure'
ElBaradei "looks like the sort of transitional figure that emerges at the beginning of a revolution and that will, having performed his function of bringing about political transition, will disappear from the scene," Kissinger said.
To protester Fahmy, ElBaradei will have to overcome his detachment after living decades outside Egypt. "He has committed the fatal mistake of being away from his people during the last year when they needed some hope and when there was a vacancy for leadership," he said.
ElBaradei, whose homeland is 90 percent Muslim, emphasized his international reach in his Dec. 10, 2005, acceptance speech for the Nobel Peace Prize.
"I am an Egyptian Muslim, educated in Cairo and New York, and now living in Vienna," he said. "My wife and I have spent half our lives in the North, half in the South. And we have experienced firsthand the unique nature of the human family and the common values we all share."
Before it's here, it's on the Bloomberg Terminal.
LEARN MORE