Egypt's Military Deploys Along SuMed Oil Pipeline, Official Says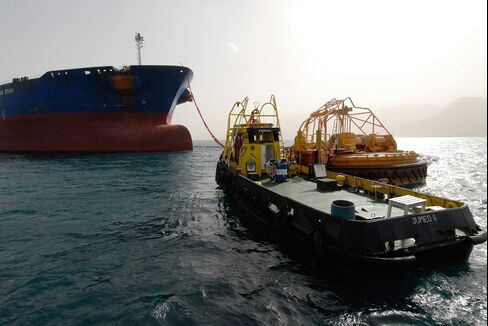 Egypt deployed troops to help protect the SuMed pipeline transporting crude alongside the Suez Canal, while the facility's own guards doubled their number of sentry posts, an official with knowledge of the build-up said.
The military's deployment began Jan. 28, said the official, who declined to identify himself because of the sensitivity of the security operation. SuMed added 16 guard posts to the 14 it already had in place along the 360-kilometer (220-mile) pipeline, the official said today.
Oil companies use SuMed because the largest oil tankers, such as Very Large Crude Carriers or VLCCs, can't navigate the Suez Canal fully loaded. They send part of their cargo via the pipeline at the canal's Red Sea entrance and then re-load the oil at the Mediterranean end. Alternatively, they can transfer their entire cargoes into smaller vessels that then transit the waterway.
SuMed has a carrying capacity of 2.5 million barrels a day and a disruption there would have a bigger impact on oil and shipping markets than a shutdown of the canal itself, Erik Nikolai Stavseth, an Oslo-based analyst at Arctic Securities ASA, said in a report yesterday.
Shipping through the canal has been unaffected so far by protests across Egypt over the past week, Ahmed El Manakhly, the head of traffic for the Suez Canal Authority, said yesterday.
Before it's here, it's on the Bloomberg Terminal.
LEARN MORE