Derivatives Plan for European Watchdog May Exceed EU's Powers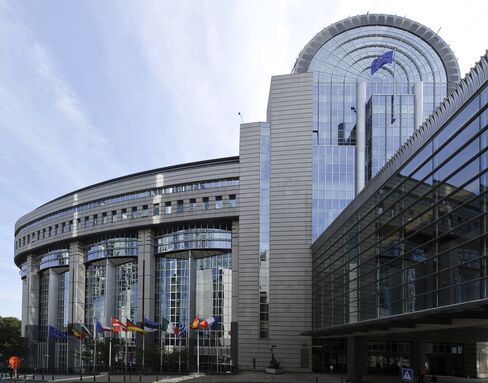 Derivatives measures intended to spur central clearing of trades in the European Union may need to be overhauled after an internal legal analysis said the EU lacks the power to implement the plan.
Draft rules allowing the European Securities and Markets Authority to make decisions on what types of over-the-counter derivatives should be traded through clearinghouses clashes with case law dating from 1958, according to an opinion prepared by lawyers for the EU's governments obtained by Bloomberg News.
"A power to adopt decisions of general application cannot be conferred on an agency," the lawyers said. It would not be possible for ESMA to rule on "clearing of classes of derivative contracts" across the EU, the legal service said.
The Group of 20 nations is seeking to curb potential risks from so called over-the-counter derivatives, which are traded directly between counterparties or via brokers. Regulators have argued that more OTC derivatives should be centrally cleared to limit the chances that a bank's collapse during a derivatives trade could cascade throughout the financial system.
EU governments are working on how to overcome the problems posed by the legal opinion, Marton Hajdu, a spokesman for Hungary, which holds the EU's rotating presidency, said. "We are optimistic" of finding a solution, he said.
EU nations and the European Parliament agreed last year to establish ESMA as one of three authorities in London, Paris and Frankfurt to regulate the banking, securities and insurance industries respectively.
Members of the Parliament in Brussels will today interview the designated chairmen of the three authorities. Lawmakers must give their approval to the appointments before they can be confirmed.
Earlier Proposal
The measures on derivatives discussed by EU governments go beyond an earlier plan from the European Commission, the 27-nation bloc's executive arm, the lawyers said in the document.
Governments are considering allowing ESMA to always require central clearing for certain types of derivative. This plan would be vulnerable to challenges in the courts, the lawyers said.
"It is quite clear" that some EU nations want to "grant more powers to ESMA" than were foreseen when lawmakers and governments first agreed to set up the authority, Syed Kamall, a U.K. Conservative member of the EU Parliament, said in an e-mail.
The G-20 said in Sept. 2009 that standard OTC derivatives should be traded through clearinghouses by the end of 2012 to make them safer.
Clearinghouses, such as LCH Clearnet Ltd., operate as central counterparties for every buy and sell order executed by their members, who post collateral, reducing the risk that a trader defaults on a deal.
Draft Rules
Draft EU rules need to be approved by governments as well as lawmakers at the European Parliament before they can enter into force.
ESMA and the other newly formed authorities already have some binding powers over national regulators, including the ability to mediate disputes between them.
The extent of powers that can be granted to agencies such as ESMA is "a legal grey area," Nicolas Veron, a senior fellow at Bruegel, a Brussels-based economics research group, said in a phone interview. "The legal situation is far too fuzzy for the politics not to matter," he said.
Chantal Hughes, a spokeswoman for EU financial services chief Michel Barnier declined to immediately comment.
Before it's here, it's on the Bloomberg Terminal.
LEARN MORE