China's Manufacturing Growth Maintains Rate Pressure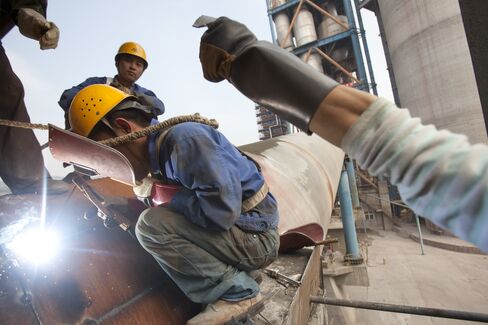 China's manufacturing expanded and input costs climbed, underscoring the case for more interest-rate increases to tame inflation pressures in the fastest-growing major economy.
A reading of 52.9 for a purchasing managers' index released by China's logistics federation on its website exceeded the 50 level dividing expansion and contraction. A PMI from HSBC Holdings Plc and Markit Economics rose to 54.5 from 54.4.
A rebound in input costs shown by the logistics federation survey underscored why companies from Baoshan Iron & Steel Co. to Starbucks Corp. have raised prices. The central bank may boost benchmark interest rates immediately after a Chinese Lunar New Year holiday, which begins tomorrow and ends Feb. 8, BNP Paribas SA. said.
"Intensifying inflation pressure shows the government may need to strengthen policy tightening," said Isaac Meng, a Beijing-based economist at BNP Paribas. Economic growth may moderate "which may be desirable for policy makers as they seek to control inflation and asset bubbles," he said.
The yuan strengthened for the first day in four, trading at 6.5938 per dollar as of 4:29 p.m. in Shanghai. The Shanghai Composite Index of stocks rose 0.3 percent.
In India, a manufacturing index rose to 56.8 in January from 56.7 in December, HSBC and Markit said separately today.
Cooling Measures
In China, the central bank has raised benchmark rates twice since mid-October and pushed banks' reserve requirements to the highest in more than two decades to lock up cash that could stoke inflation. The government last month expanded measures to cool the real-estate market, raising minimum down-payment requirements for second-home purchases.
Home prices rose 1 percent in January, the biggest month-on-month gain in half a year, property website owner SouFun Holdings Ltd. said today.
"The strong growth momentum leaves room for Beijing to fully focus on checking liquidity and inflation pressure," said Qu Hongbin, Hong Kong-based chief China economist for HSBC. "Quantitative tightening in the form of reserve requirement ratio hikes will remain the most effective policy tools."
The PMI released by the Beijing-based logistics federation and the National Bureau of Statistics gives an indication of manufacturing activity by surveying more than 820 companies in 20 industries, including energy, metallurgy, textiles, automobiles and electronics.
The HSBC/Markit study is of more than 400 businesses.
Below Estimates
The reading for the logistics federation's PMI was below the 53.9 level in the previous month and the median estimate of 53.5 in a Bloomberg News survey of 13 economists. A measure of employment slid to 49, the lowest reading since March 2009, as migrant workers returned home ahead of the holiday.
Bank of America Merrill Lynch economist Lu Ting said the data in the study were heavily distorted by the holiday and there are "no big worries on growth."
Zhang Liqun, a senior researcher at the State Council's Development Research Center, said that companies face "difficulties" as cost pressures intensify and new orders grow at a slower pace. He commented in a statement released with the logistics organization's survey.
Domestic demand is stable, a slowdown in industrial output may be "bottoming out," and inflationary pressure appears to be rebounding, the federation said in another statement. Slower output growth in real-estate related industries such as furniture, textiles, glass and cement needs attention, it said
Input Costs
An input-price index rose to 69.3 from 66.7 in December as food costs climbed. While the HSBC/Markit study showed cost inflation easing to the slowest in four months, HSBC said that the pace remained "considerable in the context of historical data" and cited reported increases for copper, steel and fuel.
Goldman Sachs Group Inc. said the divergence between the studies may reflect sampling differences and said the government-backed PMI shows seasonal effects even after "supposed" seasonal adjustment. Barclays Capital said the HSBC PMI was "a more reliable seasonally adjusted series."
The World Bank estimates that China's economy will expand 8.7 percent this year, three times the pace of the U.S., as developing economies continue to outperform richer nations. China's expansion was 9.8 percent in the fourth quarter.
UBS AG estimates that China's inflation exceeded 5 percent last month after slowing to a 4.6 percent annual pace in December. November's 5.1 percent rate was the highest in 28 months.
Inflation Pressures
The central bank indicated in a Jan. 30 report that capital inflows and higher labor and resource costs may add to inflation pressures. Tools for reining in liquidity and credit growth include interest rates, bill sales and reserve requirements, the People's Bank of China said.
Policy makers aim to hold growth in M2, the broadest measure of money supply, at about 16 percent this year. Last year, the actual 19.7 percent gain compared with a target of 17 percent. Local-currency lending totaled 7.95 trillion yuan ($1.2 trillion) in 2010, exceeding the government's 7.5 trillion yuan ceiling.
The latest measures to cool the property market include increasing down-payment requirements for second homes to 60 percent from 50 percent and trials of property taxes in Shanghai and Chongqing.