BP Reinstates Dividend, Will Sell Half U.S. Refining Capacity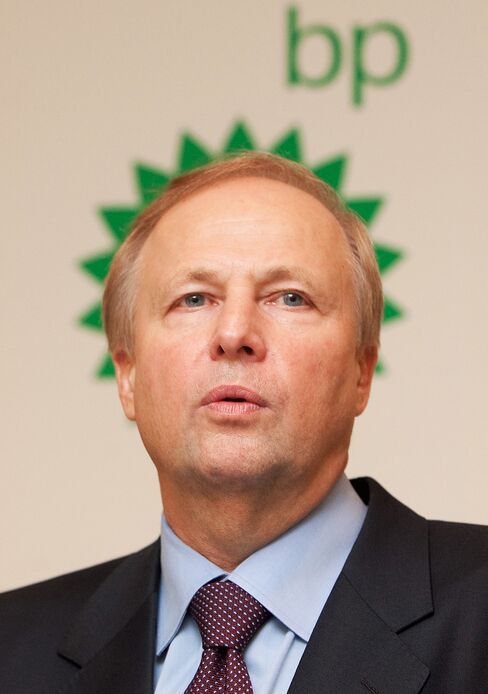 BP Plc reinstated the dividend and will sell half of its U.S. refining capacity as Europe's second-biggest oil company recovers from the Gulf of Mexico spill.
BP set the payout at 7 cents a share for the last three months of 2010, half the level before the spill, after canceling the dividend for the first three quarters. It plans to dispose of its Texas City, Texas, and Carson, California, refineries.
Chief Executive Officer Robert Dudley is making the company "smaller" and "more agile" following the worst spill in U.S. history that cost his predecessor Tony Hayward his job. The company has so far slimmed down by selling $22 billion of assets and agreed to an $8 billion share swap with OAO Rosneft to gain access to untapped Russian reserves in the Arctic.
"The U.S. Gulf of Mexico has presented an opportunity to downsize and refocus on higher upstream returns and improved growth," said Jason Kenney, an analyst at ING Wholesale Banking in Edinburgh.
BP advanced 1.3 percent to 491 pence as of the 4:30 p.m. close in London after earlier falling as much as 2 percent. The stock is down more than 25 percent since the April 20 accident in the Gulf that killed 11 workers and started the spill.
Missed Estimates
Fourth-quarter net income increased 30 percent to $5.6 billion from a year earlier, buoyed by higher oil prices.
Adjusted for one-off items and changes in inventories, profit of $4.36 billion missed analysts' expectations of $4.99 billion. Gas and oil trading and the effective tax rate were lower than the company's guidance.
BP also increased the charge it took for the spill by $1 billion to $40.9 billion. For the year, BP posted a net loss of $3.7 billion.
Close rival Royal Dutch Shell Plc reports earnings in two days. Exxon Mobil Corp., the world's largest company, yesterday reported its highest quarterly profit in more than two years of $9.25 billion.
BP announced the restoration of the dividend even after its billionaire partners in TNK-BP voted to block the Russian joint venture's $1.8 billion dividend in protest at the Rosneft deal.
At a court hearing in London today, BP agreed to delay the share swap while it resolves the dispute with its Russian partners through arbitration in Stockholm. TNK-BP accounts for a quarter of BP's output and a fifth of its reserves.
'Good Relations'
"We have good relations with TNK-BP," Dudley told a press conference, adding that BP will meet all of its obligations to the partners.
BP expects production of about 3.4 million barrels of oil equivalent a day in 2011, compared with 3.8 million barrels in 2010. Output fell 9 percent in the fourth quarter from a year earlier.
"The BP of the future will be a smaller BP," Dudley said in an e-mail to employees. "But it will also be a safer BP, a more agile BP and a stronger BP."
The company found more oil and gas than it produced for the 18th consecutive year, with a reserves replacement ratio of 106 percent excluding acquisitions and divestments. BP made 15 final investment decisions on projects last year and capital expenditure will be about $20 billion in 2011.
The Texas City refinery, BP's largest in the U.S. that will now be sold, was the site of a 2005 explosion that killed 15 people and hit the company with millions of dollars in fines by the U.S. government.
Received Inquiries
BP has already received inquiries from "competent operators" regarding Texas City, Dudley told reporters. The two refineries up for sale can produce a combined 741,000 barrels a day, representing about half of BP's U.S. refining capacity. BP expects to get at least $4.4 billion from the sales, according to Iain Conn, head of refining.
"The shrewd strategic move would have been to divest the refining completely as this would have provided a substantial cash injection, as well as remove a problematic and not very profitable business unit," said Dougie Youngson, an analyst at Arbuthnot Securities Ltd. in London who has a "sell" recommendation on BP. "The re-introduction of the dividend is good news for investors, but it is likely to prove inflammatory to Gulf Coast Senators whose communities are still being impacted by the spill."
BP last year pledged to sell as much as $30 billion of assets to help cover costs from the spill, a target that Dudley said today he wouldn't be bound by. The producer may create value for shareholders by extending asset sales, increasing the dividend and share buybacks, the CEO said.
The company also set up a $20 billion fund at the behest of President Barack Obama to compensate victims. Kenneth Feinberg, who is administering the fund, said in a Dec. 31 Bloomberg Television interview that $10 billion may be "more than enough to pay all the claims."
Spread Blame
The National Commission on the BP Deepwater Horizon Oil Spill said last month that BP was mostly responsible for decisions that led to the disaster, though it also spread the blame to contractors Halliburton Co. and Transocean Ltd. Attorney General Eric Holder is leading a criminal investigation and civil suit against BP and other companies.
BP's earnings were bolstered by higher oil prices and improved refining margins. Brent futures have gained more than 25 percent since the start of last year. BP's Global Indicator Margin, a broad measure of refining profitability, averaged $4.64 a barrel in the fourth quarter, up from $1.49 in the year-earlier period.